Hatcher Family Crest, Coat of Arms and Name History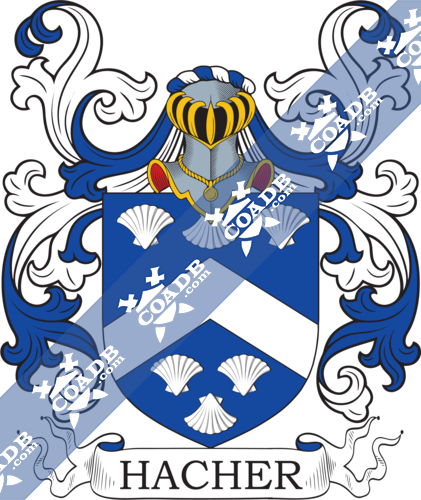 Hatcher Coat of Arms Gallery
Don't know which Coat of Arms is yours?
We can do a genealogical research. Find out the exact history of your family!
Learn More
Surname Name Meaning, Origin, and Etymology
The Hatcher last name has two origin theories. First, it is an English topographic name for a person who lived near a hatch, which was a gate across a highway in a forest to prevent the escape of deer, or a floodgate, deriving from the Middle English word hacche or Old English hæcc and the suffix er. Hache is also found in the Domesday Book of 1086 AD, a survey of England and Wales ordered by William the Conquerer, as a personal (first) name. The second theory is that this derives from the Norman-French word hache, meaning a light battle axe or hatcher, and after the Norman Invasion of 1066 AD when it was Anglicized to Hatcher, and in this origin, the family were Vikings who invaded Scotland in the 800s AD and later Paris, France. One source states this Anglo-Saxon family was first located in county Lincolnshire, England where they were Lords of the Manor of Carby. A monument dated 1564AD in a cemetery in Careby indicates that members of the Hatcher family have been buried there since ancient times.
Spelling Variations
Common spelling variants or names with similar etymologies include Hacher, At Hache, De la Hacche, Hatscher (German), Hatchers, Hetcher, Hetchere, and Haytcher.
Popularity & Geographic Distribution
The last name Hatcher ranks 1,127th in popularity in terms in the United Status as of the 2000 Census. The name ranks particularly high in the following six states: Georgia, Virginia, Alabama, West Virginia, North Carolina, and Kentucky. The surname Hatcher frequency/commonness ranks as follows in the British Isles: England (2,547th), Scotland (4,818th), Wales (1,854th), Ireland (14,048th) and Northern Ireland (8,430th). In England, it ranks highest in county Dorset. The name is also present throughout the remainder English speaking world:  Canada (3,401st), New Zealand (3,519th), Australia (2,947th), and South Africa (24,304th).
Early Bearers of the Surname
The earliest known bearer of this surname was John Hetchere who was documented in the Subsidy Rolls of Sussex in 1296 AD. A one Andrew Hatcher was listed in the Wills Records of Sussex in 1560. Thomas Hatcher (1589-1677) was a Member of Parliament and commissioner in Scotland in 1643 AD, and was present at Marston Moor and the siege of York one year later. He was the son of Sir John Hatcher, a High Sheriff in Lincolnshire in 1610. Some source believe Thomas had a son named William who was born in Careby around 1613 and he came to colonial America around the year 1635.
History, Genealogy, and Ancestry
William Hatcher was born in 1467 and he had a son named John. This Sir John Hatcher was born in 1496. He married Shirley Jane Etsy and Johanne. He had the following children: Thomas John, John (the Younger), Clement Cowper, and Henry. Thomas John Hatcher was born before 1500 in Croydon, Surrey, the son of Sir John, and he married Alice Greene with whom he had a son named Thomas. His son Thomas was born in St. Edwards, Middlesex in 1535 and he had a son named William. William Hatcher was born in Careby Manor in Lincolnshire, England in 1582 and he married Mary Smith.
Henry Hatcher was born in 1570 in East Peckham, Kent. He had a son named Walter who was born in 1576. Walter married Alice Harris Grandsen and had a son with her named Nicholas. Nicholas Hatcher was born in Kent, England in 1604.
Solomon Joseph Hatcher was born around 1817 in Virginia and he married Mary E. Menert and had issue with her: Mary Elizabeth (Moore), Henry Clay, Frederick M., John R., Margaret Susan, William E., and Charles B.
Early American and New World Settlers
Early settlers in colonial America bearing this name including John and Sarah Hatcher (Virginia 1636), William Hatcher (Virginia 1636), Thomas Hatcher (Virginia 1645), Samuel Hatcher (Virginia 1702), Nicholas Hatcher (Virginia 1718), and George Hatcher (Virginia 1739). One of the first settlers in Australia bearing this name was George Hatcher who came to the city of Adelaide in 1840 aboard the William Mitchell. In Canada, one of the first bearers of this name was James Hatcher who settled in 1819 in Harbour Grace.
The first member of this family tree that came to America was William Hatcher. He came to the Jamestown Colony of Virginia in about 1635.  He was a wealthy man of note and he had six children.
The family established a large tobacco plantation—one of eleven plantations along the James River—and William was elected to the House of Burgesses.  He had a quick temper and was once chastised for defaming the Speaker of the House. William was also once annoyed with poachers who stole fish from his ponds and ordered his servants to destroy any canoes they found in the swamps. In addition, he participated with his neighbor Nathaniel Bacon in the ill-fated Bacon's Rebellion and was fined for his involvement. He had the following issue: Edward Sr., William Jr., Henry Sr., Jane (Gower), Benjamin Sr., and Susannah (Stewart). His son Edward was born in Virginia in 1637. He married Mary Jameson and or Mary Ward and had the following issue: Nancy Jane, Mary (Fail), William Sr. Martha Cottrell, Martha (Gower), Sarah (Tanner), Edward Jr. and Seth Sr. His son Seth Sr. Hatcher was born in he same county in 1686 and he married Elizabeth Perrin and later Susannah Zorn and had the following children: Sarah (Clayton), Rachel, Ann (Raymond), Frances, Mary, Seth Jr., and Daniel. His son Seth Jr. was born in South Carolina in 1757 and he married a woman named Linley with whom he had four issue: Daniel, Susannah, Nancy, and Linley. His son Daniel was born in Newberry County, SC in 1790 and he died in 1860.
Early Americans Bearing the Hatcher Family Crest
I researched the following three resources and did not find any coats of arms for Hatcher: Bolton's American Armory, Matthew's American Armoury and Bluebook, and Crozier's General Armory.
Mottoes
We have been unable to identify the Hatcher family motto.
Grantees
We have two coats of arms for the Hatcher surname depicted here. These two blazons are from Bernard Burke's book The General Armory of England, Ireland, and Scotland, which was published in 1848. The bottom of this page contains the blazons, and in many instances contains some historical, geographical, and genealogical about where coat of arms was found and who bore it. People with this last name that bore a Hatcher Coat of Arms include:
1) John Hatcher or Hattcher of Cambridge, gift 1561, Harvey's Grants
Notables
There are hundreds of notable people with the Hatcher surname. This page will mention a handful. Famous people with this last name include: 1) Teri Lyn Hatcher (1964) who is an American actress born in Palo Alto, California who is best known for portraying Lois Lane in the ABC television series Lois & Clark: The New Adventures of Superman in the 1990s and who the James Bond film Tomorrow Never Dies, 2) David Christopher Hatcher (1985) who is an American professional pitcher in the MLB born in Kinston, North Carolina who played for the Miama Marlins and Los Angeles Dodgers, 3) John Bell Hatcher (1861-1904) who was an American paleontologist and fossil hunter whose greatest achievement was discovering Torosaurus, 4) Jason Dewayne Hatcher (1982) who was a defensive linemen in the NFL who was born in Alexandria Louisiana, and after attending Grambling State, played for the Dallas Cowboys and Washington Redskins, 5) Claud Adkins Hatcher (1876-1933) who was a pharmacist in Georgia who invented RC Cola, 6) Harlan Henthorne Hatcher (1898-1998) who was the eight president of the University of Michigan during the 1950s and 60s, 7) Derian Hatcher (1972) who was born in Sterling Heights, MI who became a professional hockey player in the NHL for four different teams, including the Detroit Red Wings and Minnesota North Stars, and 8) Ronald Hatcher Jr. (born 1959 in Fort Wayne, Texas) who was known as "Gene Hatcher" or "Mad Dog" who was a light welterweight boxer.
Blazons & Genealogy Notes
1) (Carby and Bytham, co. Lincoln). Az. a chev. betw. six escallops ar. Crest—An arm embowed vested az. charged with three bars ar. holding in the hand ppr. a branch of olives vert.
2) Az. a chev. betw. six escallops ar. three, two, and one.