Heatley Family Crest, Coat of Arms and Name History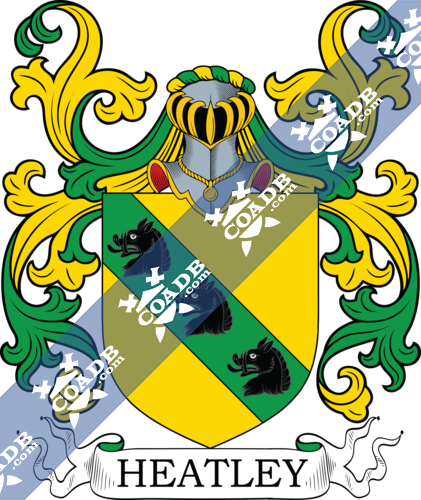 Heatley Coat of Arms Gallery
Don't know which Coat of Arms is yours?
We can do a genealogical research. Find out the exact history of your family!
Learn More
Heatley Origin:
England
Origins of Heatley:
This interesting and unique surname, with different spelling forms like Heatly, Heatlie, and Haitlie, is of English geographical origin from any one of the different places named with the Old English pre 7th Century "hoeth," which means grassland and the Old English "leah," which means a forest or clearing. These places one of which, Heatley, was a village in the northwest of Abbots Bromley in Staffordshire, and Heatley in the Lymm civil division of Cheshire, listed as Hethileg in 1286, "City Court Rolls of Chester." The surname was first noted in Scotland in the first part of the 13th Century where the name is still spread widely. One, Robert de Hetlye enchanted lands in Faunes and Melockstan in 1270, and in 1296, Alexander de Hateleye carried out homage at Elgyn en Morreve. Johanna Hethele and Robertus de Hetlegh, was recorded in 1379, "Census Tax Returns of Yorkshire," were the earliest noted ancestors of the name in England. The surname is now mostly present in Scotland, Northumberland and Northern Ireland.
Variations:
More common variations are: Heateley, Heaitley, Hatley, Heatly, Hetley, Heatle, Headley, Hateley, Heatlie, Hattley.
England:
The surname Heatley first appeared in Staffordshire where they held a family seat as Kings of the Palace of Heighley (pronounced Heathley or Heatly). At the recording of the Domesday Book in 1086 by Duke William of Normandy after his invasion of England at Hastings in 1066, this hamlet was the King's estate, but to proof to reconstructing, there survive the remains of a 13th-century palace at Heighley which was perhaps declined by an angry King. We next see Sir Robert of Keatlie far to the north in the estates of Mellerston just over the border in Scotland.
The very first recorded spelling of the family was shown to be that of Sir Robert de Hatteley, dated about 1230, in the "Records of the Abbey of Kelso," Scotland. It was during the time of King Alexander II of Scotland, dated 1214-1249. The origin of surnames during this period became a necessity with the introduction of personal taxation. It came to be known as Poll Tax in England.
Ireland:
Many of the people with surname Heatley had moved to Ireland during the 17th century.
United States of America:
Some of the people with the name Heatley who arrived in the United States in the 19th century included John Heatley landed in Kansas in 1837.
Australia:
Some of the individuals with the name Heatley who landed in Australia in the 19th century included Mary Heatley arrived in South Australia in the year 1855 aboard the ship "Mallard."
New-Zealand:
Some of the population with the surname Heatley who arrived in New Zealand in the 19th century included George Heatley arrived in Auckland, New Zealand aboard the ship "Oxford" in the year 1874.
Here is the population distribution of the last name Heatley: United States 1,575; England 1,156; Australia 371; Northern Ireland 310; Canada 211; Wales 147; New Zealand 144; South Africa 110; Scotland 85; France 61.
Notable People:
Basil Heatley (born 1933), is a British sportsman.
Bill Heatley (1920–1971), was an Australian leader.
Bob Heatley (born 1895), is an Australian football player.
Craig Heatley (born 1956), is a New Zealand businessman.
Danny Heatley (musician), was a British drummer.
Dany Heatley (born 1981), is a Canadian ice hockey player.
David Heatley (born 1974), is an American Illustrator.
Jason Heatley (born 1972), is an Australian football player.
Johnny Rock Heatley was an American guitar manufacturer.
Murray Heatley (born 1948), is a Canadian ice hockey player
Michael Heatley was a writer.
Norman George Heatley (1911–2004), was a scientist.
Philip Reeve Heatley (born 1967), is a New Zealand leader.
Ramsay Heatley Traquair (1840–1912), was a Scottish naturalist.
Spike Heatley (born 1933), is a British jazz bassist.
Tamsin Heatley was a British actress.
Blazons & Genealogy Notes
1) (Firth-Heatley; exemplified to John Firth, Esq., of the city of Waterford, on his assuming, by royal licence, 1848, the surname and arms of Heatley, in compliance with the will of his maternal uncle, Charles Heatley, Esq., of Rockview, co. Waterford).
2) Vert on a bend ar. betw. two boars' heads erased or, three mullets of the field. Crest—A sword erect entwined by two snakes all ppr.
3) Or, on a bend vert three boars' heads erased sa.