Heaton Family Crest, Coat of Arms and Name History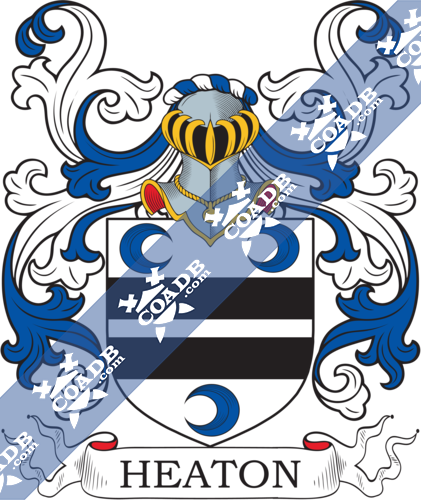 Heaton Coat of Arms Gallery
Don't know which Coat of Arms is yours?
We can do a genealogical research. Find out the exact history of your family!
Learn More
HEATON
While the use of surnames did not become a common practice in most of Europe until the late 15th century the source for many surnames may predate the practice by centuries. Thus is the case with the name Heaton. It is topographical in origin being derived from the locations in England originally called "Heahtun" which were found in Lancashire and Northumberland. The medieval word "heahtun" is a compound word whose prefix "heah" translates to high and the suffix "tun" which means enclosed.
The sources from which surnames were culled was often varied and almost limitless. One person may have been identified by their given name plus their occupation while another may have been identified by their given name and one of their parent's names. Other surnames derived from things such as defining physical traits, a familiar geographical location or a topographical landmark found near the individuals home or birthplace, the name of the village in which the person lived.
The use of surnames by the general population, a practice generally reserved for the aristocracy up until the late 15th century, developed for many reasons, two of the most important was first, it allowed people the ability to distinguish themselves, one from another in the ever growing towns and cities. Secondly, it gave the government a reliable way to track people for tax, census purposes, and immigration purposes. In medieval times, literacy was an attribute found primarily among the noble class, the clergy, and government officials, this meant most records were kept either by churches, priories, or government offices. Even so, often times there exists multiple variations in spelling of many surnames, due to the fact, rules and guidelines for spelling were lax and those who were literate often spelled many words phonetically. Unfortunately, what may have sounded one way to one person may have sounded different to another, resulting in a variety of spellings of this surname name; examples include but are not limited to; Heaton; Heatin; Heatun; and Heton.
One of the earliest recordings of the surname is that of Sir Henry de Heton and Sir Richard de Heton, both knights, listed in the directory of Nobel Families of Thrybergh, England. The family seat, Heton Castle also listed in official documents as Heaton Castle, was located on the southern banks of the Till River in Northumberland. The castle was destroyed in 1496. The site where the castle once stood is now occupied by farm buildings.
With the discovery of America and the addition of other countries to the British Commonwealth such as Canada, Australia and New Zealand, the use of surnames helped with the tracking of immigrants as well. One of the first recorded immigrants to America bearing the surname was Nathanial Heaton who arrived and settled in Boston, Massachusetts in 1620. Andrew Alexander Heaton was an early settler to Canada having arrived in 1841. Brothers, Thomas and James Heaton, were early settlers to Australia, arriving and settling in New South Wales in 1825 and William and Rebekah Heaton were early settler to New Zealand, arriving and settling in Auckland in 1854.
Worldwide, the highest concentration of people with the surname Heaton are found in the United Kingdom, Australia, the United States, Canada, and New Zealand. State by state, the largest percentile of those with the surname Heaton is in Utah, South Carolina, and Tennessee.
There are many persons of note who bear the surname Heaton. Leonard D. Heaton was an
American military officer who achieved the rank of Surgeon General of the United States Army, a position he held from 1959 until 1969. He received his medical degree from the University of Louisville. Upon graduation he was commissioned as a first lieutenant in the Medical Corps Reserves. In 1940, Heaton was stationed in Hawaii and assigned as Chief of Surgical Service, he was one of the attending surgeons for those wounded during the attack on Pearl Harbor, operating and treating the wounded for over 24 hours straight in the aftermath of the attack.
Heaton was reassigned to Europe after the United States entered World War II, where he was appointed Commander of the 802d Hospital Center in Blandford, England after D-Day. He was promoted to Brigadier General in 1948. Upon his return to the U.S. He was appointed commander of the Walter Reed General Hospital after which he was appointed Surgeon General of the United States Army.
Blazons & Genealogy Notes
1) (Plas Heaton, co. Denbigh). Ar. on a bend engr. sa. three bucks' heads of the field. Crest—A buck's head, as in the arms.
2) (Claremont, Leeds). Ar. two bars sa. betw. a decrescent and increscent in chief and an increscent in base az.
3) Gu. three nags' heads erased ar. Crest—A nag's head erased ar.
4) (Mount Heaton, King's co.; confirmed by Hawkins, Ulster, 1715, to Francis Heaton, son of Very Rev. Richard Heaton, Dean of Clonfert, and grandson Francis Heaton, Esq., of Morehouse, co. York). Vert a lion ramp. ar. Crest—A lion ducally crowned, plain collared and chained all ppr.
5) (Grovelay Hall, co. Worcester, Winkell, co. Lincoln, and London). Ar. six trefoils slipped vert, two and one, two and one. Crest—A pelican or, legged sa. vulning herself ppr.
6) (Grovelay Hall, co. Worcester, Winkell, co. Lincoln, and London). Ar. six trefoils slipped vert, two and one, two and one. Crest—A pelican or, legged sa. vulning herself ppr.