Hector Family Crest, Coat of Arms and Name History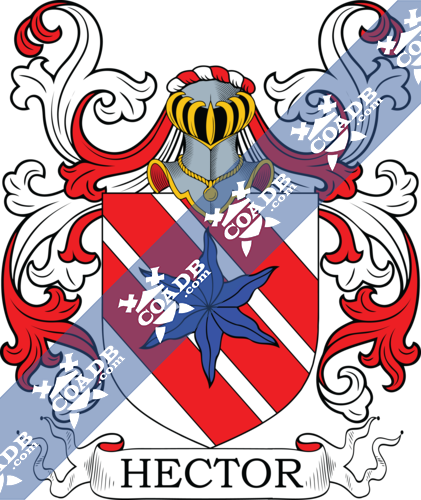 Hector Coat of Arms Gallery
Don't know which Coat of Arms is yours?
We can do a genealogical research. Find out the exact history of your family!
Learn More
Hector Origin:
England, Ireland
Origin of Hector:
It is an interesting and unique surname which is listed in different spellings forms like Ecktor, Ector, Hecter, and Hector. This name holds two possible origins. The first origin of the surname is acquired from the old Greek word 'hero,' and in the 12th century, this word entered into Europe at the time of the 12th-century holy wars. These useless military journeys were an attempt to take the Holy Land from the grasp of the Muslims. It was a common practice for returning soldiers to name their male heirs with religious or academic names, in celebration of the fathers 'journey'. The second foundation of the surname is associated with old Gaelic (Irish-Scottish) word 'Eachdonn' which means "the dark horse" and may be a nickname. Not only in Scotland but also in Ireland these spellings forms were anglicized to 'Ecktor' or 'Hector.' After some time, it is now identified in various spelling forms of the name, which is mainly listed in Northern Ireland. An example from this area being Mary Hector, the offspring of Robert Hector, named at Donaghmore, Division Tyrone, in December 1770. The previous American documentation firstly listed as Hecter, Catharine Hecter, the daughter of Frederick Hecter, being named at Rhinebeck, N. Y. in April 1755. They were possibly of Dutch origins. The marriage of Annesje Hector and Zacharias Hoffman at Shawangunk, N.Y. in July 1772, was Dutch. Sarah Ector married John Wilson at Trinity Church, New York, N.Y., was possibly of Irish stock. The name 'Wilson' also being very popular in Northern Ireland. The royal monogram given in France, has the blazon of three gold towers on a blue field.
Variations:
More common variations of this surname are: Hecktor, Hectore, Hectora, Hectoor, Heactor, Hecctor, Hechtor, Hoector, Hectoria, Hecketor.
Scotland:
The name Hector firs appeared in Angus, part of the Tayside area of northeastern Scotland, and present day Council Region of Angus, already recognized as Forfar or Forfarshire, where they held a family seat from early times. Some say well before the Norman Invasion and the landing of Duke William at Hasting in 1066 A.D. As stated by Arthurian legend, Sir Ector was the father of Sir Kay and the cherish father of King Arthur.
Ireland:
The very first recording spelling of the family was shown to be that of Elizabeth Ecktor, which was dated July 1692, married at Derry Cathedral, Northern Ireland. It was during the time of King William III of England and Orange, dated 1689 – 1702.
United States of America:
Individuals with the surname Hector settled in the United States in three different centuries respectively in the 17th, 18th, and 19th. Some of the people with the name Hector who settled in the United States in the 17th century included Kath Hector arrived in Virginia in 1655.
Some of the individuals with the name Hector who settled in the United States in the 18th century included John Hector, who landed in Oxford, Maryland in 1747. John Hector settled in Maryland in 1747. Casper Hector settled in New Jersey in 1771. Frederick Hector settled in Pennsylvania in 1772.
Some of the people with the name Hector who settled in the United States in the 19th century included Robert Hector, who landed in Philadelphia, Pennsylvania in 1811. Elizabeth, James, Margaret Hector arrived in New York in 1820. Frederick Hector, who arrived in Allegany (Allegheny) Division, Pennsylvania in 1852. Charles Hector, who landed in Allegany (Allegheny) Division, Pennsylvania in 1873.
Australia:
Some of the people with the name Hector who settled in the Australia in 19th century included James Hector and Elizabeth Hector both arrived in Adelaide, Australia aboard the ship "Isabella Watson" in the same year in 1846.
New Zealand:
Some of the people with the name Hector who settled in the New Zealand in 19th century included George Nelson Hector landed in Tamaki, Auckland, New Zealand in 1840.
Here is the population distribution of the last name Hector: United States 5,098; England 1,586; Mexico 4,005; Haiti 3,150; Argentina 1,851; France 1,690; Egypt 1,124; Pakistan 754; South Africa 5,351; Germany 807.
Notable People:
James Hector (1834–1907), was a Scottish geologist, naturalist, and specialist.
Willie Hector (born 1939), is an American footballer.
Kevin Hector (born 1944), is an old English football player who played for Bradford Park Avenue and Derby division.
Jonas Hector (born 1990), is a German football player.
Blazons & Genealogy Notes
1) Ar. three bends gu. on the centre the sun or. Crest—Out of a mural coronet ar. masoned sa. a demi lion az. holding a palm branch vert.
2) Ar. three bends gu. an estoile az.