Higgins Family Crest, Coat of Arms and Name History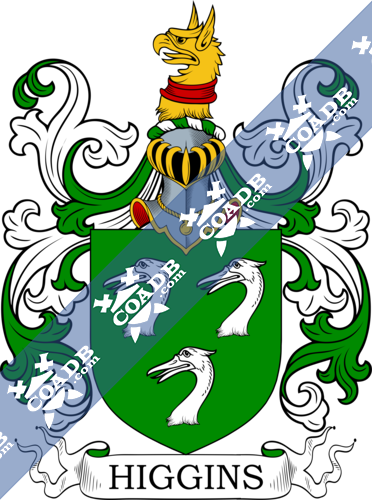 Higgins Coat of Arms Gallery
Don't know which Coat of Arms is yours?
We can do a genealogical research. Find out the exact history of your family!
Learn More
Higgins Surname Name Meaning, Origin, History, & Etymology
This is a baptismal or patronymic last name meaning "the son of Richard" from the nickname or reduced form of Richard, Hick, which was corrupted to Higg, which in the diminutive form, became Hickin. It translates to "little Richard". A similar theory is that it meant little Hig or son of Hugh, from Hig, and the patronymic terminations ings. In Ireland, this is an Anglicized form of the Gaelic surname O'Huiginn, meaning a descendant of Uiginn, an old personal (first) name meaning "viking" or "sea rover", deriving from the Old Norse work víkingr. One source states that O'Huigin was a sept of the southern Ui Neill that migrated to Connacht where they held land and titles. Alternatively, it can be a spelling variant of the Irish surname Hagan. Some scholars believe the name traces back to the Irish word for "knowledge", perhaps linking the family's early prominence as bards to the Gaelic Kings of Ireland.
In his book A Genealogical History of Irish Families, John Rooney, states the family descended from Milesius, King of Spain, from the line of Heremon, the eighth son of that monarch. This is a dubious claim, made throughout the book about several Irish families, as most historians believe Milesius is a mythological figure. The book states the following in regard to this family: "The founder of the family was Fiachra, ancestor of the Southern Hy Nials, and son of Nial the Great, or Nial of the Nine Hostages. King of Ireland, AD 379. The ancient name, Huigin, signifies "Ingenuity" or "Knowledge," and was taken from Uigin, a chieftain of the sept. The possessions of the sept were located in the present Counties of Mayo, Galway, and Westmeath, and comprised a fertile and extensive territory. Another branch of the same sept, in the County of Mayo, was descended from Milesius through the line of his third son, neber, and belonged to the Clanna Fogartaid, from its founder Eogan, son of Olliol Ollum, King of Munster AD 177". Many members of this family were among the first to suffer at the Anglo-Norman invaders of Ireland.  The name was sometimes Anglicized to McEgan or Egan. Many members of this family left Ireland after the siege of Limerick and took refugee with their kinsmen in Spain during the reign of Queen Elizabeth of England in the 1500s, many going to South America. A one Don Ambrosio O'Higgins was a very prominent figure in Chile and did a lot to build towns, canals, harbors and trade in that nation, followed by his son who contributed to the independence of the nation.
Another source states the O'Higgins are an ancient noble Irish family who claim descent from Shean Dugg O'Higgins (born around 1600 AD), the Gaelic Baron of Ballynary, who married a daughter of the O'Conor family. They are part of the royal house of O'Neill. They held titles such as Lord of Monteige, Lord of Ballnary, Marquis of Osorno, Baron de Vallenar, Councillor of Castile, Baronet of Montoge, and Baron O'Higgins in Connacht, Spain, and France. They originated in the Kingdom of Meath and Brega. They were poets in the courts of Irish Princes and Chiefs. Because of their adherence to Gaelix religion and culture, they were persecuted under the English Crown.
Wikipedia states: "The earliest known coat of arms was recorded in 1724 by Sir John Higgins Bt of Montoge with Sir James Terry, Athlone Herald in the Court of James II at St. Germaine. Sir John Higgins's branch of the family moved to Limerick after they lost their lands at Monteige in Sligo and eventually relocated in France and later in Spain where John Higgins was knighted and became personal physician to the King of Spain".
Spelling Variations
Some spelling variants or names with similar etymologies include O'Higgins, Higgin, Heigine, Higgons, Higgon,Higgens, Higgens, Higginson, Hygyn, Higune, Hyggyn, and many others.
Popularity & Geographic Distribution
The last name Higgins ranks 365th in popularity in the United Status as of the 2000 Census. The name ranks particularly high in the following four states: Maine, Massachusetts, Connecticut, and Montana. The surname Higgins frequency/commonness ranks as follows in the British Isles: England (251st), Scotland (254th), Wales (248th), Ireland (69th) and Northern Ireland (126th). In England, it ranks highest in counties Buckinghamshire and Shropshire. In Scotland, the surname ranks highest in Wigtownshire. In Wales, it ranks highest in Anglesey and Montgomeryshire. In Ireland, it ranks highest in county Roscommon. In Northern Ireland, it ranks highest in county Londonderry. The name is also present throughout the remainder English speaking world:  Canada (613th), New Zealand (343rd), Australia (69th), and South Africa (1,603rd).
Early Bearers of the Surname
The Poll Tax of Yorkshire in 1379 AD lists two bearers of this as a personal name: Hekyn de Wath and Hygyn de Bowland. An early marriage involving this surname was Sisley Higgenson to John Ball at St. Mary Aldermary in London, England in 1580. The Register of the Univeristy of Oxford lists one Alan Hygginson or Hickynsone in 1552. The Lancashire Wills at Richmond list one Leonard Huggyn or Higune in Estmotherlie in 1588. In 1689, William Higgins was a member of the Scots parliament for Linlithgow.
Higgins Family Tree & Higgins Genealogy
Higgins of Turvey of House
The lineage or ancestry of this branch of the Higgins family tree begins with a discussion of John Higgism, Esquire, who was the frandson of Ann Aleke of Hardington. In 1793, he married Martha, daughter of William Farrer, of Brafield House, and had four issue with her as follows: Thomas Charles (of Turvey House), William Batholomew (of Piets Hill, Turvey, Justice of the Peace, Deputy Lieutenant, High Sheriff, and Lieutnenant-Colonel of the Bedfordshire Militia), Harriet (married General Scott), and Anna Maria. He died in 1820 and was succeeded by his son Thomas. This Thomas Charles Higgins was an Esquire of Turvey House, Justice of the Peace, and Deputy Lieutenant, as well as Chairman of Quarter Sessions for county Bedfordshire, England who was born in 1797. In 1838, he married Charlotte, daughter of Sir Rose Price of Trenwainton, county Cornwall, having five children with her as follows: William Francis (see below), Dennis Lambart, Harriet Anna (married Richard Moon Brocklebank), Emily Kathleen, and Louisa Blnache. He died in 1865. His son William Francis Higgins was an Esquire of Turvey House, Bedfordshire, was born in 1845. In 1873, he married Fanny Adela, daughter of Colonel Wilby, and had two issue with her: Gustavaus Franics (1873) and Adela Kathleen (1876). He was educated a Harrow and Pembroke College, Oxford. He was a Justice of the Peace, Deputy Lieutenant, High Sheriff, and Captain in the Bedfordshire Militia. The Higgins Coat of Arms (mistakenly called the Higgins Family Crest by those unfamiliar with heraldry and genealogy) is blazoned as follows: Vert, three cranes' head erased argent. Crest: Griffin's head erased or, gorged with a collar gules. Motto: Nihil quoud obstat virtuti.
Higgins of Bosbury House
The Higgins genealogy begins with a mention of Edward Higgisn, an Esquire, who in 1563, married Mary, daughter and co-heir of Thomas Clynton of a Castleditch and Margery Tracy, and had a son with her named Thomas. This Thomas Higgins was an Esquire of the Birchen and Hillende, Eastnor, county Hereford, England. In 1601, this Thomas married Anne, daughter of James Parry of Ledbury, and had a son and successor with her named Robert. This Robert married Joan Machan, of English Bicknor, and had four daughters and three sons with her. The eldest son of this marriage was Thomas Higgins, an Esquire of Eastnor, who married Dorothy, daughter and heir of Thomas Yoinge of Hanley Castle and Editha Stoughton of St. John's, having a son and heir with her, also named Thomas. This son Thomas was an Esquire who married Winifred, daughter of T. Barnes of Longdom, and had issue with her. The eldest son of this marriage was Thomas Higgins of Eastnor, who was born in 1701, and married Elizabeth, daughter of Joseph Allen, and had four issue with her as follows: Elizabeth, Anne, Mary, and Thomas. The son Thomas Higgins was a Gentleman of Hillend Eastnor, born in 1730, and he married Sarah, daughter of Mr. Wood of Prestor Court, have issue with her prior to his 1802 death. His son and heir was Reverend Joseph Higgins, of Eastnor, a Justice of the Peace, Deputy Lieutenant, and Rector of Eastnor. In 1796, he married Mary, daughter of Thomas Hussey, and had 12 children with her as follows: Reverend Thomas (of Pangbourne, Justice of the Peace, married Mary Stanley Mills of Stratford Hall, and later Maria Browne of London), Joseph Allen (of West Bank, near Ledbury, Justice of the Peace and Deputy Lieutenant, married Eliza Hill of Cheltenham), Samuel (of Berrow Court, married Elizabeth Matthews of Linton, and had two daughters and one son named Samuel Meyrick), Edward (see below), James, Robert (married Maria Agnes Crosse, had issue named William and Mary), Francis (in 1842, married Miss Elizabeth Williams, daughter of the Earl of Coventry), Anne (married Reerend Joseph Lawson Whatley, Rector of Aston Ingham), Mary, and Penelope. His son Reverend Edward Higgins of Bosbury House, county Hereford, was an M.A., Justice of the Peace, and Deputy Lieutenant was born in 1803. In February 1833, he married Georgina Esther, daughter and co-heir of George Meredith of Berrington Court, and had one daughter with her named Ellen Gray. Ellen married Robert Baskerville Rickards-Mynors of Evancoyd, son of Peter of Treago, and had issue with him named Willoughby Baskerville Mynors, Arthur Clynton Baskerville Mynors, Charles Baskerbille Mynors, Audley Baskerville Mynors, and Ellinor Baskervile Mynors. The Higgins Coat of Arms has the following heraldic blazon: Quarterly: 1st and 4th, paly of six or and azure, on a chevron cotised ermine, three crosses pattee gules; 2nd and 3rd, vert, three cranes heads erased argent, quartering Clinton, (??)arlies, and Yonge. Crest: A garb or proper charged with two crosses pattee gules. Motto: Patriam hinc sustinet. They resided in Bosbury, county Hereford, England, Great Britain or modern day United Kingdom of the British Isles of Europe.
Other Higgins Pedigree & Family Trees
John Higgins was born in England around 1528 AD. He married Elizabeth Clinton and had two sons: John and Edward. His son Edward was born in Worcester, England in 1545 AD. He married Julian Meals and had four issue with her: Johnathan, Thomas, Julian, and Richard. His son Richard Higgins was born in England in 1603. He went to Plymouth, Massachusetts, in colonial America where he married twice: Lydia Chandler and Mary Whitehead.  He had the following issue: Jonathan, Benjamin, Mary (Looker), Eliakim, Zerah, Thomas, Lydia, Rebecca (Martin), Sarah, and Ruth. His children all had issue that populated America.
1) His son Jonathan was born in Eastham, Massachusetts was born in Elizabeth Rogers and Hannah Rogers and had the following children: Beriah, Jonathan, Jemima (Mulford), Joseph, Hannah (Paine), Elisha, Elizabeth (Mayo), Mary, Rebecca, James, and Sarah.
2)  His son Benjamin was born in 1640 and he married Lydia Bangs, having the following issue with her: Ichabod, Richard, John, Joshua, Lydia, Isaac, Deborah, Rebecca, Samuel, and Benjamin.
3) Jediah (or Jodiah) Higgins who was born in Eastham, MA in 1656 and he married Mary Newbold, with whom he had the following issue: Anne, Rose Bloomfield, Mary, Thomas, Jediah, James, Joshua, Phoebe, Michael, Mary (Stout), and Joseph.
Jediah's son, Jediah Higgins, was born in New Jersey in 1691. He married Hannah Stout and he had three issue: Joseph, James, and Mary (Stout). His son Joseph was born in 1716 and he married Mary Philips and had a son with her named Michael. This Michael was born in Hunterdon, New Jersey, in 1739, and he married Ruth Brush, with whom he had the following children: Joseph, Sarah, Jonathan, Elizabeth (Kashow), Michael, and Israel. His son Joseph Higgins was born in 1767 and he married Sarah Cornell, and had two issue with her: Eliza Runkle and Isaac C. His son Isaac C. was born in 1805.
Early American and New World Settlers
The book Genealogical Guide to the Early Settlers, mentions five bearers of this last name:
1) Abraham Higgins, Salem, 1637
2) John Higgins of Boston, Massachusetts, married Susanna and had a son named John in 1656
3) Jonathan Higgis, brother of the above John, who in 1661, married Elizabeth, daughter of Joseph Rogers, and had issue with her named Beria, Jonathan (1664), Joseph (1667), Elizabeth (1680), Mary (1683), Rebecca (1686), James (1688), and Sarah (1690)
4) Richard Higgins, of Plymouth, MA, 1623, who in 1634, married Lydia Chandler, and moved to Eastham where he was a representative from 1647-1651. He had children named Jonathan (1637), Benjamin (1640), Mary (1652), Eliakim (1654), William (1654 or 55), Judah (1657), Zerniah (1658), Thomas (1661), and Lydia (1664). He married Mary Yates.
5) Robert Higgins of Boston, MA, in 1654, married Suannah Westoe. He was a public executioner by trade. He died in 1665. There were many families of this name in Eastham, MA in 1801.
John Higgins, age 20, came to St. Christopher's in January 1634.
Ann Higginson, age 25, came to Virginia aboard the George in August 1635.Elizabeth Higgins was recorded as living in Virginia in February 1623.
John Higgins came to Virginia at the age of 21 aboard the George 1616 as part of the muster of Christopher Woodward's.
Other early settlers in colonial America bearing this surname include Abraham Higgins (Massachusetts 1637), George Higgins (Virginia 1639), Richard Higgins (Maryland 1649), Francis Higgins (1651), Charles Higgins (Virginia 1702), Timothy Higgins (Virginia 1703), Walter Higgins (Virginia 1705), Norah Higgins (Virginia 1706),and Alexander Higgins (New England 1724).
In Canada, two of the earliest bearers of this last name were John and Elizabeth Higgins who came to St. John's, Newfoundland and Harbour Grace, in 1751 and 1774, respectively. In Australia, Edmund and George Higgins, convicts from Oxford and Kent, England came aboard the Ann in 1809, living in New South Wales (then a penal colony). In 1842, a family of this surname came to Nelson, New Zealand  aboard the Clifford, including William (a sawyer by trade, age 35) Higgins, his with Mary Ann, and his children Mary and Matthew.
Early Americans Bearing the Higgins Family Crest
Charles Bolton's American Armory (1927), Crozier's General Armory (1904), and Matthew's American Armoury and Bluebook (1907) do not contain any entries for this surname. To me, this suggests there were not many early colonial American settlers bearing this surname, and bearers of this name may have come to America in the eighteenth and nineteenth century when heraldry was less popular, as opposed to the seventeenth century when heraldry was more popular, although this is conjecture on my behalf.
Mottoes
I have identified seven Higgins family mottoes:
1) Faithful and true
2) Patriam hinc sustinet (Hence he sustains his country)
3) Pro patria et virtute (The power of the country)
4) Firme dum fide (Steadfastly while in trust)
5) Pro patria (For my country)
6) Nihil quod obstat virtuti (Nothing which is opposed to virtue)
Grantees
We have 13 coats of arms for the Higgins surname depicted here. These 13 blazons are from Bernard Burke's book The General Armory of England, Scotland, Ireland, and Wales, which was published in 1848. The bottom of this page contains the blazons, and in many instances contains some historical, geographical, and genealogical about where coat of arms was found and who bore it.
Notables
There are hundreds of notable people with the Higgins surname. This page will mention a handful. Famous people with this last name include: 1) William Higgins (1763-1825) who was an Irish chemist who was an early supporter of atomic theory, born in Collonney, County Sligo, Ireland, 2) Michael D. Higgins (1941) who was the 9th President of Ireland since 2011, and was formerly the Minister for Arts, Senator, and Mayor of Galway, born in Limerick, 3) Brian Higgins (1959) who was a U.S. Representative for New York's 26th congressional district born in South Buffalo, 4) Frank Wayland Higgins (1856-1907) who was an American politician and 35th Governor of New York who was born in Rushford, NY, 5) William Lincoln Higgins (1867-1951) who was a member of the US House of Representatives from Connecticut from 1933-1937 who was born in Chesterfield, MA, 6) John Patrick Higgins (1893-1955) who was an officer in the US Navy and a chemist who became a member of the US House of Representatives for Massachusetts from 1935-1937, having been born in the city of Boston, 7) Edward John Higgins (1864-1947) who was the 3rd General of The Salvation Army from 1929-1934 having been born in Highbridge, Somerset, England, 8) Bernard O'Higgins (died 1564 AD) who was an Irish Roman Catholic Bishop, serving as an Irish Roman Catholic bishop from 1542 to 1564, 9) Edward Higgins (1821-1875) who was a Brigadier General for the Confederate States of America during the American Civil War, born in Norfolk, Virginia, and 10) Ambrosio Bernardo O'Higgins (1720-1801), 1st Marquis of Osorno who was a Soanish colonial administrator who was the military Governor of Chile and Viceroy of Peru, born in Ballnary, Ireland, whose son Bernardo who was a Chilean independence leader.
Blazons & Genealogy Notes
1) or Higgons (co. Hereford, and Shrewsbury). Vert three cranes heads erased ar. Crest—A griffin's head erased or, gorged with a collar gu.
2) (co. Salop). Ar. guttee de poix a fesse sa.
3) (Moreton Jeffreys, and Thing Hill, Withington, co. Hereford). Per fesse vert and ar. a pale counterchanged three cranes' heads erased of the second, and as many lobster claws erased sa. Crest—A gryphon's head erased or, gorged with a collar sa. charged with a lozenge ar. betw. two plates, in the beak a lobster's claw erased gu. Motto—Faithful and true.
4) (Worcester; John Higgins, Mayor, 1654, and James Uiogins, Mayor, 1680). Ar. a chev. vaire of the first and gu. betw. three hurts, each charged with a lion's gamb erased of the field.
5) (Skellow Grange, co. York). Erm. on a fesse sa. three towers ar. Crest—Out of a tower sa a lion's head ar.
6) (Turrey Abbey, co. Bedford). Vert three cranes' heads erased ar. Crest—A griffin's head erased or, gorged with a collar gu.
7) (Eastnor, co. Hereford; borne by the late Rev. Joseph Higgins, Rector of Eastnor and Pixley, J.P. for the counties of Hereford, Worcester, and Gloucester, the representative of an ancient family derived immediately from the marriage, in 1361, of Edward Higgins, Esq., with Mary, dau. of Thomas Clynton, Esq., of Castleditch, by Margaret. his wife, dau. of Richard Tracy. Esq., of Toddington. co. Gloucester). Paly of six or and az. on a chev. cotised erm. three crosses pattee gu., quartering, for Clynton, paly of six or and az. a chev. erm. per pale dancettee az. and or; and for Yonge, ar. on a bend sa. three griffins' heads erased or. Crest—A garb ppr. charged with two crosses pattee gu. Motto, allusive to the crest—Patriam hinc sustinet.
8) (London). Ar. guttee de poix on a fesse of the second three towers double-towered or. Crest—Out of a tower double-towered sa. a demi griffin ar. holding in the dexter paw a sword of the last, hilt and pommel or.
9) (Glenary, co. Waterford; granted to Joseph Napier Higgins, Esq., Q.C.). Per chev. ar. and vert, a crescent betw. three cranes' heads erased counterchanged. Crest—A griffin's head erased or, charged with a crescent gu. and gorged with a collar of the last, thereon three bezants. Motto—Pro patria et virtute.
10) (Henry Higgins, Esq., J.P., of Moreton Jeffrys, co. Hereford). Per fesse, vert and ar. a pale counterchanged three cranes' heads erased, two and one, of the second, and as many lobster's claws erased, one and two, sa. Crest—A griffin's head erased or, gorged with a collar sa. charged with a lozenge ar. betw. two plates, in the beak a lobster's claw erased gu.
11) or Heigine (Craigforth, co. Stirling; the heiress m. John Burn-Murdock, Esq., of Gartincaber). Ar.. a saltire betw. a unicorn's head in chief and base ar. armed gu. in the dexter flank a decrescent, in the sinister an increscent of the second. Crest-On a rock a dove with an olive branch in the beak all ppr. Motto—Firme dum fide.
12) (Bury, co. Somerset). Ar. guttee de poix on a fesse sa. three towers of the first. Crest—Out of a tower gu. a lion ramp. issuant ar. Another Crest—A castle gu.
13) (a Sept located in Connaught, a branch of which settled in co. Westmeath; Teige O'Higgin, of Kilbeg, in that co., d. Jan. 1633, Fun. Ent. Ulster's Office; the name is derived from one of their chiefs, Uigin, from whence the name O'Higgin). (Ballynary, co. Sligo, and Spain; allowed by Fortcscue, Ulster, 1788, to Don Ambrose O'Higgins, Brigadier-General and Commandant of the King of Spain's Forces in Chili, great-grandson of Shane Doff O'Higgins, of Ballynary). Ar. guttee de poix on a fess sa. three towers of the first. Crest—A tower sa. issuant from the battlements a demi griffin, wings elevated ar. holding in the dexter claw a sword ppr. Motto—Pro patria.