Hillis Family Crest, Coat of Arms and Name History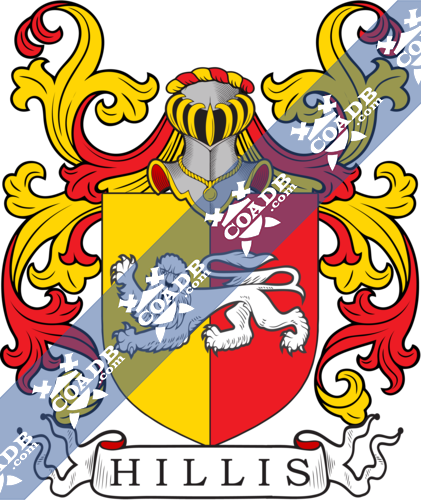 Hillis Coat of Arms Gallery
Don't know which Coat of Arms is yours?
We can do a genealogical research. Find out the exact history of your family!
Learn More
Hillis Origin:
England, Ireland, Scotland
Origins of Hillis:
The surname of Hillis is said to be a locational surname from the country of England. Since the surname of Hillis is said to be locational, this means that it was often taken by the Lord or owner of the land from which the name derives. Others who may have take a locational surname are people who have migrated out of the area to seek out work. The easiest way to identify someone who was a stranger at that time was by the name of their birthplace. In the case of the surname of Hillis, the word comes from the Old English, Pre 7th Century word of "hill" which literally translates to mean "hill." Many places throughout the country of England were named with various forms of the word "hill" within them, thus causing many people to be names as Hillis. The surname of Hillis is also a topographical surname for someone who resided on or near a prominent and distinguishable hill or mountain within their community or village. A topographical surname is used to describe someone who lived on or near a residential landmark. This landmark could be either man made or natural, and would have been easily identifiable in the area from which it hailed, thus making the people who lived near it easily distinguished.
Variations:
More common variations are: Hillies, Hillius, Hillios, Hillias, Hilliss, Hillsy, Hillise, Hills, Hilis, Hillious
History:
England:
Those who are known to bear the surname of Hillis within the country of England can be seen in large concentrations in the areas of Yorkshire, Cumbria, and Lancaster counties.
Scotland:
The first recorded spelling of the surname of Hillis can be traced to the country of Scotland. One person by the name of Adam Hillis was mentioned in the document known as the Council Register of the Burgh of Aberdeen in the year of 1442. Within the country of Scotland there is a sizable population of people who are known to bear the surname of Hillis. The areas that have the larger concentrations of people who are known to bear the surname of Hillis within the country of Scotland can be found in the counties of Lanarkshire, Ayrshire, Renfrewshire, Dunbartonshire, Stirlingshire, and Midlothian.
United States of America:
Throughout the 17th and 18th centuries, it was common for European citizens to migrate to the United States of America in search for a new and better, more promising life for them and their families. The United States, which at that time was known as the New World, or the Colonies, promised freedoms that these citizens had never before been afforded, such as the ability to own land. Among those who migrated was one Abraham Hillis, who arrived in America in the year of 1736.
Here is the population distribution of the last name Hillis: United States 6,928; Canada 1,158; England 500; Australia 306; Northern Ireland 215; Saudi Arabia 192; Scotland 177; South Africa 146; New Zealand 137; Ireland 126; United Arab Emirates 54; Spain 13; Mexico 3; China 2
Notable People:
Robery Duane "Rib" Hillis (born in 1971) who is a soap opera actor from America, and who is most notably recognized for his role on General Hospital (1963) Groom's Cake (2012) and Port Charles (1997).
Alecia Deann "Ali" Hillis (born in 1978) who is an actress from America who is most notably recognized for her roles in Must Love Dogs (2005), Kiss Kiss Bang Bang (2005), and Mass Effect (2007).
William Daniel "Danny" Hillis (born I 1956) who is an entrepreneur, author, and inventor from America.
Peyton Hillis (born in 1986) who is a fullback in the NFL, which is also known as the National Football League, and who is from America.
Margaret Hillis (1921-1998) who is a conductor, and who served as the first director of the Chicago Symphony Chorus, and who was from America.
Malcolm David "Mack" Hillis (1901-1961) who was a second baseman in the MLB, which is also known as Major League Baseball, and who was from America.
Elwood Haynes "Bud" Hillis (born in 1926) who served as a former U.S. Representative from the state of Indiana, and who was a politician from America.
Blazons & Genealogy Notes
Per pale or and gules a lion passant argent.