Hilliard Family Crest, Coat of Arms and Name History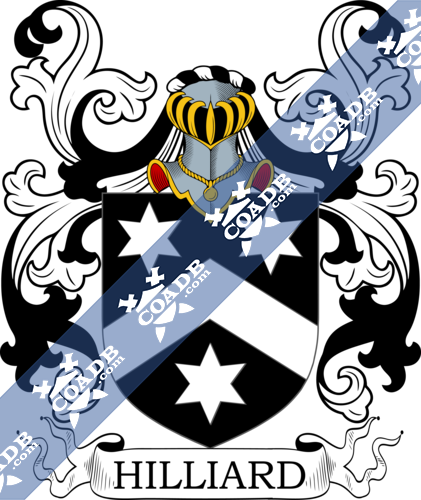 Hilliard Coat of Arms Gallery
Don't know which Coat of Arms is yours?
We can do a genealogical research. Find out the exact history of your family!
Learn More
HILLARD
The name Hillard is of Norman/French origin and is patronymic, as it, and all other variations of the name's spelling are believed to have derived from one common ancestor, Robert Hildheard from Normanby in the county of York. It is thought the name came over with William the Conqueror during the invasion.
The variations in the spelling of the surname Hillard includes; Hillard; Hilliard; Hildyard; Hildheard; and Hilliard among others. The variations in spelling of surnames, as well as many given or bynames dating back to ancient times can be attributed to a lack of consistency regarding guidelines for spelling in use by the scribes who recorded such information, many of which were in the habit of spelling phonetically. The issue of multiple spellings of names in records was compounded by the diversity of languages in use in European countries at this time.
Until the Norman invasion and conquest, surnames were rarely if ever used. In the small settlements and villages which existed during earlier times in most of Britain, residents found little need for surnames as everyone in these communities knew each other and a given name would usually suffice. However, as communities grew and people began to migrate on a larger scale, along with the need of the government having a reliable way to track people for tax and census purposes, the Norman aristocracy's penchant for using surnames seemed the appropriate evolution to this problem. In most instances to distinguish themselves, one from another, those not of the noble class would often be identified by their given name plus their occupation while others may have been identified by their given name and one of their parent's names. There was a boundless supply from which surnames could be formed, in addition to the use of patriarchal/matriarchal names or reference to the individuals occupation, there were things such as defining physical traits, a familiar geographical location or a topographical landmark found near the individual's home or birthplace, the name of the village in which the person lived, and so much more. Over the course or time, surnames would come not just to represent an individual but whole families.
One of the earliest record of any variation of this surname is that of Robert Hildeyerd which appears in the York tax rolls from 1273. The tax rolls, were a series of census and tax records kept by the English Treasury by order of King Edward III, with the oldest dating back to the 12th century. These documents are considered the oldest concentrical set of records detailing English governance in the United Kingdom spanning a period of over seven centuries, they have proven invaluable to researches over the years. Additional tax rolls show records of Hilward de Broughton from Furness in Cumbria in 1409.
William Hillard is recorded as one of the earliest immigrants to America bearing the surname or any variation of the spelling of Hillard. He who arrived in 1654 and settled in Virginia. Rebecca Hillard arrived in 1680 and settled in Maryland and Richard Hillard landed in 1684 and settled in Virginia.
Worldwide, the highest concentration of people with the surname Hillard are found in Australia, the United States, Ireland, the United Kingdom, and France. By state, the largest percentile of those with the surname Hillard live in Kentucky.
There are many persons of note who bear the surname Hillard. Probably one of the earliest was Nicholas Hillard (Hilliard), artist to the Royal Household of Queen Elizabeth I; born in Exeter, Devon, England, he was the son of Richard Hilliard (Hellyer) the Sheriff of Exter. It is also believed Hillard had a strong connection to John Bodley, father of Thomas Bodley who founded Oxford Universities Bodleian Libray, one of the oldest libraries in Europe and the second largest in England, both families were extremely close and supportive of their individual familial endeavors.
Hillard had shown himself to be a gifted artist at an early age, he painted a self portrait at 13 and at 18 he produced a portrait of Mary Queen of Scots. While it is believed he had very little formal training as an artist, he is believed to have been trained in the art of limning by Levina Teerlinc, the Flemish Renaissance painter. Limning is the skill of creating illuminated manuscripts. He was a skilled goldsmith, as well, having served a seven year apprenticeship to Robert Brandon, the Queen's jeweler.
Once his apprenticeship was completed, he opened a shop with his brother, John, who was also a goldsmith. At about this same period, the Royal household was in need of an artist to render royal portraits. Hillard had at some point, had painted a number of portraits in miniature for the Earl of Leicester, Leicester being a court favorite, introduced the young artist's work, and it is through his efforts, Queen, Elizabeth I, became acquainted with his painting. The first official miniature commissioned by the Queen was dated 1572.
Blazons & Genealogy Notes
1) (co. Durham). Az. a chev. ar. betw. three mullets of the second. Crest—A cock sa. combed, legged, and beaked
2) (co. Warwick, and Maringe, co. York). Ar. three fleurs-de-lis az. betw. six crosses crosslet fitchee sa. a crescent gu. for diff. Crest—A cubit arm erect in armour ppr. holding in the gauntlet a caltrap ar. round the arm a sash vert.
3) (co. York). Sa. a chev. betw. three mullets of six points ar.
4) Az. a cross moline betw. four mullets or. Crest—An arm embowed in armour, grasping in the hand a spear all ppr.
5) Ar. a cross crosslet fitchee sa. betw. three fleurs-de-lis gu.
6) "(Caherslee, co. Kerry). Az. three mullets or. Crest—A cock ppr. (Burke's Supplement states the crest is a cock statant sa. combed, wattled, legged, and spurred gu.)."
7) (Wynestead, co. York, and East Horseley, co. Surrey; an ancient and eminent family, co. York). (Patrington, co. York, bart., extinct 1814; Robert Hildyard, Esq., of Patrington, was created a bart. 1660, he was youngest son of Sir Christopher Hildyard, Knt., of Wynestead). Az. three mullets or, (and sometimes ar.) a chev. betw. three mullets ar. Crest—Originally, a reindeer ppr.; subsequently, a cock sa. beaked, legged, and wattled gu. The latter Crest was granted to this family for the valour shown by members of it at the battle of Towton, between the Houses of York and Lancaster, when Sir Robert Hildyard was slain, commanding under the banner of Lancaster.
8) (Flintham, co. Notts; exemplified to Thomas Blackborne Thoroton-Hildyard, Esq., of Flintham, J.P. and D.L., High Sheriff of Notts in 1862). Az. a chev. betw. three mullets or. Crest—A game-cock beaked, legged, and wattled gu.