Hollingsworth Family Crest, Coat of Arms and Name History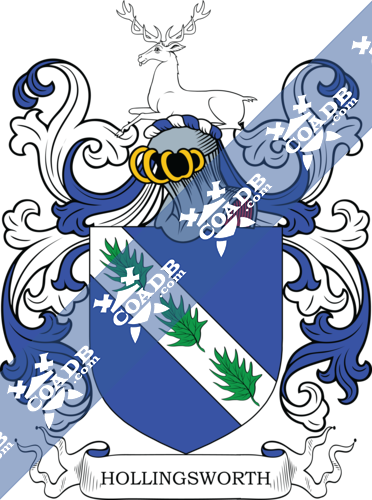 Hollingsworth Coat of Arms Gallery
Don't know which Coat of Arms is yours?
We can do a genealogical research. Find out the exact history of your family!
Learn More
Wales 181; Scotland 151; France 122
Notable People:
Stanley Walker Hollingsworth (1924-2003) who was a composer from America
George Hollingsworth (1813-1882) who was an artist from the state of Massachusetts in America
Mark Hollingsworth Jr. (born in 1954) who served as the 11th Bishop of the Episcopal Diocese of Ohio from 2004 to present day, and who is a cleric from America
Elaine Hollingsworth (born in 1928) who was born with the name of Sara Shane, and who was a film and television actress in the eras of the 1950's and the 1960's
David Adam Hollingsworth (1844-1929) who served as a Member of the U.S. House of Representatives from the state of Ohio in the year 1909 to the year 1911, and who also served as the 16th Attorney General of the state of Ohio, and who was a politician from America
John Burnette Hollingsworth (1895-1990) who was a Major League Baseball pitcher from the year 1922 to the year 1928 and who was from America
Albert Wayne "Al" Hollingsworth (1908-1996) who was a left-handed pitcher in Major League Baseball who was from America
Matt Hollingsworth (born in 1968) who is a comic book colorist from America
Benn Hollingsworth (born in 1982) who is a soccer player from America
Quanitra Hollingsworth (born in 1988) who is a professional basketball player from America
Blazons & Genealogy Notes
1) (York Herald, temp. Richard III.). Az. on a bend ar. three leaves slipped vert. Crest—A stag couchant ar.
2) (Surrey and Hartlepool, co. Durham). Motto—Lumen accipe et imperti. Ar. a chev. erm. betw. three stags trippant ppr. Crest—A crescent ar.
3) (Hollingworth, co. Chester). Motto—Disce ferenda pati. Az. on a bend ar. three holly leaves vert. The family name was formerly spelt Hollynworthe, and is evidently derived from the holly tree, called in Cheshire "Hollyn Tree,'' with which the estate abounded. Crest—A stag lodged ppr.