Hollis Family Crest, Coat of Arms and Name History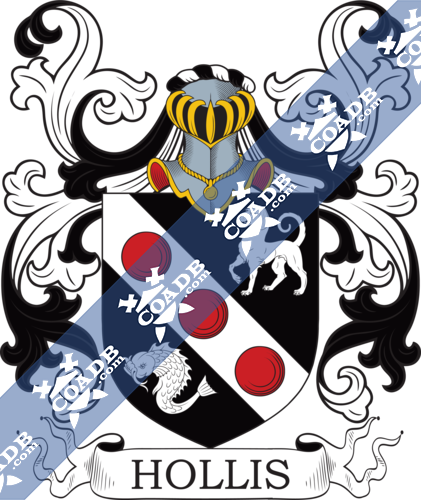 Hollis Coat of Arms Gallery
Don't know which Coat of Arms is yours?
We can do a genealogical research. Find out the exact history of your family!
Learn More
The English surname Hollis developed as a topographic name for someone who lived on lands where holly trees flourished, derived from the Middle English word holi(n)s, which in turn comes from the Old English word holegn.
Robert de Holis was documented in Normandy, France in 1198 AD.
John Hollis was born in Walton on Thomas, Surrey, England c. 1625. He married Elizabeth Hobs and had issue with her as follows: Elizabeth, Robert, Anne, Thomas, William, Jeremiah, Benjamin, and Joseph. His son Benjamin, born in Surrey in 1681, was father of John Hollis Sr. John Hollis Sr. (before 1710-1768) was born in Surrey, England and went to America, where he married Esther Canterbury in Fairfax County, Virginia, with whom he had the following children: Edward, Burrell, Moses, William, James, John, William, Cybella, and Nottley.
Thomas Hollis (1659-1731) was a wealthy English merchant and benefactor of Harvard University. The town of Holliston, Massachusetts is named for him; as is HOLLIS, the Harvard On-Line Library Information System. He was very devoted to the Baptist church and made numerous charitable donations to benefit it.
William Hollis was the Sheriff of Monmoutshire, Wales in 1831. He descended from an industrialist family who developed paper mills at nearby Mounton. Shirenewton Court was built for him in 1830.
Some of the earliest settlers in colonial America bearing this surname include Edith Hollis (Virginia 1623), John Hollis (Maryland 1633), John Hollis (Maryland 1648), Restitute Hollis Sr. & Jr. (Virginia 1654), William Hollis (Virginia 1652), Thomas Hollis (Virginia 1658), Elizabeth Hollis (Maryland 1664), and Edward Hollis (Virginia 1664).
Several bearers of this last name served in the American Revolution, including Corporal Thomas Hollis of Vermont, Private Peter Hollis of Connecticut, Private Elijah Hollis of Massachusetts, Lieutenant Silas Hollis, Corporal Barnabas Hollis, and Adam Hollis of Massachusetts. Several veterans of this war received land grants in return for their service, including Private Pompey Hollis of Maryland (50 acres) and Private Stephen Hollis of Maine (200 acres to his widow, Abigail).
In the United States, the surname Hollis breaches the top 700 most common surnames in the following six states: Alabama, Arkansas, Georgia, Tennessee, Mississippi, and Delaware.
Blazons & Genealogy Notes
1) (cos. Devon and Nottingham). Sa. on a bend betw. a talbot pass, in chief and a dolphin embowed in base ar. three torteaux.
2) (Winchester, co. Hants). Erm. two piles issuing out of the dexter and sinister chief points and meeting in the centre of the escutcheon sa. Crest—A Saracen's head couped at the shoulders, wreathed round the temples sa.
3) (Stoke, near Coventry, co. Warwick). Same Arms. Crest—A blackamoor's head couped at the shoulders in profile ppr. bound about the temples and tied in a knot ar. and az
4) (Ereby, co. Lincoln, and Nottingham; granted 24 May, 1550). (Shire Newton House, co. Monmouth). Sa. a bend betw. two talbots pass. ar. Crest—A dexter arm embowed in armour, garnished or, holding in the gauntlet a holly branch with berries all ppr.
5) (co. Middlesex). Ar. on a chev. az. betw. three holly branches vert, fructed ppr. as many doves of the last.
6) (Flincham, co. Norfolk). Sa. on a bend betw. a lion saliant in chief and a dolphin in base ar. three torteaux.
7) (co. Nottingham). Sa. a chev. betw. two talbots ar.
8) Az. on a bend or, three torteaux.