Hopkins Family Crest, Coat of Arms and Name History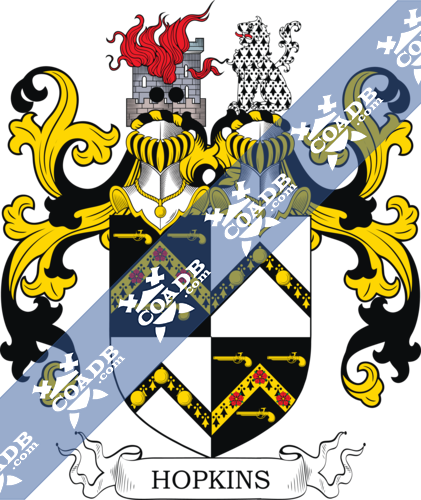 Hopkins Coat of Arms Gallery
Don't know which Coat of Arms is yours?
We can do a genealogical research. Find out the exact history of your family!
Learn More
Hopkins Surname Name Meaning, Origin, History, & Etymology
This is an Anglo-Norman baptismal or patronymic surname meaning "the son of Robert" deriving from Hobbe or Hob, the nickname or shortened version of the old masculine given personal (first) name Robert, meaning "Little Robert" (the Old English suffix kin means small, son, or child), with Hopkin being the sharpened form. Some say this last name is a derivative of the old Germanic warrior named Hrdo-berht, which meaning "renowned fame". The name made its way into France around the 700s AD and the spelling was changed to Robert and became a very popular person (first) name in medieval times and the Middles Ages throughout Christendom and the Holy Roman Empire. The name was introduced into England, Scotland, Wales, and Ireland during and after the Norman Conquest of 1066 AD by the French. The pistols in the coat of arms may suggest the family was involved in fighting the French during the Seven Years War. The 1964 book Supplement to Irish Families by the famous Irish genealogist Edward MacLysaght states the following in regard to this surname: "Hopkins is, of course, a well-known English surname derived from Hobb, a colloquial form of Robert; and no doubt some families of Hopkins in Ireland, including those from whom the townlands of Hopkinstown  (co. Meath) and Hopkinsrea (co. Tipperary) are named, are of English origin. But the prevalence of the name in Connacht, particularly in Co. Mayo, and the fact that Habbagan is recorded in our own time as synonymous with Hopkins there, suggest a different and more Irish background. This is corroborated by a search of seventeenth century records. For example the "census" of 1659-60 records Hobigan as one of the principal Irish names in the barony of Rathcline, Co. Longford, which is adjacent to Co. Roscommon". A family of this last name owned a farm in Swalcliffe, county Oxon (or Oxfordshire), England, going all the way back to the 1200s AD, and many proprietors of this land bore the first name John for many generations.
Spelling Variations
Some spelling variants or names with similar etymologies include Hopkin, Hopkyns, Hopkines, Habbagan, Hopkinson, Hobkins, Hobkin, Hoppkins, Hoopkins, Hopkiins, Hopckins, Hopekins, Hopkines, Hopikins, and about 25 others. In Wales, the name was also spelled ab Popkyn. In Ireland, it is also an Anglicized form of the Gaelic last name MacOibicin, which is itself a Gaelicized form of an Anglo-Norman.
Popularity & Geographic Distribution
The last name Hopkins ranks 289th in popularity in the United Status as of the 2000 Census. The name ranks particularly high in the following five states: Delaware, Maryland, Rhode Island, Idaho, and Maryland. The surname Hopkins frequency/commonness ranks as follows in the British Isles: England (252nd), Scotland (617th), Wales (37th), Ireland (598th) and Northern Ireland (928th). In England, it ranks highest in counties Warwickshire and Gloucestershire. In Scotland, the surname ranks highest in Nairn. In Wales, it ranks highest in Glamorganshire. In Ireland, it ranks highest in county Mayo. In Northern Ireland, it ranks highest in county Antrim. The name is also present throughout the remainder English speaking world:  Canada (576th), New Zealand (278th), Australia (374th), and South Africa (1,530th).
Early Bearers of the Surname
The Curia Regis Rolls of Staffordshire document the existence of one Hobekinus (the Latin form of this surname) in 1124 AD. The Hundred Rolls of 1273 AD, a census of Wales and England, known in Latin as Rotuli Hundredorum lists three bearers of this surname: Nicholas Hobekyn and Roger Hobekyn, who was were both recorded in Cambridgeshire. A one Hobbekin of Windsor, county Gloucestershire, England was recorded in 1289 AD.  Rychard Hobbekynessone was documented in the Putname rolls of Cheshire in 1354 AD.The Subsidy Rolls of Worcestershire record William and Richard Hobkyn. The Subsidy Rolls of Staffordshire record John Hopkynes and William Hopkyn in 1327 AD. Kirby's Quest lists one Alicia Hobkynnes in county Somerset, England in 1327 AD.  The Poll Tax of Yorkshire in 1379 AD lists three bearers of this last name: Agnes Hobkyn-wyf, Rogerus Hobson, and Alicia Hob-daughter. A one Walter Hobekyn or Hopkin of Warton was recorded in the Lancashire Wills at Richmond in 1562. Anthony Hobkin or Hopkin was recorded in the same source as living in Warton in 1626. A one John Hopkynnes was buried at St. Peter, Cornhill, London in 1570. Early marriages involving this surname include: Christyan Hobkyns to Thomas Dale at St. Dionis Backchurch in 1567 and Ephraim Hopkinson to Alice Harris in 1616. In Wales, Johannis ab Popkyn was listed in the rolls of county Monmouth in 1610.
Hopkins Family Tree & Hopkins Genealogy
Hopkins of Tidmarsh Manor
Robert John Hopkins was an Esquire of Tidmarsh Manor, Berkshire, who was a Jystice of the Peace educated at Eton and Ball. College Oxford, born in 1829. He succeeded his father in 1877. In 1853, he married Elizabeth Clara, daughter of Reverend David Rodney Murray and Frances Portal, and had six children with her as follows: Edmund John Robert (1856), John Edric Murray (1859). Alexander Henry (1863), Ella Jane Clara, Lillian Margaret, and Hilda Elibank Cecilia. The lineage  or ancestry of this family traces back to St. John's College, Oxford. The ancestors lived at the same estate at Steventon for six hundred years. The family procured Tidmarsh from Charles Butler in 1798. Robert Hopkins, Esquire, was High Sheriff in Berkshire in 1814, the son of John and Anna. In 1799, Robert married Sarah Law, and had a son with her named Robert, who died without posterity, and had a daughter named Sarah (married Reverend B.D. Hawkins of Rivenhall). He also had another son named John. This John Hopkins was an Esquire of Tidmarsh, Justice of the Peace, and High Sheriff, who was born in 1803. In 1828, he married Jane, daughter of Reverend John Symonds Breedon of Bere Court, who died in 1877 and had five children with her as follows: Robert John (mentioned at the beginning of this paragraph), Jane (married Reverend S.H. Lee-Warner, Rector of Walsingham, had issue), Sarah Maria, Julia, and Emily (married H.G. Paynter). The Hopkins Coat of Arms (mistakenly referred to as the Hopkins Family Crest or Hopkins Family Shield by those unfamiliar with heraldry and genealogy) is blazoned in heraldry as follows: Sable, on a chevron between three pistols or, as many roses gules. Crest: A castle in flames proper. Motto: Inter primos. This family was seated at Tidmarsh Manor and Pangbourne Lodge, near Reading, England.
Hopkins Baronetcies
There have been two baronetcies created for this surname. First, the Hopkins Baronetcy, of Athboy in the County of Meath, Ireland was created in July of 1795 in the Baronetage of Ireland for one Francis Hopkins, who lived from 1756-1814. His son, also named Frances, lived from 1813-1860. The title became extinct upon his death. Second, the Hopkins Baronetcy, of St. Pancras, county London, England, was a title in the Baronetage of the United Kingdom. It was created for John Wells Wainwrigh Hopkins in July of 1929. He was a Member of Parliament for St. Pancras South East from 1918-1929. The title became excinct when he died in 1946.
Other Hopkins Pedigree & Family Trees
James Hopkins was born in Coventry, Warwickshire, England in 1470. He had a son named William who was born in Coventry around 1490. He had a son named Stephen. This Stephen was born in Norfolk, England around 1518. He married twice: Agnes and Katherine. He had two sons: Nicholas and John. His son John was born in Upper Clatford, Hampshire, England (modern day Great Britain or United Kingdom) around 1549. He married Anges Borrow and later Elizabeth Williams. He had four issue: Susanna, William, Alice, and Stephen. His son Stephen Hopkins was born in Upper Clatford, England around 1581. He married three times: Mary Kent, Mary Constance Dudley, and Elizabeth Fisher. He went to colonial America aboard the Mayflower in 1620. He was the father of the following children: Elizabeth, Constance (Snow), Giles, John, Mercy, Damaris/Oceanus, Caleb, Deborah (Ring), Damaris (Cooke), Ruth, and Elizabeth. His son Giles was born in Hursley, Hampshire, England in 1607 and he went to Massachusetts with his father. He married Catherine Whelden in Plymouth Colony had the following issue with her: Mary (Smith), Stephen, John, Abigail (Merrick), Deborah (Cooke), Caleb, Ruth (Mayo), Joshua, William, John Sr., and Elizabeth. His son Stephen was born in Eastham, Barnstable, Massachusetts in 1642. He married Mary Merrick and had the following issue with her: Elizabeth, Stephen, Ruth, Judah, Benjamin, Samuel, Samuel, Nathaniel, Joseph, and Mary (Maker). His son Judah Hopkins was born in the same town in 1677. He married Hannah Mayo and had the following children with her: Mary (Lewis), John, Martha, Rebecca, Judah, Stephen, Desire, Sylvanus, Hannah, and Samuel. His son Sylvanus was born in Eastham, Massachusetts in 1716. He married Ruth Berry and had a son with her named Elijah. This Elijah Hopkins was born in Harwich, MA in 1741. He married Joanna Parish. He died in 1818 in Warren (Michigan?).
Arthur Hopkins was born around 1664. He had a son, also named Arthur who was born in England in 1690.He went to colonial America and married Elizabeth Pettus in Virginia in 1723. They had the following children together: Amelia (Davis), Isabella, James, Jane (Davis), William, Elizabeth (Smith), Samuel, John M., Arthur, Anne, Mary, Lucy, and Frances (Davis). His son Samuel was born in Rapidan, Virginia around 1725. He married Isabella Taylor and had the following issue with her: Samuel. Catherine, James, Elizabeth, John, Mary, and Edmund. His son Edmund Hopkins was born in Mecklenburg County, Virginia in 1767. He married Martha Cary Jones and had a son with her named John Taylor. This John Taylor Hopkins was born in Kentucky in 1808. He married Martha P. Cowan and later Ethelinda Ester Hawkins, with whom he fathered six children as follows: Charles S., Mary A., Julia H., Annah G., John Taylor Jr., and Strother Banks. His son John Taylor Jr. or "Jack" was born in Henderson County, Kentucky in 1852. He married Elizabeth Hickman and had four issue: Hickman Madison, John Taylor III, Ethal, and William. His son John III was born in Hopkinsville, Kentucky in 1877. He died in Florida in 1948.
Early American and New World Settlers
Stephen and his wife Elizabeth Hopkins came to Plymouth, Massachusetts aboard the Mayflower in 1620 and lived in colonial America for over two decades after their arrival. They had one son and four daughters together. One son was named Giles. One daughter was named Constantia. Giles married and had four issue. Constantine married and had twelve issue.
Barthelmew Hopkins was recorded as living in Virginia in February 1623, at "Elizabeth Cittye".
Annis Hopkins, age 19, came to Virginia aboard the Merchant's Hope in July 1635.
Richard Hopkins, age 25, came to Virginia aboard the Safety in August 1635.
The book Genealogical Guide to the Early Settlers, mentions five bearers of this last name:
1) Edward Hopkins of Hartford, CT, came to Boston in 1637, with Reverend John Davenport and Governor Throp Eaton, and went to Hartford the same year. He was the Governor the next year. He returned to England and was a member of Oliver Cromwell's parliament. He married Ann, daughter of David (or Thomas) Yale.
2) John Hopkins, Cambridge, 1634, freeman 1635, moved to Hartford, died in 1654. His wife was named Jane and he had children named Stephen (around 1634) and Bethia (around 1635).
3) Richard Hopkins, a soldier in Moseley's company in 1675
4) Samuel Hopkins, Milford 1658, at New Haven married, 1667, Hannah, daughter of Captain Nathaniel Turner, had issue named Wait, Samuel, and Hannah
5) Stephen Hopkins, Portsmouth, came aboard the Mayflower in 1620 with wife Elizabeth and children Giles and Constance, both from a former wife, and by this wife had a son named Damaris born on the ship, also called Oceanus, who died young. He also had other children named Caleb, Ruth, and Elizabeth.
6) Thomas Hopkins, Providence, Rhode Island, 1641, went there with Roger Williams in 1636. He married Elizabeth, daughter of William Arnold, and had sons named Thomas and William. He store allegiance to King Charles II in 1668. He was a representative for some years and was the ancestor of Stephen, the Governor of the colony. He had other children including William, Joseph, and perhaps others.
7) William Hopkins of Stratford, 1640, who was an Assistant from 1641-1642, but it is not known from where he came. Little else is known of this man.
8) William Hopkins of Roxbury, MA, had issue named William, Thomas, and Hannah, all baptized in 1660, as well as Mary in 1662.
9) William Hopkins of Providence, who swore allegiance in 1668, and married Abigail, daughter of John Whipple, and had had a son named William (married Ruth, daughter of Samuel and Plain Wilkinson, had son named Stephen who became Governor). He lived there through the war and received an award "for his constancy".
Other early settlers in colonial America bearing this surname who came in the eighteenth century include  Rice Hopkins (Virginia 1718), Lottice Hopkins (Carolina 1724), Christopher Hopkins (New England 1778), Francis Hopkins (American 1782), and Charles Hopkins (Virginia 1786).
In Canada, one of the earliest settlers with this last name was Mary Hopkins who came to Nova Scotia in 1750. In Australia, one of the first bearers was John Hopkins, a convict from Surrey, England, who was transported above the Ann in 1809 settling in New South Wales (then a penal colony). In New Zealand, Frederick and Eliza Marian Hopkins came to Wellington and Nelson in 1859, respectively, aboard the Alfred The Great and Golconda, respectively.
Early Americans Bearing the Hopkins Family Crest
Charles Bolton's American Armory (1927) contains three entry for this surname:
1) [Sable] a stag trippant within a bordure indented, a chief indented [or]. Impaling: Erm on a canton gules a cross crosslet [or]. (Lello of Herts?). Gov. Edward Hopkins of Conn. used a seal of Hamblen impaling Lello (?). Heral. Jour., vol. 3, p. 175. Dr. H. M. Buck's attribution. Frame for "Hopkins" coat made 1678 by Nicholas Desborough ( Love Hartford, p. 303).
2) A chevron sable between three pistols points down and three roses, the roses in chief near the honor point and in base below the pistol. Crest: a castellated tower in flames. Motto: Piety in peace. Bookplate with name H. M. Hopkins in ink.
3) Sable on a chevron erminois between three pistols proper three roses gules. Crest: a flaming tower. Motto: Pietas est pax. Bookplate Robert Emmet Hopkins, engr. by French, 1900.
4) Sable on a chevron between two pistols in chief or and a silver medal with the French king's bust, inscribed Louis XV, tied at the top with a red ribbon, in base, a laurel chaplet in the center, a scalp on a staff on the dexter, and a tomahawk on the sinister, all proper a chief embattled arg. Crest: on a wreath or and sable a rock, over the top a battery in perspective, thereon the French flag hoisted, an officer of the Queen's Royal American Rangers on the said rock sword in hand, all proper round the crest this motto. Motto: Inter primos. Granted to Joseph Hopkins of Md., 1764. Berry's Encyc. Heraldica. Heral. Jour., vol. 1, pp. 36, 71-72. Capt. Hopkins' coat in 1734 apparently derived from early (Visitation) coat of Hopkins family of Coventry, Warwickshire, acc. to account in recent issue (English) Country Gentleman.
Crozier's General Armory (1904) contains one entry for this name:
1) General Hopkins of Anne Arundel County, 1692, from Berkshire, England. Sable, on a chevron or, between three pistols of the last, three roses gules. Crest: A tower sable in flames proper. Motto: Vi et animo.
2) Captain Joseph Hopkins of Maryland, granted in 1764. Sable, on a chevron between two pistols in chief or, and a silver medal, with the French king' bust, inscribed Louis XV, tied at the top with a red ribbon in base, a laurel chaplet in the centre, a scalp on a staff on dexter, and a tomahawk on the sinister, all proper, a chief embattled argent. Crest: A rock, over the top a battery in perspective, thereon the French flag hoisted, and officer of the Queen's Royal American Rangers on the said rock, sword in hand, all proper, round the Crest this Motto: Inter primos.
3) John Hopkins of Hartford, Connecticut, 1632. Arms: Sable, on a chevron between three pistols or, as many roses gules. Crest: A tower sable, in flames proper. Motto: Piety is Peace.
Matthew's American Armoury and Bluebook (1907) contains one entry for this surname:
Mr. Stephen Hopkins, gentleman, of London, England who came to Plymouth, Massachusetts aboard the Mayflower in 1620. Sable, on a chevron, between three pistols or, as many roses gules. Crest: A tower per bend indented argent and gules, in flames proper.
Mottoes
I have identified six Hopkins family mottoes:
1) Inter primos (Among the first)
2) Aut suavitate aut vi (Either by gentleness or by force)
3) Heb Dduw heb ddim, Duw a digon (Without God without anything, God is enough)
4) Per aspera belli (Through the hardships of war)
5) Pietas est pax (Piety in peace)
6) Vi et animo (Strength by courage)
Grantees
We have 5 coats of arms for the Hopkins surname depicted here. These 5 blazons are from Bernard Burke's book The General Armory of England, Ireland, and Scotland, which was published in 1848. The bottom of this page contains the blazons, and in many instances contains some historical, geographical, and genealogical about where coat of arms was found and who bore it.
Notables
There are hundreds of notable people with the Hopkins surname. This page will mention a handful. Famous people with this last name include: 1) John Hopkins (1795-1873) who was an American businessman, abolitionist, and philanthropist from Baltimore, Maryland who was the benefactor of the famous and prestigious hospital bearing his name, 2) Sir James Sidney Rawdon Scott-Hopkins (1921-1995) who was a British politician in the Conservative Party born in Croydon, 3) James Frank Hopkins (1845-1913) who was a Confederate Army volunteer and founder of the Sigma Nu fraternity at the Virginia Military Institute, 4) Mark Hopkins (1813-1878) who was a railroad magnate who formed the Central Pacific Railroad with three other investors, having been born in Henderson, New York, 5) Sir Philip Anthony Hopkins (1937) who is a film star of Welsh descent, born in Glamorgan, known for his roles in Silence of the Lambs, Meet Joe Black, The Mask of Zorro, and numerous other movies, 6) Michael Scott Hopkins (1968) who was a Colonel in the United States Air Force who became a NASA astronaut, born in Lebanon, Missouri, 7) Stephen Hopkins (1707-1785) who was a Governor of Rhode Island and singer of the Declaration of Independence, 8) Stephen Tyng Hopkins (1849-1892) who was a member of the House of Representative from New York who also served in the New York Militia, 9) Elliot Budd Hopkins (1931-2011) who was an alien and UFO researcher born in Wheeling, West Virginia, and 10) Lisa Hopkins Seegmiller (1978) who is an American classical singer and actress from Simi Valley, CA who studied at Yale University.
Blazons & Genealogy Notes
1) (Oving House, co. Bucks, and Coventry, co. Warwick). Sa. on a chev. betw. three pistols or, as many roses gu. Crest—A tower per bend indented ar. and gu. flames issuing from the top and windows ppr.
2) (Newland, co. Gloucester, and Lincoln's Inn, London; granted 1734). (Arundel, co. Sussex). Erm. on a fesse gu. a lion pass. guard. ar. a canton of the second charged with a rose or. Crest—An ostrich's head couped erm. holding in the beak a key az.
3) (Tidmarsh House, co. Berks). Sa. on a chev. betw. three pistols or, as many roses gu. Crest—A castle in flames ppr. Motto—Inter primos.
4) (exemplified, 20 Jan. 1773, to Bond, of Hackney, on taking, by sign manual, the name and arms of Hopkins). Quarterly, Ist and 4th, sa. on a chev. erminois betw. three pistols or, as many roses gu. barbed and seeded ppr., for Hopkins; 2nd and 3rd, ar. on a chev. pean three bezants, for Bond. Crests—1st, Hopkins: A castle in flames ppr. charged with two pellets in fesse; 2nd, Bond: A lion sejant erm.
5) (Athboy, co. Meath, bart., extinct; confirmed by Portescue, Ulster, 1789, to Francis Hopkins, Esq., who was created a bart. 1796, and d. s. p.). Sa. on a chev. betw. three dexter gauntlets or, as many roses gu. seeded gold. Crest—A tower ar. flammant ppr.