Hornby Family Crest, Coat of Arms and Name History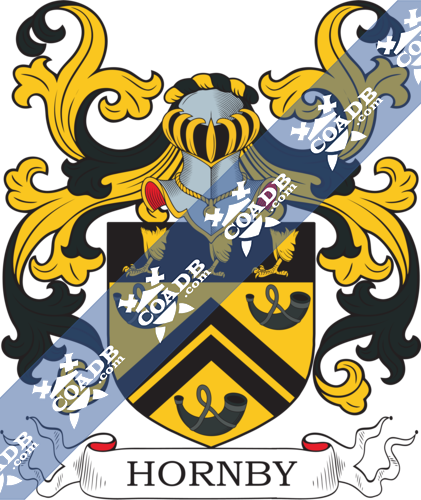 Hornby Coat of Arms Gallery
Don't know which Coat of Arms is yours?
We can do a genealogical research. Find out the exact history of your family!
Learn More
The roots of the Anglo-Saxon name Hornby come from when the family resided in one of the places called Hornby in Lancashire, Westmorland (now part of Cumbria), or the North Riding of Yorkshire. More common variations are: Horneby, Hornbby, Hornoby, Hornaby, Hornbay, Hornbey, Hornbuy, Harnby, Hurnby. The surname Hornby first found in Lancashire at Hornby, a township, and chapelry, and formerly a market-town, in the church of Melling, hundred of Lonsdale.  There are two Hornby Castles of note like the first in Lancashire which originally built for the Neville family in the 13th century and the second in Yorkshire, home to the St Quintin family.  We must look to the latter shire to find the first record of the surname, namely William de Horneby who noted in the Pipe Rolls of Yorkshire in 1205. Some of the people with the name Hornby who arrived in the United States in the 17th century included Mercy Hornby, who settled in Virginia in 1735.
Blazons & Genealogy Notes
1) (Dalton Hall, co. Lancaster). Or, two chevronels betw. three buglehorns, the mouths to dexter sa. on a chief of the last three eagles' legs erased of the first.
2) (Dalton Hall, co. Lancaster). Or, a chev. betw. three buglehorns, mouths to sinister sa. Crest—A buglehorn of the arms stringed, and below the string a pheon gu.
3) (Ribby Hall, co. Lancaster). (Liverpool). Motto—Crede cornu. Ar. a chev. vert in base a buglehorn stringed sa. on a chief of the second two buglehorns of the field. Crest—A buglehorn stringed sa. and passing through the knot in fesse an arrow, point towards the sinister or.
4) (co. Lincoln). Gu. on a fesse erm. betw. three buglehorns stringed ar. as many boars' heads erased or.
5) (Newcastle-upon-Tyne). Ar. on a fesse betw. three buglehorns sa. stringed gu. as many fleurs-de-lis of the field.
6) Ar. a chev. betw. three buglehorns sa. (another, stringed gu.). Crest—A leopard pass. ppr.
7) Ar. a chev. betw. three buglehorns sa. Crest—A Roman soldier in full armour ppr.
8) Ar. three buglehorns stringed gu.
9) Sa. fretty ar. a label of three points gu.