Howison Family Crest, Coat of Arms and Name History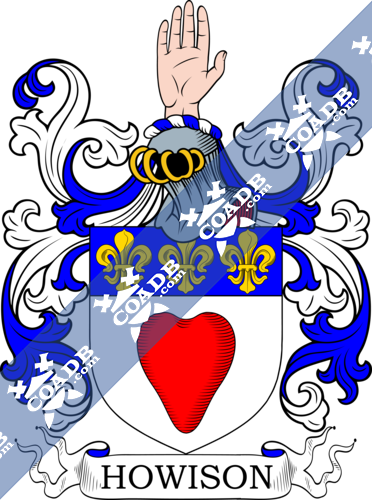 Howison Coat of Arms Gallery
Don't know which Coat of Arms is yours?
We can do a genealogical research. Find out the exact history of your family!
Learn More
Howison Origin:
England, Scotland
Origins of Howison:
According to the early recordings of the name, this interesting and unique name listed as Howie, Howey, and the patronymics Howieson, Howison, Howisone, and Huison, this famous Scottish name is perhaps geographical from "The lands of How," a now lost estate in the division of Ayrshire. If so the surname is a member of the ever growing list of surnames of the British Islands that start from old sites which are either no longer around or have probably changed their name. Either way, the advancement is from the old British-Strathclyde word hoh, which pre-dates written history. It shows a clear or deep valley, and from which also advanced the surnames How and Howe. As Howie or Howey, it is a little meaning Little How, the addition of -ie or -y being a famous Scottish and North of England attachment, while Howi(e)son is the patronymic to give the son of Howie. Early examples of the surname records contain as John Howison, a burgess of Edinburgh in 1450, John Howy, a servant of the Lord of Cassilis, who in 1526 was involved in murder. Somewhat less dramatically in 1590, Robert Howie was noted as being the Principal of Marischal College, Aberdeen, while in the year of 1680, Thomas Howieson was the minister of Boleskin in Lanark and was also known as Robert Huison and Robert Houston. Interestingly there is a long culture that name ancestors originally settled from Flemish then to Scotland in the 14th century.
Variations:
More common variations are: Howieson, Howeison, Howisson, Howson, Hewison, Howeson, Houison, Howisen, Hawison, Howisin.
England:
The origins of the surname Howison appeared in Modlothian where people held a family seat from old times. Someone say better before the success of Normans and the entrance of Duke William at Hastings 1066 A.D.
Ireland:
Many of the people with surname Howison had moved to Ireland during the 17th century.
United States of America:
Individuals with the surname Howison landed in the United States in two different centuries respectively in the 18th, and 20th. Some of the people with the name Howison who arrived in the United States in the 17th century included John Howison, who came to Maryland in the year 1703.
The following century saw more Howison surnames arrive. Some of the people with the surname Howison who arrived in the United States in the 19th century included Morris James Howison at the age of 36, who moved to the United States, in the year 1903. Rudolph M Howison at the age of 44, who landed in America, in the year 1906. Rudolph Meier Howison at the age of 44, who moved to America from Finchley, England, in 1908. Allen M. Howison, who emigrated to America, in 1909. Mary Scott Howison at the age of 32, who settled in America, in the year 1911.
Here is the population distribution of the last name Howison: United States 484; Australia 228; Canada 114; England 113; New Zealand 47; United Arab Emirates 38; Scotland 33; Singapore 2; Netherlands 2; South Africa 2.
Notable People:
Del Howison (born 1953), is an American horror writer. He was born in Detroit, Michigan but moved to Los Angeles to pursue a job in acting; with his distinctive long white hair, he was a natural for low-budget horror films, and has since played the character "Renfield" in four separate seasons (making him the actor who has played this iconic character from Dracula more than any other).
George Holmes Howison (1834–1916) was an American scholar who taught in the philosophy department at the University of California, Berkeley.
John Howison (c.1530–1618), was a Scottish minister.
Ryan Howison (born 1966), is an American golf player.
Blazons & Genealogy Notes
1) (Braehead, co. Midlothian; now represented by Howison Cradfurd, of Craufurdland, co. Ayr, and of Braehead, co. Midlothian). Motto—Sursum corda. Ar. a men's heart gu. on a chief az. three fleurs-de-lis or. Crest—A dexter hand couped apaumee ppr.
2) (Holmfoot, co. Lanark, 1783). Motto—Nulla temerata nube. Same Arms. Crest—An eagle rising ppr.
3) (Ireland). Quarterly, ar. and sa. six roundles counterchanged, three, two, and one. Crest—An antelope pass. gu.