Hurley Family Crest, Coat of Arms and Name History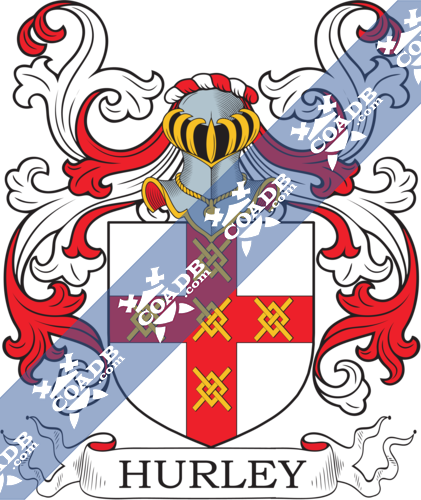 Hurley Coat of Arms Gallery
Don't know which Coat of Arms is yours?
We can do a genealogical research. Find out the exact history of your family!
Learn More
Hurley Origin:
England, Ireland
Origins of Name:
The surname of Hurley is derived from the pre 7th century Old English "hyrne". Hyrne has two different translations, one is translated to "corner" or "bend" and another is translated to "leah" which means "a clearing." Thus, the surname of Hurley, literally translates to mean a village or town that was built on a corner of cleared land. This surname was used to describe people who lived in this area—this village or town. In the medieval times, people began to migrate around, especially to look for work, and during this time, people were often identified by their place of birth. In the case of the Hurley surname, people adopted their village name as their surname to be better identified. In Ireland, this surname comes from the Gaelic personal name O' Huirthile, and derives from the Irish "hurley" which translates to mean "a stick."
Variations:
More common variations are:
Hurdley, Hurle, Hurly, Hurdle, Hourley, Haurley, Heurley, Hurleyiu, Hurliey, Hurlhey, Hurrley, Huruley, Hureley,
History:
England:
The first recorded spelling of the Hurley surname was John de Hurleia, who was noted in the Pipe Rolls of Worcestershire years of 1210 to 1211, under the reign of King John, who was also known as the "Lackland" and ruled from the year 1199 to the year 1216. In England, those with the surname of Hurley were originally found in the counties of Warwickshire and Berkshire. Since it's original recorded inception, the surname of Hurley has spread to most of England and Wales. The highest concentrations for those with this surname are in the counties of Lancashire, Somerset, and the city of London. In Wales, there is a large number of people with the surname of Hurley in Glamorgan.
Ireland:
The first recorded presence of this name was found in Limerick found in Southwestern Ireland in Munster and spelled Herlihy. The surname of Hurley was attached to a family seat of Lords and Chiefs of Knockalong Castle in the parish and barony of Knockalong Costlea. The first recorded spelling of the surname of Hurley was found in Rath Hurly, which was a castle name in Kilcullane. Those with the surname of Hurley have settled in County Tipperary and County Cork.
Scotland:
In Scotland, those with the surname of Hurley are largely concentrated in the counties of Lanarkshire, Dunbartonshire, Midlothian and Angus.
United States:
Starting in the 17th Century, European citizens left their homeland in search of a new life. This movement, which was called the European Migration, often left citizens settling in the New World, which later came to be known as the United States of America. The first recorded settler to bear the surname of Hurley was Eliza Hurley, who landed in the state of Virginia in the year 1700. Forty-five years later, Daniel Hurley settled in Philadelphia, Pennsylvania, in the year 1745. Those who carry the surname of Hurley are more likely to be found in the states of New York, New Jersey, Massachusetts, North Carolina, Pennsylvania, Maryland, Alabama, Tennessee, Ohio, and Kentucky. Hurley is the 897th most common name in the United States.
Australia and New Zealand:
In the 19th Century, settlers emigrated to both Australia and New Zealand to explore a new land. The first person to arrive in Australia with this surname was Honora Hurley, who sailed aboard the ship named the "Elgrin" in 1849. Alexander Hurley was the first person in New Zeland with this surname, and he arrived in 1840.
Hurley Today:
United States 47,498
England 8,238
Ireland 5,640
Australia 4,204
Canada 3,773
New Zealand 1,309
Wales 1,230
South Africa 767
Philippines 387
Germany 370
Notable People:
Francis Thomas Hurley (1927-2016) who was a prelate of the Roman Catholic Church, and served as the Archbishop of Anchorage from the year 1976 to 2001
Mr. Charles Edwin Hurley (died in 1915) who was a 3rd Class passenger from Brockton, Massachusetts who died in the sinking of the RMS Louisiana
Marcus Hurley (1883-1941) who was a four-time gold, and one-time bronze Olympic Medalist for cycling at the 1904 Olympic Games
Paul Hurley (born in 1946) who was a former American ice hockey player
Eric William Hurley (born in 1985) who is a professional baseball pitcher in America
Joseph Patrick Hurley (1894-1967) who was a prelate of the Roman Catholic Church
Major-General Patrick Jay Hurley (1883-1963) who was an American Ambassador to China from 1943 to 1945
Colonel Douglas G. Hurley (born in 1966) who was the pilot for the STS-127 Space Shuttle Mission, and is a NASA Astronaut with over 376 hours in space
Charles John Hurley (born in 1936) who was a former footballer from Ireland
Blazons & Genealogy Notes
1) Ar. a crescent betw. three trefoils sa. Crest—Out of a ducal coronet a peacock ppr.
2) (Province of Munster, Reg. Ulster's Office). Ar. on a cross gu. five frets or.