Hurry Family Crest, Coat of Arms and Name History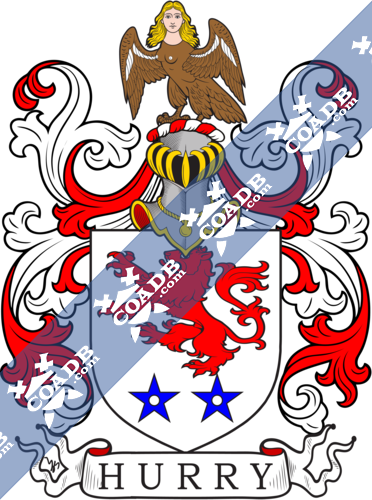 Hurry Coat of Arms Gallery
Don't know which Coat of Arms is yours?
We can do a genealogical research. Find out the exact history of your family!
Learn More
Hurry Origin:
England
Origins of Hurry:
This most unusual surname is noted with the spellings of Horrey, Hurry, Hurrey, Orry, Ourry, Urry, and possibly more, is English, though influenced by 17th century French Huguenot entries. In general, the name acquires from the Olde English pre 7th-century particular name "Wulfric," a combination of the components "wulf," which means wolf and "ric," which means power. This specific name also gives rise to the new English surnames Wooldridge and Woolrich. The famous Domesday Book of 1066 documents the particular name as "Vlfric and Vlfricus," while the surname itself first shows in the early 13th Century. Early examples of the surname record derived from authentic old rolls and records contain as Herueus Urri in the Pipe Rolls of the division of Norfolk in 1209, and Alan Hurry in the tax records known as the Feet of Fines for the division of Essex in 1219. The Liber Feodorum of Salop (now the division of Shropshire) suggests a Geoffrey Orry in 1235. Later examples derive from parish records contain as Elizabeth Orae, who named in November 1613 at St. Giles Parish, Cripplegate, while Elizabeth Oury, the daughter of Jacques and Catherine Oury named in January 1716 at Threadneedle Street French church, also in the city of London.
Variations:
More common variations are: Hurrey, Hurray, Hurrye, Hurr, Hury, Hurriya, Haurrye, Harry, Horry, Herry.
Scotland:
The surname Hurry first appeared in Ayrshire, previously a division in the southwestern Strathclyde region of Scotland, that today builds up the Cabinet Areas of South, East, and North Ayrshire. One of the first recordings of the name was Adam Urri who shows as Burgess of Irvine in 1260 and Huwe Urry of Ayrshire who gave homage to King Edward I of England in his brief intervention into Scotland in 1296. Reginald Urry held land in Irvine in 1323 and William Urri left the lands of Fulton in 1409. Another section of the family appeared in the Fetteresso Church, Kincardineshire and for the most part, these names contained "de" denoting "of." Hugh de Urre swore fealty at St. John of Perth and after that with a different spelling as Hugh Uny at Forfar, 1296. This latter entry is probably another person giving homage to King Edward I.
England:
The very first recording spelling of the family was shown to be that of Walter Urri, dated about 1208, in the "Curia Regis" Rolls of Lincolnshire. It was during the time of King John, dated 1199- 1216. The origin of surnames during this period became a necessity with the introduction of personal taxation. It came to be known as Poll Tax in England.
Ireland:
Many of the people with surname Hurry had moved to Ireland during the 17th century.
United States of America:
Some of the individuals with the name Hurry who arrived in the United States in the 18th century included Arthur Hurry, who landed in Philadelphia, Pennsylvania in 1773.
New-Zealand:
Some of the population with the surname Hurry who arrived in New Zealand in the 19th century included F. H. Hurry arrived in Auckland, New Zealand aboard the ship "SS British King" in 1884.
Here is the population distribution of the last name Hurry: Mauritius 1,022; United States 798; England 688; Australia 227; Canada 197; South Africa 164; Indonesia 86; Scotland 79; France 49; Guyana 20.
Notable People:
Andrew Hurry was born in October 1964. He is the manager of the England Cricket Development Program in Loughborough. An old Royal Marines fitness instructor and cricket player with both Taunton and Wembdon Cricket Clubs, Hurry joined Somerset in March 2001 as Fitness Professor, introducing yoga as an activity for the 2002 season.
John Hurry DSO, DFC, (January 1920 –June 2015) was a Royal Air Force officer who was one of the first pilots to join No. 83 Group of the Discoverer Force, marking destinations for British bombing attacks on Germany during the Second World War.
Paul William George Hurry was born in April 1975 in Canterbury, Kent. He is a British international motorcycle speedway driver.
Blazons & Genealogy Notes
1) (Nicholas Hurry, Esq., Liverpool, descended from a Norfolk family). Motto—Nec arroge nec dubite. Ar. a lion ramp. gu. and in base two mullets az. pierced of the field. Crest—A harpy, wings expanded and inverted ppr.
2) (Scotland). Motto—Sans tache. Ar. in chief a lion ramp. gu. in base two mullets az. Crest—A lion's gamb.