Hyslop Family Crest, Coat of Arms and Name History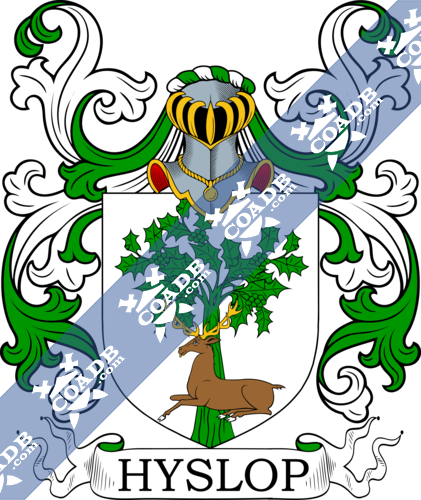 Hyslop Coat of Arms Gallery
Don't know which Coat of Arms is yours?
We can do a genealogical research. Find out the exact history of your family!
Learn More
Hyslop Origin:
England
Origins of Hyslop:
It is an English geographical name, that appeared specially in Northumberland and acquires from an unknown place in northern England, more frequently mentioned as a "lost" hamlet. There are many examples of similar places that have now survived, in surnames or old documents. Hamlets were "cleared" in the 14th Century to make way for sheep meadows and were sometimes left defected by natural tragedies such as the Black Death of 1348 or misfortunes of war. The placename acquires from the Old English pre 7th Century "haesel" (or the Old Norse "hesli") which means "hazel tree," with "Hop," an implanted valley. There are at least ten similar spellings of the name in the new phrase, ranging from "Heslop", "Hislop" and "Hyslop" to "Haselup", "Hazeup" or "Heaslip".
Variations:
More common variations are: Heyslop, Hyslopp, Hayslopp, Hayslop, Hyslope, Hylop, Heyslope, Hislop, Hyslip, Hyslup, Hyslob.
England:
The origins of the surname Hyslop appeared in Yorkshire where people held a family seat from old times. Someone say better before the invasion of Normans and the entrance of Duke William at Hastings 1066 A.D.
The very first recorded spelling of the family was shown to be that of John Heslop, dated about 1414, in the "Record of the Freemen of the City of York." It was during the time of King Henry V who was known to be the "The Victor of Agincourt," dated 1413-1422. The origin of surnames during this period became a necessity with the introduction of personal taxation. It came to be known as Poll Tax in England.
Ireland:
Many of the people with surname Hyslop had moved to Ireland during the 17th century.
United States of America:
Individuals with the surname Hyslop landed in the United States in two different centuries respectively in the 18th, and 19th. Some of the people with the name Hyslop who arrived in the United States in the 18th century included William Hyslop, who landed in New England in 1740
The following century saw more Hyslop surnames arrive. Some of the people with the name Hyslop who arrived in the United States in the 19th century included Mrs. Hyslop, who landed in San Francisco, California in 1851. Helen Hyslop, who arrived in New York in 1851. J Hyslop also landed in San Francisco, California in the same year 1851. Sam Hyslop, who arrived in San Francisco, California in 1855
Here is the population distribution of the last name Hyslop: United States 1,676; England 1,479; Canada 911; South Africa 785; Scotland 715; Australia 600; New Zealand 331; Wales 45; Chile 36; Ireland 33.
Notable People:
Christian Terence Hyslop was born in June 1972. He is a professional football player who played in The National Football League as a Fullback.
Fiona Jane Hyslop was born in August 1964. He is a Scottish leader who is the Cabinet Secretary for Culture, Tourism.
Hector Henry Hyslop (December 1840-September 1920) was an English cricket player. He was a right-handed batsman who played primarily as a wicketkeeper.
P[aul] Geddes Hyslop (died 1989) was a 20th-century British designer, instructed at the British School in Rome.
James Hyslop (23 July 1798 – 1827), was a Scottish poet.
James Hervey Hyslop, Ph.D., LL. D, (August 1854 – June 1920) was a professor of principles and logic at Columbia University.
Jeff Hyslop was born in May in the year 1951, in Vancouver, British Columbia) is a Canadian musical theater actor.
Joshua Hyslop was a Canadian folk-pop singer and composer.
Kenny Hyslop (born 1951), is a Scottish drummer.
Kirk Hyslop (born 1889), is a Canadian designer.
Paul Hyslop is a Scottish football player.
Ricky Hyslop (1915–1998), was a Canadian violinist, manager, writer, and director.
Robin Maxwell-Hyslop (1931–2010), was a British Conservative Party leader.
Tommy Hyslop (1874–1936), was a professional football player.
Blazons & Genealogy Notes
1) (Scotland). Ar. a stag ppr. lodged under a holly tree growing out of the base vert.
2) (Archibald Hyslop, Stationer, Edinburgh, 1678). Motto—His parva crescunt. Ar. a stag ppr. lodged under a holly tree growing out of the base vert, on a chief of the third a book bound or, betw. two stars of the first. Crest—A bookbinder's folding stick and polishing iron crossing each other saltireways ppr.