Ince Family Crest, Coat of Arms and Name History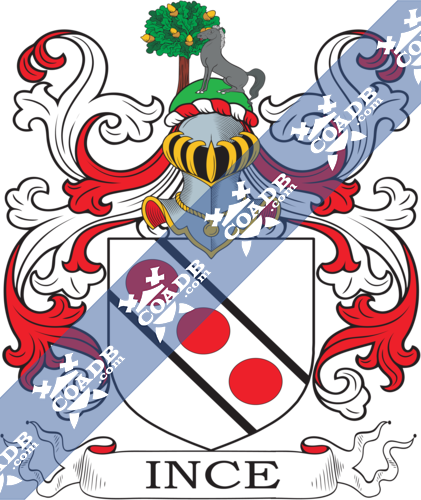 Ince Coat of Arms Gallery
Don't know which Coat of Arms is yours?
We can do a genealogical research. Find out the exact history of your family!
Learn More
Ince Origin:
England, Ireland
Origins of Ince:
This interesting name is geographical from places so called in Cheshire and Lancashire. It derives from the Welsh "ynys," which means an island, water pasture, and the name is very suitable for Ince in Cheshire which forms with Elton an island in the low-lying country on the Mersey. The spelling, listed in the Domesday Book of 1086, is Inise, evolving through Ines and Ynes to its new form. Among the Middle Ages, when many people departed from their homes in search of work, they picked the names of their old hamlet as a source of recognition. Two previous recordings of the name in Cheshire are of one Anne Ince who named at Nantwich in the April 1579 and one William Ince who married Jane Maddock in June 1583 also at Nantwich.
Variations:
More common variations are: Inceu, Ionce, Inace, Inceh, Yince, Iance, Incee, Aince, Inice, Insce.
England:
The surname Ince first appeared in Cheshire at Ince, a hamlet and local church in the unitary authority of Cheshire West and Chester and historically in the union of Great Boughton, Second county of the hundreds of Eddisbury. The first register of this local appeared in the Domesday Book of 1086 when it was noted as Inise. Ince-in-Makerfield or Ince is a recreated township in the Metropolitan Borough of Wigan, in Greater Manchester, but historically in Lancashire. The oldest mention of the Palace of Ince and the Ince family is sometimes from about 1202 in this area.
The very first recording spelling of the family was shown to be that of John de Ince, dated about 1401, in the "Assize Rolls, Lancashire." It was during the time of King Henry IV who was known to be the "Henry of Bolingbroke," dated 1399-1413. The origin of surnames during this period became a necessity with the introduction of personal taxation. It came to be known as Poll Tax in England.
Ireland:
Many of the people with surname Ince had moved to Ireland during the 17th century.
United States of America:
Some of the people with the surname Ince who settled in the United States in the 17th century included Gabriel and Jonathon Ince, both settled in New Haven Conn. in the same year 1630. Jonathan Ince, who landed in New England in 1650. John Ince, who arrived in Virginia in 1652. Thomas Ince settled in Virginia in 1654. William Ince, who landed in Virginia in 1664.
Here is the population distribution of the last name Ince: Turkey 75,114; England 3,210; United States 2,874; Germany 1,715; South Africa 1,005; Australia 518; Canada 503; Netherlands 252; Barbados 248; Indonesia 241.
Notable People:
Ada Ince (1913-1975), was an American film actress.
Basil Ince (born 1933), is a Trinidadian racer.
Clayton Ince is a Trinidadian football player.
Deniz İnce (born 1974), is a Turkish ice hockey referee and an old player.
Edward Lindsay Ince (1891-1941), was an English mathematician.
Sir Godfrey Ince is a British civil servant.
Harry Ince (1893-1978), was a Barbadian, cricket player.
Henry Ince (1736-1808), was a British Army officer.
Henry Bret Ince (1830-1889), was a British businessperson, author, and leader.
Izzet Ince (born 1981), is a Turkish bodybuilder.
James Ince (born c. 1969), is an American NASCAR crew chief.
John F. Ince was an American writer and business researcher.
John Ince (politician), is a Canadian leader.
John Ince (footballer) (1908 – after 1934), was an English football player.
John Ince (missionary), was an early British Protestant officer.
Joseph Murray Ince (1806-1859), was a Welsh painter.
Kaan Ince (1970-1992), was a Turkish author and poet.
Kamran Ince is a Turkish-American writer.
Paul Ince is an English footballer.
Robin Ince is an English entertainer.
Ralph Ince (1887-1937), was an American film actor and manager.
Rohan Ince was an English footballer.
Sabit İnce (born 1934), is a Turkish poet.
Blazons & Genealogy Notes
1) (Ince, co. Lancaster). Ar. three torteaux in bend betw. two cotises sa. Crest—On a mount vert a horse sejant against an oak tree ppr.
2) (city of Chester, 1613). Same Arms, a fleur-de-lis or, on a mullet of the second for diff. Crest—A tree fruited or.
3) (co. Lincoln). Ar. three torteaux in bend betw. two bendlets sa.