Impey Family Crest, Coat of Arms and Name History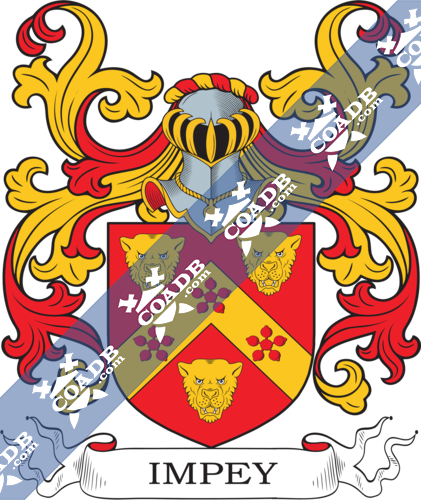 Impey Coat of Arms Gallery
Don't know which Coat of Arms is yours?
We can do a genealogical research. Find out the exact history of your family!
Learn More
Impey Origin:
England
Origins of Impey:
Listed in many spellings such as Impy and Impey, this is an English surname of great antiquity. It acquires from the Olde English pre 7th-century word 'imphaga' which means a protective wall made of trees, or a building created by trees. There are many places that acquire from a similar origin, and these, in turn, were given to some of the new surname ancestors. These hamlets are Emply in Surrey, Empty in Northamptonshire, and Imphy Hall in Essex. All of them were villages that were largely 'cleared' during the period of the Enclosure Acts between the 15th and the 18th century when residents disposed of their common grazing rights and were ordered to move to any other place in seek of work. In so doing, they took a more likely given association of surnames, the name of their old home hamlet. Spelling being at best unusual, and local dialects very 'thick,' lead to the advancement of 'sounds like' surname spellings over the centuries. In this case, early examples of the surname records derived from the rolls, charters and records of the old period contain John atte Imphage, in the tax recordings known as the Premium Rolls of the division of Sussex in 1327, and John de Impey, in the same tax records or Premium Rolls but for the division of Suffolk, also in 1327.
Variations:
More common variations are: Impy, Impe, Whimpey, Empey, Ampey, Umpey, Imbey, Impoy, Iimpe, Elimy.
England:
The surname Impey first appeared in Essex where they held a family seat from old times. Some say well before the Norman Invasion and the arrival of Duke William at Hastings in 1066 AD.
Ireland:
Many of the people with surname Impey had moved to Ireland during the 17th century.
United States of America:
Individuals with the surname Impey landed in the United States in two different centuries respectively in the 18th, and 19th. Some of the people with the name Impey who arrived in the United States in the 18th century included Thomas Impey, who settled in Maryland in 1740 with his wife, Alice.
The following century saw more Impey surnames arrive. Some of the people with the surname Impey who arrived in the United States in the 19th century included Robert Impey, who arrived in Allegany (Allegheny) Division, Pennsylvania in 1833.
Here is the population distribution of the last name Impey: England 1,296; South Africa 950; Australia 295; United States 241; Canada 155; Wales 79; New Zealand 78; France 73; United Arab Emirates 54; Ireland 27.
Notable People:
Andy Impey (born 1971), is an English football player, who played as either as a full-back or as a winger.
Catherine Impey (1847–1923), was a British Quaker activist against racial separation.
Daryl Impey (born 1984), is a South African professional road cyclist.
Elijah Impey (1732–1809), was a British judge.
Jarman Impey (born July 1995) is an indigenous Australian rules football player for the Port Adelaide Football Club in the AFL.
John Impey (born 1954), is an English former professional footballer and football manager.
Mary Impey (1749-1818), was an English natural archaeologist and leader of Bengal arts.
Blazons & Genealogy Notes
1) (Hammersmith, co. Middlesex). Gu. on a chev, betw. three leopards' faces or, as many cinquefoils of the field.
2) (Yarmouth, co. Norfolk). Gu. on a chev. or, three crescents of the first. Crest—A leopard's face sa. betw. two wings or.
3) Vert a unicorn's head erased ar. Crest—An ostrich, wings endorsed, holding in the beak a horseshoe ppr.