Ireton Family Crest, Coat of Arms and Name History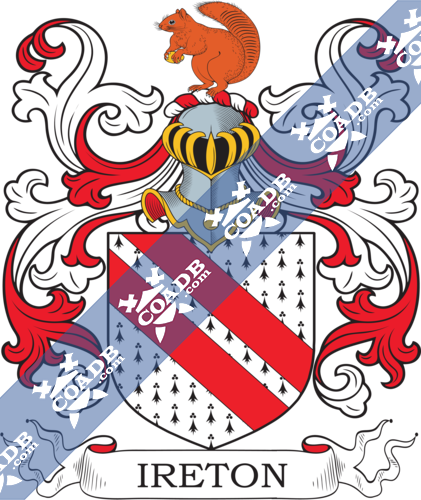 Ireton Coat of Arms Gallery
Don't know which Coat of Arms is yours?
We can do a genealogical research. Find out the exact history of your family!
Learn More
Origins of Ireton:
The ancestry of the name Ireton dates from the ancient Anglo-Saxon culture of Britain.  It acquires from when the family resided in Ireton which was known as the village of the Irish.  Spelling variations in names were a common occurrence before English spelling regulated a few hundred years ago,  in the Middle Ages, even the educated spelled their names differently as the English language combined components of French, Latin, and other European languages.  Many variations of the name Ireton have found, including Ireton, Ireson and much more.
Variations:
More common variations are: Aireton, Ireiton, Irton, Airton, Oreton, Iredon, Areton, Ureton, Iruton.
England:
The surname Ireton first appeared in Derbyshire where they held a family seat from very ancient times.  Some say well before the Norman Invasion and the arrival of Duke William at Hastings in 1066 AD.
United States of America:
Some of the people with the surname Ireton who arrived in the United States in the 17th century included Peter Ireton, a servant sent to the "foreign plantations" from Bristol, England in the year 1658.  Thomas Ireton who settled in Maryland in the year 1662.  Thomas Ireton, who arrived in Maryland in the year 1662.  Roger Ireton, who landed in Virginia in the year 1699.
Canada:
People with the surname Ireton who settled in Canada in the 19th century included John Ireton, who came to Quebec in the year 1820.  John Ireton, who arrived in Canada in the year 1820.
Blazons & Genealogy Notes
1) (Little Ireton, co. Derby, and Attenborough, co. Nottingham; nine descents are recorded in the Visit, of the former county, a.d. 1611. Gen. Henry Ireton, representative of the family, so notorious in the civil wars, was horn at Attenton, in 1610; he m. Bridget, dau. of Oliver Cromwell, and dying in 1651, when Lord Deputy of Ireland under the Usurpation, left one son, Henry, who d. s. p., and four daus.; first, Elizabeth, m. to Thomas Polhill, Esq., of Otford, co. Kent; second, Jane, m. to Richard Lloyd, Esq.; third, Bridget, m. to Thomas Bendysh, Esq., of Southtown, co. Sussex; and fourth, m. to Mr. Carter, a wealthy merchant of Yarmouth). Motto—Fay ce que doy, advienne que pourra. Erm. two bends gu. Crest—A squirrel sejant cracking a nut ppr.
2) (John Ireton, Lord Mayor of London, 1659, brother of Gen. Ireton). Ar. two bends gu.
3) Erm. (another, ar.) a bend voided gu.
4) (co. Oxford; arms in the Church of Queen's Coll. Visit. Oxon, 1574). Per saltire or and gu.
5) Gyronny of four erm. and gu.
6) (Reg. Ulster's Office). Erm. two bendlets gu. Crest—A squirrel sejant ppr.
7) Ar. a fesse and three mullets in chief gu.