Ironside Family Crest, Coat of Arms and Name History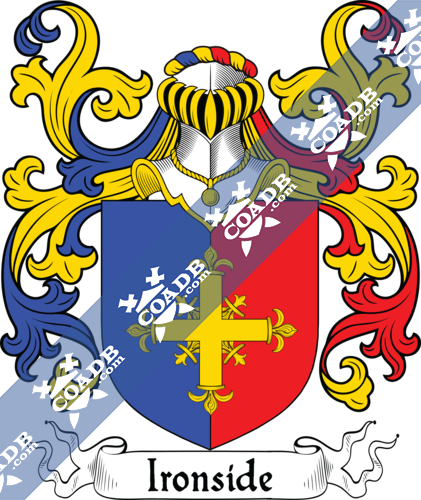 Ironside Coat of Arms Gallery
Don't know which Coat of Arms is yours?
We can do a genealogical research. Find out the exact history of your family!
Learn More
Ironside Origin:
England, Scotland
Origins of Ironside:
This important and long-established surname may be either of old English or Scottish origin and has two different possible origins at that. As an English surname, Ironside belongs to that sizeable group of early European surnames that was slightly formed from the continual use of nicknames. These nicknames were originally given related to the profession, or to a variety of personal attributes, such as physical characteristics or singularities, mental and moral values, and also to certain styles of dress. The origin, in this example, is from the Middle English "irenside", a combination of the Olde English pre 7th Century "iren", which means iron, and "side", which means side, initially showing an iron-clad warrior, and after that stretched to mean "a man of great courage or bravery". The first and most famous ancestor of this nickname were Edmund Ironside, King of England in 1016. A quotation from the Anglo-Saxon Record, dated 1057, reads "Iren-side waes geclypod (so called) for his snellscipe (doughtiness)." In 1333, one John Irenside noted in the Record of the Freemen of the City of York. Scottish ancestors of the surname acquired their name from Ironside in the church of New Deer, Aberdeenshire, or from Earnside near Newburgh, Fife, so called from the Olde English components "earn," which means eagle, and "side," which means side (of a hill). In 1570, Mage Irynsyd noted in Aberdeen, and Gilbert Ironside priest of Bristol, 1661 – 1671.
Variations:
More common variations are: Iornside, Eurnside, Orneside, Earnside, Wharnside.
England:
The surname Ironside first appeared in Durham where the best-known ancestor of this nickname was Edmund II (died 1016), better known as Edmund Ironside, King of England from April to November 1016. He was not supposed to be king, but his two older brothers had passed away, making him the oldest male heir. He got his nickname "Ironside" because of his valor in holding the Danish conquest led by Cnut the Great. Bjorn Ironside was a mythological king of Sweden who resided sometime in the 9th century.
The very first recording spelling of the family was shown to be that of Hugh Irninside, dated about 1297, in the "Coram Rege of Lincolnshire." It was during the time of King Edward 1st, who was known to be the "The Hammer of the Scots," dated 1272-1307. The origin of surnames during this period became a necessity with the introduction of personal taxation. It came to be known as Poll Tax in England.
Ireland:
Many of the people with surname Ironside had moved to Ireland during the 17th century.
United States of America:
Individuals with the surname Ironside landed in the United States in three different centuries respectively in the 17th, 18th, and 19th. Some of the people with the name Ironside who arrived in the United States in the 17th century included James Ironside, who arrived in Virginia sometime between 1666 and 1667.
People with the surname Ironside who landed in the United States in the 18th century included Christian Ironside, who transported to America in 1749. George Ironside, who arrived in Ohio in 1790.
The following century saw more Ironside surnames arrive. Some of the people with the name Ironside who arrived in the United States in the 19th century included George Ironside at the age of 38, landed in New York in 1812. Helen Ironside, who came to New York in 1815. R B Ironside, who arrived in San Francisco, California in 1850.
New-Zealand:
Some of the population with the surname Ironside who arrived in New Zealand in the 19th century included Samuel Ironside landed in Cloudy Bay, New Zealand in 1839.
Here is the population distribution of the last name Ironside: England 866; United States 793; Canada 782; Scotland 543; Australia 433; New Zealand 208; Germany 134; South Africa 128; Ireland 38; Switzerland 27.
Notable People:
Adelaide Ironside (1831-1867), was an Australian artist.
Christopher Ironside was a British artist and developer.
David Ironside was a South African cricket player.
Blazons & Genealogy Notes
1) (Houghton-le-Spring, co. Durham). Per pale az. and gu. a cross patonce or. Crest—A cross crosslet. Motto—In hoc signo vinces.
2) (Bishop of Hereford, 1679). Per pale az. and gu. a cross flory counterflory or.
3) (co. Lincoln). Sa. a fesse dancettee ar. in chief two chaplets or.
4) Quarterly, gu. and az. a cross patonce or. Crest—A dexter band in fesse couped, holding a sword in pale, surmounted by a laurel crown all ppr.
5) Or, a cross formee fitchee at the foot az.
6) (cos. Durham and Dorset). Quarterly, az. and gu. a cross flory or patoncé or.