Jarman Family Crest, Coat of Arms and Name History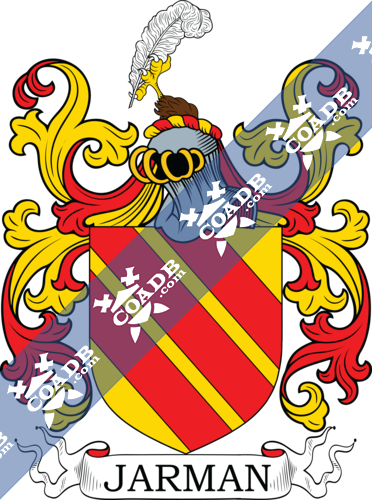 Jarman Coat of Arms Gallery
Don't know which Coat of Arms is yours?
We can do a genealogical research. Find out the exact history of your family!
Learn More
Jarman Origin:
England
Origins of Jarman:
Jarman is an old Anglo-Saxon name that acquired from the baptismal name German.  The surname Jarman is related to the son of German which belongs to the category of patronymic surnames.  In Old English, patronyms created by adding a variety of suffixes to personal names, which changed over time and from place to place. For example, after the Norman Invasion, sunu and sane, which meant son, were the most common patronymic suffixes.  In the 12th and 13th centuries, the most common patronymic names included the word filius, which meant son.  By the 14th century, the suffix son had replaced these earlier versions.  Surnames that formed with fiIius or son were more common in the north of England, and it was here that the number of individuals without surnames was greatest at this time.  Jarman has been spelled many different ways, including Before English spelling became regulated over the last few hundred years, spelling variations in names were a common occurrence.  As the English language changed in the Middle Ages, absorbing pieces of Latin and French, as well as other languages, the spelling of people's names also changed considerably, even over a single lifetime. Jarman, Jarmain, Jermayne, jermain, Jermyn, Jermin and much more.
Variations:
More common variations are: Jarmain, Jarmany, Jaerman, Jarmann, Juarman, Jareman, Jarmani, Jahrman, Jariman, Jarmana
England:
The surname Jarman first appeared in Suffolk where they held a family seat from very early times.  Some say well before the Norman Invasion and the arrival of Duke William at Hastings in 1066 AD.
Ireland:
Many of the people with surname Jarman had moved to Ireland during the 17th century.
United States of America:
Individuals with the surname Jarman landed in the United States in three different centuries respectively in the 17th, 18th, and 19th.    Some of the people with the name Jarman who arrived in the United States in the 17th century included John, his wife Margaret, Elizabeth, Sarah, Priscilla Iarman settled in New England in 1635.  Precilla Jarman, aged 10, arrived in New England in 1635.  John Jarman, who came to Virginia in 1662.
People with the surname Jarman who landed in the United States in the 18th century included Antho Jarman, who arrived in Virginia in 1701.  Robert Jarman, who landed in Virginia in 1705.  Samuel Jarman, who came to Virginia in 1717.  William Jarman, who landed in Virginia in 1728.  Daniel Jarman, who landed in Philadelphia, Pennsylvania in 1777.
The following century saw more Jarman surnames arrive.  Some of the people with the surname Jarman who arrived in the United States in the 19th century included John Jarman, who landed in America in 1830.
Here is the population distribution of the last name Jarman:
United States 7,015; England 5,071; Australia 1,912; South Africa 1,114; India 602; Wales 485; Canada 421; New Zealand 383; Scotland 223; Germany 202.
Notable People:
Alan William Jarman (July 1923 – November 1992) was an Australian leader.   He was born in Melbourne, he joined Wesley College and then the University of Melbourne before becoming an accountant. He served in the military 1942–46.  In 1966, he selected to the Australian House of Representatives as the Liberal member for Deakin.  He held the seat until 1983 when he conquered by John Saunderson of the Labor Party.  Jarman died in 1992.
Andrew Newton Jarman (born January 1966) is an old professional Australian rules football player who played for the Adelaide Football Club in the Australian Football League (AFL), and the North Adelaide Football Club and Norwood Football Club in the South Australian National Football League (SANFL).  He is the elder brother of Adelaide legend Darren Jarman and has won the Magarey Medal twice.
Barry Jarman is an Australian cricket player and Australian rules football player.
Billy Jarman was an English rugby league football player.
Claude Jarman Jr. was an American child film actor.
Darren Jarman is an Australian football player.
Derek Jarman was an English film director, stage designer, artist, and writer.
Duncan Jarman is a makeup artist.
Eleanor Jarman is an American fugitive.
Gary Jarman was a bassist with British indie rock band The Cribs.
Geraint Jarman is a Welsh musician.
Harry Jarman was a Welsh international rugby union player.
John Jarman was an American leader.
Joseph Jarman is an American musician.
Julia Jarman was a British writer.
Kate Jarman was a Welsh actor.
Lee Jarman is a Welsh football player.
Mark Jarman was an American poet and scholar.
Mark Anthony Jarman was a Canadian fiction author.
Nathan Jarman was an English, football player.
Pauline Jarman was a Welsh political leader.
Richard Jarman was an English and Tasmanian artist and sculptor.
Robert Jarman was a Tasmanian theater director and author.
Blazons & Genealogy Notes
Or, three bendlets gu. Crest—An eagle's leg erased in bend sinister, grasping a feather in bend dexter.