Jarrett Family Crest, Coat of Arms and Name History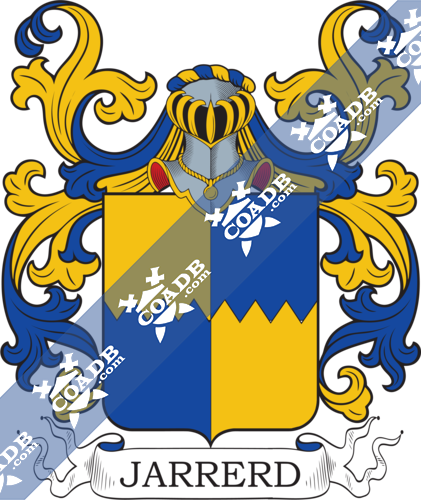 Jarrett Coat of Arms Gallery
Don't know which Coat of Arms is yours?
We can do a genealogical research. Find out the exact history of your family!
Learn More
Jarrett Surname Name Meaning, Origin, History, & Etymology
This is a patronymic or baptismal surname meaning "the son of Gerard" deriving from the personal (first) name Gerard, a variant of Garrard.  The masculine given named Gerard was a Norman name introduced from France into Britain during the Norman Invasion (1066 AD), which consists of Germanic words gar or ger (spear or lance) and hard (hardy, strong, or brave), and hence means one who wielded a strong lance. The name is recorded in the Domesday Book of 1086 AD, a survey of Wales and England ordered by William the Conqueror, as Gerardus and Geraldi, although it originated much earlier (prior to the 600s AD). As a personal name it was once more common, and often confused with, the first name Gerald, but has become less common in recent centuries. As a surname, it is rarely found prior to the Reformation (1500s AD). One source asserts the family held seat in Shropshire and received a land grant from Duke William of Normandy for their help at the Battle of Hastings in 1066 AD.
Spelling Variations
Common spelling variants or names with similar etymologies include Jarratt, Jarred, Jarritt, Jarrad, Jerrette, Jarrette, Jarriett, Jarrott, Jarret, and Jerratt. Other names that are similar or possible derived from or are related to Jarrett in some manner are Garratt, Garrett, Garred, Jarrett, Yarlett, Yerlott,  Garrod, Jerrard, and Gerard.
Popularity & Geographic Distribution
The last name Jarrett ranks 1,610th in popularity in the United Status as of the 2000 Census. The name ranks particularly high in the following six states: West Virginia, Arkansas, Tennessee, Indiana, North Carolina, and Georgia.
The surname Isaac frequency/commonness ranks as follows in the British Isles: England (1,334th), Scotland (2,871st), Wales (850th), Ireland (4790th) and Northern Ireland (5,630th). In England, it ranks highest in Kent. In Scotland, the Jarrett surname rankest highest in Midlothian. In Wales, it ranks highest in counties Anglesey and Merionethshire. In Ireland, it ranks highest in Mayo. In Northern Ireland, it ranks highest in Antrim.
The name is also present throughout the remainder English speaking world:  Canada (3,430th), New Zealand (1,836th), Australia (1,040th), and South Africa (8,809th).
Early Bearers of the Surname
A one John Gerard was documented in the Pipe Rolls of Somerset in 1230 AD. Two early marriages involving this surname were 1) Michael and Sara Jarrett at Worth, Surrey in 1588 and 2) Sarah Yarlett to William Burke at St. James Church, Dukes Palace, Westminster in 1680. An early baptism involving this name was John, son of John Jerratt at St. John the Baptist on Wallbrook in 1728. In 1688, at the same church, a one William, son of Thomas Jarrad, was buried.
Jarrett Family Tree & Jarrett Genealogy
The famous genealogist Bernard Burke's book "The Landed Genry", discusses one branch of the Jarrett Family Tree: Jarrett of Camerton Court. It begins with a mention of Anna Mary Jarrett of Camerton Court in county Somerset who succeeded the line in March of 1868. The Stephens family, from whom the Jarretts derive their estate, fled from France after the massacre of St. Bartholomew and settled in Scotland, where they later migrated to county Somerset. A one Herbert Newton Jarrett, Esquire married Rachel Allen, from Jamaica, and had a son named John. This John was a High Sheriff in county Hants and he married Sarah Reid, also of Jamaica, with whom he had a son named Herbert. This Herbert Newton Jarrett was an Esquire that married Anne, daughter of James Stephens of Hinton-on-the-Green and Cameron Court and Elizabeth Paterson Waller of Jamaica, with whom he had four issue: John, Stephen, Anne (married Reverend William Gooch). He died in 1811 and was succeeded by his son John. This John Jarrett was Esquire of Camerton Court, Justice of the Peace, Deputy Lieutenant, and High Sheriff in 1840. He was born in 1802, and in July of 1823, he married Anna Eliza, daughter of Sir Johnathan W. Waller, Baronet, of Pope's Villa, Twickenham, and had two issue with her: Anna Mary (mentioned at the beginning of this paragraph). He died in 1862. The Jarrett Coat of Arms (mistakenly called the Jarrett Family Crest) was blazoned in heraldry as follows: Quarterly, 1st and 4th, azure, a lion rampant ermine ducally crowned or, for Jarrett; 2nd, gules a sword erect proper between three mullets argent, for Stephens; 3rd; argent on a mount vert a bull statant gules armed or, charged on the shoulder with a plain cross argent, for Ridley. Crest: A lion's head erased or, ducally crowned and collared gules. The motto of the family is Consilio er armis. They were seated at Camerton Court, near Bath, England.
A one Elizabeth Jarrett was born at Otter St. Mary in Devon, England in 1620. She married Thomas Lockyear with whom she had a son, also named Thomas.
Thomas Gerrard (or Gerard) was born in England in 1597 AD. He was the husband of Elizabeth Newton, with whom he had two sons: Ferdinand and Henry. His son Henry Jarrett (or Gerrard) was born England in 1635. He came to colonial America. He married Catherine Gearhart and had four issue with her: Elizabeth, Ferdinando, Nicholas, and Nicholas. His son Nicholas Jarrett was born in Charles City, Virginia in 1672. He married Elizabeth Hamlin in 1693 in Isle of Wight County, and had five issue with her: Nicholas, John, Sarah, Thomas Sr., and Ammie. His son Thomas Jarrett Sr. was born in Virginia in 1709 and he married a woman named Rebecca in 1730. They had five issue together: Mourning, Nancy, Thomas, Thomas Jr., and Eleanor (Allen). His son Thomas Jr. was born in Brunswick, VA in 1735. He had a son named Peter. This Peter Jarrett was born in Lunenberg, VA in 1765. He married Susannah Griffin and had the following issue with her: Thomas, John, Ralph (or Raford), William Buckner, Raney F., and Anderson J. His son Ralph (or Rafe) Jarrett was born in Abbeville, Georgia in 1797. He married Sarah Sallie Wright in 1820 and had the following children with her: Peter, Jane L., Sallie Ann, Nathan Scott, William Raiford, France Catherine, Mary Susan, Elizabeth C., and Matilda. His son William Raiford Jarrett was born in Georgia in 1848 and he died in Arkansas in 1909.
Early American and New World Settlers
Early settlers in America bearing this surname include William Jarrett (Pennsylvania 1843)
In Australia, some of the earliest bearers include Thomas Jarrett who came in 1849 aboard the Emily to South Australia, and Emma and Sarah Jarrett, who came to the same location in the same year aboard the Duke of Wellington. In New Zealand, a family bearing the surname Jarrett (Richard, Ann, Owen, Richard O., and James E.) came to Wellington in 1875 aboard the Berar.
Early Americans Bearing the Jarrett Family Crest
I researched the following three resources and did not find any coats of arms for Jarrett: Bolton's American Armory, Matthew's American Armoury and Bluebook, and Crozier's General Armory.
Mottoes
The Jarrett family motto is Res non verba, meaning "Facts not words" and Consilio et armis, meaning "By wisdom and arms".
Grantees
We have six coats of arms for the Jarrett surname depicted here. These six  blazons are from Bernard Burke's book The General Armory of England, Ireland, and Scotland, which was published in 1848. The bottom of this page contains the blazons, and in many instances contains some historical, geographical, and genealogical about where coat of arms was found and who bore it. People with this last name that bore an Jarrett Coat of Arms (or mistakenly called the Family Crest)
1) James Jarrett, son of William, London, merchant, 19 May 1696,  by T. St. George
Notables
There are hundreds of notable people with the Jarrett surname. This page will mention a handful. Famous people with this last name include: 1) Jeff Leonard Jarrett (1967) who is an American professional wrestler born in Hendersonville, Tennessee who was known for his multiple runs in both the WCW and WWF in the 1990s and who went on to found TNA (also known as Impact Wrestling), 2) Benjamin Jarrett (1881-1944) who was a Republican member of the US House of Representatives from Pennsylvania and was born in Sharon, PA, 3) Gregory Walter Jarrett (1955) who is currently a host on Fox News and had worked for numerous local stations affiliate with NBC, ABC, and PBS, 4) Berrie Henry Jarrett (1894-1927) who was a Lieutenant Commander in the United States Navy, born in Baltimore, Maryland, who received the Medal of Honor for his role in the United States occupation of Verazcruz, Mexico, 5) Glenn Jarrett (1950) who was a former NASCAR driver from Conover, North Carolina, the son of Ned and brother of Dale, who made 10 Winston Cups and later became a pit reporter for TNN, 6) Gary Walter Jarrett (1942) who a professional ice hockey player born in Toronto, Canada who played for three different NHL teams: Toronto Maple Leafs, Detroit Red Wings, and California Golden Seals, 7) Colonel Hanson Chambers Taylor Jarrett (1839-1891) who was a recipient of the Victoria Cross, born in Madras, British Indiana, and was a Lieutenant in the 26th Bengal Native Infantry, and 8) Valerie June Jarrett, who is an American lawyer, civic leader, and businesswoman who served as the Senior Advisor to the President of the United States.
Blazons & Genealogy Notes
1) Ar. a lion pass. betw. two flaunches purp. Crest—A lion pass. as in the arms, resting the dexter forepaw on a fleur-de-lis or.
2) Az. a lion ramp. ducally crowned or. Crest—A lion's head erased and ducally crowned or, collared gu.
3) (granted 19 May, 1696, to James Jarrett, son of William Jarrett, of London, merchant). Az. a lion ramp. ar. guttée de poix, collared gu. and ducally crowned or. Crest—A lion's head erased ar. guttée de poix, collared gu. ducally crowned or.
4) (Camerton Court, co. Somerset). Quarterly, 1st and 4th, az. a lion ramp. erm. ducally crowned or, for Jarrett; 2nd, gu. a sword erect ppr. betw. three mullets ar., for Stephens; 3rd, ar. on a mount vert a bull statant gu. armed or, charged on the shoulder with a plain cross ar., for Ridley. Crest—A lion's head erased or, ducally crowned and collared gu.
5) or Jarrat, Jarratt – Sa. a lion ramp. ar. ducally crowned or, collared gu. Crest—An eagle, wings expanded ppr.
6) Jarrerd or Jarrard – Quarterly, per fesse indented or and az.