Joule Family Crest, Coat of Arms and Name History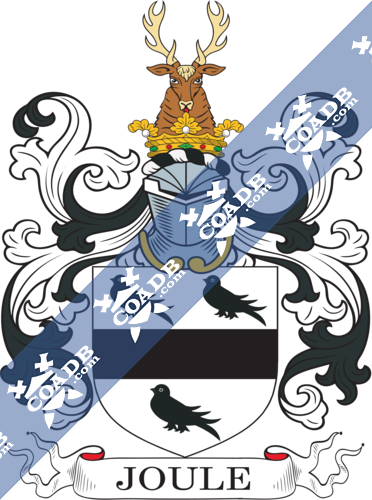 Joule Coat of Arms Gallery
Don't know which Coat of Arms is yours?
We can do a genealogical research. Find out the exact history of your family!
Learn More
Origins of Joule:
According to the early recordings of the spelling forms of the name, this interesting and unique name listed in many forms, this is is an Anglo-French surname, of Breton or Cornish origins.  Now most famous in England as Jekyll, it acquires from the original Celtic personal name 'Indicael'.  This was a combination of components which mean 'generous lord'.  The name became very popular as 'ledecael' and later again as 'Gicquel', finally remaining in new French as 'Jezequel'.  A 7th-century saint named Indicael was a king of Brittany who abdicated, and spent the last part of his life in a monastery.  The new English surname, found in its native areas of Devon and Cornwall, also appeared in areas of Breton settlement such as East Anglia and Yorkshire.  The spellings are known to include Jekyll,Jiggle, Jewell, Jockle, Joel, Joule, and the patronymics such as Jewells or Joules.
Variations:
More common variations are: Joulie, Jouley, Jeoule, Joulle, Jouleh, Jule, Jole, Joul, Joulaei, Joulaee.
England:
The very first recording spelling of the family was shown to be that of Richard Juel, dated about 1086, in the "Bedfordshire Assize Rolls,"  It was during the time of King Henry III of England, dated 1216-1272.  The origin of surnames during this period became a necessity with the introduction of personal taxation.  It came to be known as Poll Tax in England.  Surnames all over the country began to develop, with unique and shocking spelling varieties of the original one.
Australia:
Some of the people with the surname Joule who landed in Australia in the 19th century included William Joule arrived in Adelaide, Australia aboard the ship "Lady Emma" in the year 1837.
Blazons & Genealogy Notes
Ar. a fesse betw. three martlets sa. Crest—Out of a ducal coronet or, a stag's head affrontée ppr.