Keane Family Crest, Coat of Arms and Name History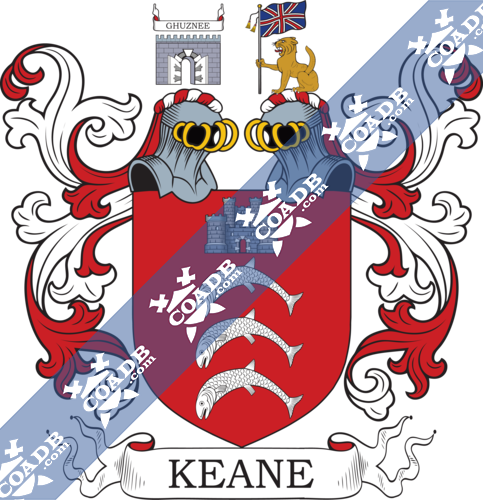 Keane Coat of Arms Gallery
Don't know which Coat of Arms is yours?
We can do a genealogical research. Find out the exact history of your family!
Learn More
Surname Name Meaning, Origin, and Etymology
This surname has two origin theories. First, it is a nickname meaning "the keen", i.e. the quick, the sharp, or the eager (or even bright or fair). Second, it is a locational surname meaning "of St. Keyne" which was a parish in county Cornwall, near Liskeard, which in turn was named after St. Keyne (or Kayne), a female Catholic Saint who lived in the 400s AD, a hermitess who traveled extensively throughout Wales and Cornwall and was one of the daughter of King Brychan of Brycheiniog.
The surname O'Keane means the descendant of Cathan, meaning the warrior. Keane is an anglicized version of the Gaelic O'Cathain. Cathan is the diminutive form of cath, meaning battle. It may also be an anglicized form of O'Cein, meaning the descendant of Cian, which was a personal name meaning either long or distant. Lastly, it may be the anglicized form of the Scottish name MacEoin, meaning "the son of Eoin", an old personal name meaning John.
Spelling Variations
The most common spelling variations of this name are Kean, Keen, Keene, Kene, Kine, and Kyne. St. Keyne was also known as Kayane, Keyna, Cenau, Cendion, and Ceinwen.
Early Bearers of the Surname
A one Adam Kene was recorded in the Curia Rolls of Suffolk in 1207 AD. The Hundred Rolls of 1273 AD, a census of Wales and England, known in Latin as Rotuli Hundredorum, documents three people bearing this surname: Hugh le Kene in county Oxford, Reginald le Kene in county Buckinghamshire, and William le Kene in the aforementioned county. A one Simon Kyne is listed in the Placita de Quo Warranto. A one Thomas Kene in county Somerset was listed in Kirby's Quest as living during the reign of King Edward III of England. The Poll Tax of Yorkshire in 1379 AD documents three bearers: Gilbertus Kene, Willemus Kene, and Robertus Kene. Early marriages involving this surname include: Hester Keane to Richarde Fludde at St. Michael, Cornhill in 1598 and John Keene to Katherine Andrews at the aforementioned location in 1617. A one Thomas Keyne was buried at the same church in 1682. The Register of the University of Oxford records one William Kine of county Dorset in 1587.
Keane's in Ireland
Kean family descends from Milesius (who some say is mythical), King of Spain, through the line of his son Heremon. The founder of the family was Eogan, ancestor of the Northern Hy Nials and son of Nial of the Nine Hostages, King of Ireland in 379 AD. The ancient name was Cathain and signifies "Valorous". The possessions of the clan were located in the present County of Tipperary. The Keanes, or O'Canes, were Chiefs of Hy Fodhladha, a district supposed to be near the borders of Tipperary and Waterford. Many bearers of this last name have acquired distinction and prominence in various walks of life. Some of these include Lord John Keane, born in 1781, who served with distinction in the British service in the Peninsular War, in Egypt, in the American War of 1812 and in India, who passed away in 1844. Another is the Rev. John Joseph Keane (1839-1918), Rector of the Catholic University of America, Washington, DC.
History, Genealogy, and Ancestry
Bernard Burke's book "Peerage and Baronetage" discusses with surname at considerable length. He starts with a discussion of Sir John Keane, the 1st Baronet, of Belmont in county Wexford who was born in 1757, the son of Richard Keane. He was created a Baronet in 1801 and he married Sarah, the daughter of Richard Keily, and with her had numerous issue. John, born 1781, was the first Baron of Keane. He participated in an expedition in Afghanistan and was elevated to the peerage in 1839. He married Grace Smith and with her had several issue: Edward Arthur Wellington (1815), John Manly Arbuthnot (1816), George Disney (1817), and Hussey Fane (1822). Sir Richard was the 2nd Baronet and was a Lieutenant Colonel in Waterford. He was born in 1780 and in 1814, he married Elizabeth, the widow of Samuel Penrose and daughter of Richard Sparrow and had two children with her: John Henry and Leopold George Frederick (1818). Richard died in 1855 and was succeeded by the elder son, Sir John Henry Keane, 3rd Baronet, who was born in 1816. John Henry married Laura Keatinge and with her had two daughters. He later married Harriet Thorneycraft in 1880 and had issue with her. His eldest son was Sir Richard France Keane, the 4th Baronet, born in 1845. Richard was High Sheriff in 1882 and married Adelaide Sidne, and had issue with her: John, George Michael, and Richard Henry. John was the eldest son and became the 5th Baronet when Richard died in 1892.  Sir John Keane, 5th Baronet, of Cappoquin House in Waterford, who was a Lieutenant Colonel in the R.F.A and a member of the Free State Senate of Ireland from 1922-1936. He married Lady Eleanor Lucy Hicks-Beach, the eldest daughter of Earl St. Aldwyn and had three children with her: Richard Michael (born 1909 who fought in World War II), Adelaide (1907), Sheila (1911), and Madeline Lucy (1914).
Another book by the genealogy expert Bernard Burke, "The Landed Gentry" discusses a branch of this family known as Keane of Beech. The family came from county Londonderry at the time of the plantation of Ulster. Owen Keane settled at Ballyvoe, near Ennis, during the middle of the 1600s AD. He married Judith, the daughter of Sir Robert Shaw of Galway, and had one son with her named Robert Keane, born in 1690. Robert married Mary, the daughter of Robin Keane, and with her had three sons: Robert, Charles, and Patrick. Charles, Esq. of Corbally in county Clare, married Anne Hardinng in 1766 and with her had issue: Mary, Anne, Charles (died in the West Indies in 1812 without issue) and Robert. Robert was born in 1774 and married Jane, the eldest daughter and co-heiress of Thomas Delahunty of Crusheen, and with her had several children: Charles, Francis Nathaniel, Thomas, Giles, Robert, Marcus, William, Henry, Anne, Susanna, Maria, Jane, and Charlotte.
Early American and New World Settlers
The book "Genealogical Guide to Early American Settlers" mentions several people with this last name: 1) Benjamin Keayne in Boston in 1638, son of Robert, who was born in London, and married Sarah, the daughter of Governor Thomas Dudley and had one child named Ann, 2) John Keayne of Hingham who died in 1650 of whom little is known other than his name sometimes is spelled Cane, 3) Robert Keayne, a merchant of Boston who came from London aboard the Defence in 1635 at the age of 40 with his wife Ann and had a son named Benjamin, 4) Artur Keen or Kean of Boston who died in 1687 and had a wife name Jane with whom he had a son named John, 5) James Keen of Braintree in 1645, who was a Captain, 6) John Keen of Boston in 1662 who was a mariner who came aboard the Confidence from Southampton, 7) Josiah Keen, of Duxbury, who married Hannah (daughter of John Dingley) and had children named John (1661), Josiah, Matthew, and Hannah, and William Keen of Salem in 1638 who had a grant of land in that year Marcus Keane, of Beech Park in county Clare, was born in 1815 and in 1847 married Louisa Isabella Westby, and with her had seven children: Percival William (1848), Robert Charles George (1851), Marcus Thomas Francis (1854), Granville Giles (1861). Frederick Colpoys (1868), Jane Mary (1857), and Louisa Caroline. A one Alice Keen (likely a maid servant) was recorded as living in Virginia in February of 1623.
A one John Keane was born in 1805 and had a son named John. F. John. F was born in 1839 in Ireland and married Ann M. Ward. Together they had two children: William Joseph and Thomas. William Joseph was born in 1861 in Plymouth, Massachusetts, and died in 1887 in Boston.
Mottoes
The family mottoes include 1) felis demulcta mitis, meaning "a stroked cat is gentle", 2) Ghuznee (refers to a battle in Afghanistan from 1839) and 3) virtate, meaning "virtue", and 4) Deus mihi providebit, meaning "God will provide for me".
Grantees
One grantee was Keane, Baron [Lieut.-Gen. Sir John], of Ireland. G.C.B. [12 Aug. 1839]. Supporters [cr. Baron Keane, 23 Dec. 1839], [1840].
Notables
Notable people bearing this last name include: 1) William Keane (1805-1875) who was Bishop of Cloyne, 2) Bil Keane (1922-2011) who was a cartoonist who created The Family Circus, and 3) John Keen (1849-1902) who was a famous British cyclist.
Blazons & Genealogy Notes
1) (Cappoquin House, co. Waterford, bart.). Gu. three salmons naiant in pale ar. Crest—A cat sejant ppr. supporting in the dexter paw a flag-staff, thereon a union jack ppr. Motto—Felis demulcta mitis.
2) (Baron Keane). Gu. three salmons naiant in pale ar. on a chief of honourable augmentation a representation of the fortress of Ghuznee all ppr. Crests—1st: A representation of the Cabool gate of the fortress of Ghuznee all ppr., and on an escroll above, the word " Ghuznee;" 2nd; A cat sejant ppr. supporting in his dexter paw a flagstaff, thereon a union jack ppr. Supporters—Dexter, a mounted Beloochee soldier; and sinister, a mounted Affghan soldier, both ppr. Motto—Deus mihi providebit.
3) (Belmont, co. Waterford; confirmed to John Keane, Esq., of that place). Gu. three trout ar. Crest—A cat-a-mountain sejant ppr. holding in his dexter paw a staff displaying a banner of the union of Great Britain. Motto—Virtute.
4) (Hermitage, co. Clare; confirmed to Francis Nicholas Keane, Esq., J.P., eldest surviving son of Robert Keane, Esq., J.P., of Beech Park, in same co., and grandson of Charles Keane, Esq., of Corbally, in same co., and to the other descendants of the said Charles Keane). Quarterly, gu. and or, in the 1st and 4th quarters a salmon naiant ar., in the 2nd and 3rd a tree vert. Crest—A wild cat ramp. guard. ppr. gorged with an antique Irish crown or, charged on the shoulder with a trefoil vert. Motto—Felis demulcta mitis.
5) (Beech Park, co. Clare). Quarterly, gu. and or, in the 1st and 4th quarters a salmon naiant ar., in the 2nd and 3rd quarters a tree vert. Crest—A wild cat ramp. guard. ppr. gorged with an antique Irish crown or, and charged on the shoulder with a trefoil vert. Motto—Felis demulcta mitis.
6) (exemplified to James Meara Esq., of Dublin, on his assuming by royal licence, 1824, the surname and arms of Kean). Ar. an oak tree eradicated ppr. in chief two lions combatant az. supporting a ducal coronet gu. and in base a salmon naiant ppr. Crest—A cat-a-mountain ramp. per fess az. and gu. Motto—Inclyta virtus.