Keating Family Crest, Coat of Arms and Name History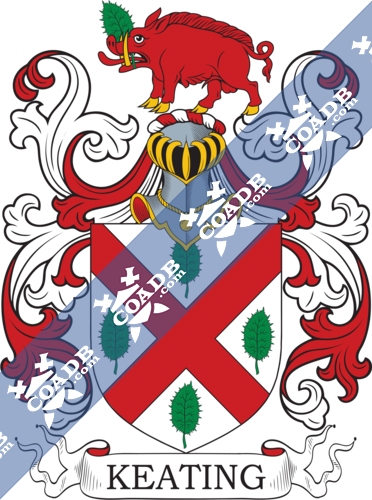 Keating Coat of Arms Gallery
Don't know which Coat of Arms is yours?
We can do a genealogical research. Find out the exact history of your family!
Learn More
Keating Surname Name Meaning, Origin, History, & Etymology
The Dictionary of American Family Names, authored by Elsdon Coles Smith in 1956, states this name means "descendant of the reasonable or urbane person" or "the grandson of Ceatfhaidh". Another source relates it to the French Catin (with the diminutive suffix in added), the Old Norse word kát-r, and/or the Latin word catus meaning sagacious of cunning. Another source asserts the name sderives from the Old English personal (first) name Cyting, deriving from the word cyta, meaning kite, a name signifying a fierce and rapacious person. It should also be noted the Keaty (Gaelic O'Ceatfhadha) sometimes assumed this surname. The name originated with Cambro (Welsh) Norman invaders, Vikings who settled in Normandy, France,  who came into Britain in the 1100s AD, led by Strongbow, mostly settling in Wexford (founded by Vikings as Waesfjord) in Leinster, where the family was seated at Baldinstown Castle. It can be an Americanized/Anglicized version of Céitinn, a Gaelicized form of de Ketyng (likely a habitational name), which was taken to southern Ireland by Anglo-Norman settlers. The family held important positions in the church, parliament, and county governments. A one John Keating (1635-1695) was the Lord Chief Justice of Ireland in 1679 AD. The progenitor of the family was John FitzWilliam, a Norman Knight of Italian descent, who was the son of Gerald and Nestra. Legend states the name was given to John because of the ferocity with which he fought the Irisih, deriving from the word ceith-theine, meaning a shower of fire, or a sword of fire. A second theory was the surname came from Askeaton Castle in Limerick, which was possessed by John's nrother, Raymond de Gros.
Keating Family in Ireland
The book "A genealogical history of Irish families", published in 1895 by John Rooney states the family is descended from Milesius, King of Spain, through the line of his fifth son, Ir. This claim is dubious given said king is considered to be mythical by most historians, and the author of the book makes this same claim in regard to many other Irish surnames. The book claims the family belonged to the Clanna Rory tribe, founded by Heber Donn, the son of Ir. The progenitor/founder of this family was Conal Kearnach, son of Amergin, who was removed in the fourth degree from Rory O'More, who give his name to the tribe in Ulster in 87 BC. The surname of the family was originally spelled Keitherny, meaning "Sturdy Soldier". The sept owned lands in the modern day county of Tipperary. Another family of the name Keating settled in various branches throughout counties Wexcford, Carlow, Kildare, Cork, Waterford, and Carlow. The latter family traces its lineage to Norman invaders. An English family of this name came to Ireland and lived in Limerick starting in the late 1500s AD. The other writes "The Keatings were from the first down to our own day distinguished for their prominence in national and political affairs, and they were noted for their courage and hospitality. Halis Keating was the founder of this family and he had his principal estate or residence at Baldwinstown, in the County of Wexford. In the reign of Henry the Seventh we read that James Keating, Prior of Kilmainham, stormed Dublin Castle and held it against the Government for many months". Edward F. and Joseph T. Keating, living in Brooklyn, New York (at the time Mr. Rooney wrote his book or prior?), were descendants of this family
Spelling Variations
Common spelling variants or names with similar etymologies include Keatinge, Keeting, Céitinn (the spelling in Irish), Keatting, MacKeating, and McKeating.
Popularity & Geographic Distribution
The last name Keating ranks 2,027th in popularity in the United Status as of the 2000 Census. The name ranks particularly high in the following four states: Connecticut, Massachusetts, New Jersey, and New Hampshire.
The surname Isaac frequency/commonness ranks as follows in the British Isles: England (1,200th), Scotland (1,771st), Wales (1,467th), Ireland (118th) and Northern Ireland (795th). In England, it ranks highest in Lancashire. In Scotland, the Keating surname rankest highest in Moray. In Ireland, it ranks highest in Carlow and Tipperary. In Northern Ireland, it ranks highest in county Down. In Wales, it ranks highest in Denbighshire.
The name is also present throughout the remainder English speaking world:  Canada (1,423rd), New Zealand (1,504th), Australia (650th), and South Africa (5,544th).
Keating Family Tree & Keating Genealogy
The book Irish Pedigrees states the following in regard to this family and last name: "John, the third son of William Fitzgerald who is No. 4 on the Fitzmaurice pedigree, was the ancestor of the Keating family. William's parents were Gerald De Windsor and Nesta, daughter of the Prince of South Wales. Gerald's parents were Walter fitzOtho Geraldini and Gladys, daughter of the Prince of North Wales. A pattern of conquest more matrimonial than military seems evident. Walter's father was Dominus Otho Gherardini, the Florentine adventurer who changed the surname to Geraldini. These Italian-Normans in Ireland became a huge extended family that ruled the South of Ireland for centuries as the famous Geraldines".
Legend states the genealogy of the family dates back to ancient Troy in the Near East, and the family was indigenous to Tuscany, Italy. The family was originally the aristocratic Gherardini family in Italy who were a ruling family descended from the Grand Duke of Cosmus, which fell when Florence was founded as a republic. They resises near the Ponte Vecchio bridge. One of the first recorded members of the family in Italy was Ranier or Rainier in 910 AD. The first emigrant of this family to the British Isles was Otterus or Othoer, son of Mathias, a son of Cosmus, the Duke of Florence. They were also of the Ferrara-Modena branch of the House of D'Esste, a younger branch who lived in the Teutonic lands of Charlemagne and dounded the royal families of Brunswick and Hanover in modern day Germany. Some claim Otho went to Normandy with the caravan of King Canus of England who had passed through Florence on his return from a pilgrimage to Rome. It was also said he came into England with Edward the Confessor when he was called back from exile to become the King of England. His son named Otho Fitz-Othoer is documented in the Domesday Book of 1086 and was a baron in England. This Otho was the ancestor of Gerald de Windsor, who was the progenitor of numerous families in Ireland including the Keatings, Redmonds, Carews, FitzGerlads and FitzMaurices. The website robertkeating.com states the following: "Otho was so powerful that his favor with the King was greatly resented by the native Norman nobles. He possessed three lordships in Surrey, three in Buckinghamshire, two in Berkshire, four in Middlesex, nine in Wiltshire, two in Hampshire, three in Dorset, and one in Somerset. With him, the family name was changed to Geraldini. Otho's son, Walter fitz-Otho Geraldini, was treated as a fellow countryman by the Normans after the conquest of England in 1066. He succeeded to all of Otho's estates and his name is shown in the Domesday Book of 1087 that listed all the landholders of England. Windsor Castle, a great gray pile overlooking the Thames, had just been built amid the forests of Berkshire, and Walter was appointed its first castellan, as well as warden of the forests. He was, it is clear, one of the most Norman of the Normans — a race renowned for its adaptability, no less than for its valor and ferocity. Windsor Castle continued as a baronage for Otho's descendants for centuries, until it passed out of existence due to lack of male heirs in the direct line. An interesting footnote is the story of how the current English royal family, the House of Windsor, took their name from this vacated baronage".
Edward Keating was born after 1697 and he married Mary Norman.
John Keating was born before 1675, and was of Rochestown Castle, Tipperary, and was A Baron of the Exchequer, Ireland and he had a daughter named Mary who was born in 1700 and married Thomas Prendergast.
John FitzJohn Keating was born in Wexford, Ireland in 1707. He married Mary Ellen Cantillon and he had the following issue with her: Geoffrey, Mary Theresa, Charlotte, and John Kennard. His son Geoffrey FitzJohn Kennard Keating was born in Killognaveen, Cahiriciveen in 1735 and he married Anna Frances Fitz Maurice with whom he had three issue: John Joseph, Maureice FitzMaureice, and James Patrick. His son John Joseph was born in the same town in 1760. He married Mary Creagh and he had the following issue with her: Martin, John Joseph, Daniel, Hanorah, Thomas, Denis, Maurice, Julia, James Keating, Catherine Keating, Patrick Keating, and William Keating. His son John Joseph Keating was born in Killognaveen in 1783 and he married Hanorah Shea with whom he had the following issue: Mary, Hanorah, Maureice, Ellen, John Joseph Jr., Jane, William, Jeremiah, and Patrick.
Thomas Keating was born in Slocum, Pennsylvania in 1849. He married Ruth Anne Vandermark and he had five issue: Minnie L. (Driesbach), Harriet Keating, Gussie (Reilly), Emma P., and Charlotte Susan.
Robert Keating married Johanna Archdeacon in Quebec, Canada in 1775.
Early American and New World Settlers
Early settlers in colonial America bearing this surname include Ignatius and Thomas Keating who came to Philadelphia, Pennsylvania in 1773 AD. It is assumed many others bearing this Irish name came during the 1840s during the Great Potatoes Famine. In Canada, one of the earliest settlers bearing this name was Michael Keeping who arrived in Halifax, Nova Scotia in 1750. In Australia, one of the first bearers was James Keating (a victualler, a person who sold alcohol) who came to the city of Adedaide aboard the Navarino in 1837. In New Zealand, one of the first bearers was Anne Keating, who came to Nelson aboard the Adamant in 1874.
Early Americans Bearing the Isaac Family Crest
I researched the following three resources and did not find any coats of arms for Keating: Bolton's American Armory, Matthew's American Armoury and Bluebook, and Crozier's General Armory.
Mottoes
I have identified two Keating family mottos
1) Fidelissimus semper (Always faithful)
2) Provdentia divina (By divine providence)
Grantees
We have three coats of arms for the Keating surname depicted here. These three blazons are from Bernard Burke's book The General Armory of England, Ireland, and Scotland, which was published in 1848 and William Berry's Encyclopedia Heraldica. The bottom of this page contains the blazons, and in many instances contains some historical, geographical, and genealogical about where coat of arms was found and who bore it.
Notables
There are hundreds of notable people with the Keating surname. This page will mention a handful. Famous people with this last name include: 1) Caron Louisa Keating (1962-2004) who was a British television presented born in Fulham, London who presented programs such as The Video Picture Show, Channel One, Greenrock, and This Morning, 2) Charles Humphrey Keating Jr. (1923-2014) who was an American lawyer and banker from Cincinnati Ohio best known as an anti-pornography activist and for the role he played in the savings and loan scandal of the late 1980s, 3) Daniel Heating (1902-2007), also known in Irish as Dónal Céitin, was a patron of Republican Sinn Fein and the longest surviving veteran of the Irish War of Independence, 4) William John Keating (1927) who was a World War II veteran from Cincinnati, Ohio who went on to become a member of the United States House of Representatives for Ohio's First District, 5) Timothy J. Keating (1948) who was a United States Navy admiral who commanded Carrier Group Five, the U.S. 5th Fleet, the U.S. Northern Command, and NORAD, 6) Maurice Bagenal St. Leger Keatinge (1761-1835) who was an Irish solider, landowner, and politician who served as a Member of Parliament for Kildare starting in 1777, 7) Paul John Keating (1944) who was the 24th Prime Minister of Australia from 1991-1996, 8) Sean or John Keating (1889-1977) who was born in Limerick, Ireland and was an Irish romantic-realist painter who painted scenes of the Irish War of Independence and the early industrialization of Ireland, 9) Seathrún Céitinn or Geoffrey Keating (1569-1644) was a historian, Catholic priest, and a poet, and 10) Francis Anthony Keating II (1944) who is the 25th Governor of Oklahoma who served from 1995-2003.
Blazons & Genealogy Notes
1) (Kilcoan co. Wexford. Visit. Wexford, 1618). (Rosetown, co. Wexford. Visit. Wexford, 1618). (Baldwinstown, co. Wexford. Visit. Wexford, 1618). (Brittany, in France, settled thero after the revolution of 1688; allowed by Hawkins, Ulster, 1784, to Charles Keating, of Brittany, great-grandson of Thomas Keating, Esq., of Baldwinstown). (Clonoghinthe, co. Carlow; Fun. Ent. 1619, Redmond Keating, of that place). (Narraghmore, co. Kildare; Fun. Ent. 1683, Maurice Keating, of that place). (Baybush, co. Limerick; allowed by Bryan, Deputy Ulster, 1767, to Valentine Keating, Esq., of that place, descended from Keating, of Kilcoan). Motto—Fidelissimus semper. Ar. a saltire gu. betw. four nettle leaves vert. Crest—A boar statant gu. armed and hoofed or, holding in the mouth a nettle leaf vert.
2) (Kilmandan; Reg. Ulster's Office). Quarterly, 1st and 4th, same Arms; 2nd and 3rd, az. a lion ramp. ar. over all in middle point a cross pattee of the first. Crest—A boar pass. gu. in front of a bunch of nettles ppr. Motto—Provdentia divina.
3) or, a saltier gu. betw. four oak-leaves vert.-Crest, on a mount vert, a boar, passant, sa.