Kennard Family Crest, Coat of Arms and Name History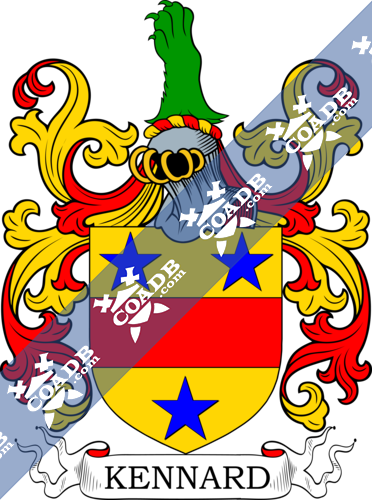 Kennard Coat of Arms Gallery
Don't know which Coat of Arms is yours?
We can do a genealogical research. Find out the exact history of your family!
Learn More
Listed in many forms including Kennaird, Kennard, Kenward and Kenwood, this is an English surname of old origins.  It derives from the Olde English pre 7th-century personal name 'Cyneweard, generally considered to translate as 'Royal protector'.  It was composed of the components "cyne", meaning royal, and either "heard" meaning hardy, brave, or strong, or "weard", meaning guardian or protector. More common variations are: Kennaird, Kenniard, Kennardy, Kennardi, Kennarod, Keinnard, Keunnard, Kenard, Kennaridh, Kenward.
The surname Kennard first found in Gloucestershire where they held a family seat from very early times, some say well before the Norman Invasion and the arrival of Duke William at Hastings in 1066 AD. The very first recording spelling of the family was shown to be that of Walter Kyneward, dated about 1250,  in the "Ramsey Monastery", Bedfordshire.  It was during the time of King Henry III who was known to be the "The Frenchman", dated 1216 – 1272.  The origin of surnames during this period became a necessity with the introduction of personal taxation.  It came to be known as Poll Tax in England.  Surnames all over the country began to develop, with unique and shocking spelling varieties of the original one.
Some of the people with the name Kennard who arrived in the United States in the 18th century included John Kennard, who arrived in Mississippi in 1798. Some of the people with the surname Kennard who arrived in the United States in the 19th century included William G Kennard, who arrived in Texas in 1835.
Blazons & Genealogy Notes
Or, a fesse gu. betw. three mullets as. Crest—A lion's gamb erased vert.