Kent Family Crest, Coat of Arms and Name History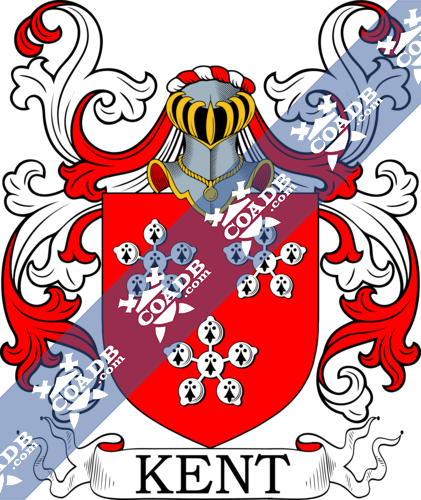 Kent Coat of Arms Gallery
Don't know which Coat of Arms is yours?
We can do a genealogical research. Find out the exact history of your family!
Learn More
Kent Origin:
English
Origins of Name:
The surname of Kent is of an English origin, and has locational ties that date as far back as 51 B.C. with the county of of "Cantium" and also "Cantia" circa 730 in the "Historia Ecclesiastic" by Bede. The name itself is believed to derive from the Celtic word "canto". Also possibly from the Welsh "cant", they both can be translated as meaning "rim" or "border," which would thus mean "border land" or "coastal district."
Variations:
More common variations are:
Kente, Kenta, Keunt, Kento, Kenet, Keont, Kenti, Kendt, Kenty, Kenat
History:
England:
The first recorded spelling of the surname of Kent was in England in the year of 1185. One Nicholas de Kent was recorded in the "Knights Templars Records of Warwickshire" which was recorded and decreed under the reign of King Henry II, who was known as, and commonly referred to throughout history as "The Builder of Churches" and ruled from the year 1154 to the year 1189. Other mentions of this surname include William Kent, who was mentioned and recorded in the Subsidy Rolls of Sussex in the year 1296, while John od Kent was recorded in the Subsidy Rolls of Suffolk in the year 1524. Those who bear the surname of Kent in England can be found in the counties of Hampshire, Suffolk, Sussex, Cornwall, Kent, Yorkshire, Staffordshire, Lancashire, and also in the city of London.
Scotland:
Within the country of Scotland, those who bear the surname of Kent are found in the county of East Lothian, but throughout history as the centuries passed those with the surname of Kent moved out of East Lothian. These people who bore this surname moved out into the Orkney Islands and the counties of Lanarkshire and Argyll.
Ireland:
In the country of Ireland, there is a large population of people who bear the surname of Kent. Those who carry this surname of Kent are found in the county of Meath, and usually emigrates out of the countries of either England or Scotland.
United States of America:
During the 1600's settlers in Europe began to feel disgruntled with their homeland. These settlers began to look for new lives, and new freedoms that were not afforded to them in the country of their birth. Many of these people were migrating to the United States of America because this land promised freedom from religious persecution, the promise of new land, and the promise of little to no taxation. This migration of people was referred to as the European Migration, and brought many new people to the United States of America, which at that time was referred to as The New World or The Colonies. The first people who bore the surname of Kent were Joane and Humphrey Kent, who settled in the state of Virginia in the year 1621. The next person who bore this surname and arrived and settled in New England as Edward Kent, who landed in the year of 1630. In the same year, the year of 1630, both Joshua Kent and John Kent arrived in the state of Massachusetts, while Richard Kent and Stephen Kent also settled in the state of Massachusetts, specifically in the town of Newbury Port in 1634. Those who bear the surname of Kent can be found in large concentrations in the states of Michigan, Massachusetts, Illinois, New York, Pennsylvania, Ohio, Illinois, California, Washington, New Jersey, Virginia, Indiana, Iowa, Georgia, Texas, Mississippi and the state of Louisiana.
Kent Today:
United States 52,081
England 18,730
Australia 8,461
Russia 6,748
Canada 5,887
South Africa 3,945
Turkey 3,494
Nigeria 3,210
Ukraine 3,041
Vietnam 2,583
Notable People:
Donald Theodore "Don" Kent (1944-2015) who was a collector of blues and bluegrass recordings from America
Mr. Edward Austin Kent (died in 1912) who was a Buffalo, New York native, and fifty-eight-year-old American First Class Passenger who sailed on board the ship named the RMS Titanic, and died in the sinking of the vessel, and his remains were recovered by one CS Mackay-Bennett
Jack Kent (1920-1985) who was an illustrator from America
Don E. Kent (1917-2010) who was a meteorologist from America
Don Kent, who was a music producer from America
Don Kent (1933-1993) who was a wrestler from America
Carolyn Kent (1935-2009) who was an activist from America
Carol Kent (born in 1953) who was a politician from America
Charles Kent (1852-1923) who was an American actor who starred in silent films and also a director who appeared in 141 films, and was Bristish-born
Rockwell Kent (1882-1971) who was an American writer, artist, and graphic artist
Blazons & Genealogy Notes
1) (Thatcham, co. Berks). (cos. Berks, Gloucester, Lincoln, and Warwick, Davis, co. Wilts, and co. York; granted by Richard St. George). Az. a lion pass. guard. or, a chief erm. Crest—A lion's head erased erminois, collared, lined, and ringed az. Another Crest—A lion's head erased or, collared and armed sa.
2) (cos. Suffolk and Wilts). Gu. three cinquefoils erm.
3) Quarterly, gu. and or, on a label of three points sa. nine bezants.
4) Per fesse or and sa. a pale and three water bougets counterchanged (another, ar. a fesse gu.; another, gu. a chief ar.).
5) (Daneston; Bartholomew Kent, Esq., of that place; Fun. Ent. of his wife, Ulster's Office, 1621). Sa. three lions pass. guard. two and one ar.
6) (Reg. Ulster's Office). Gu. three cinquefoils pierced erm.