Kenton Family Crest, Coat of Arms and Name History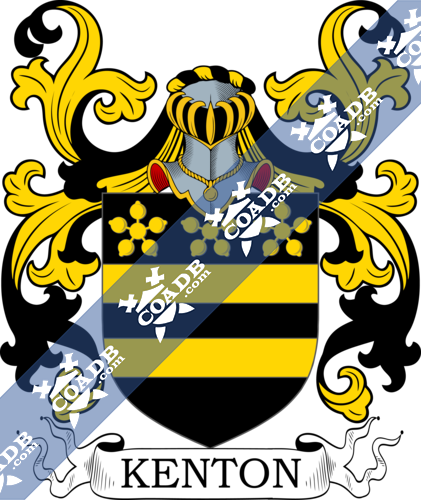 Kenton Coat of Arms Gallery
Don't know which Coat of Arms is yours?
We can do a genealogical research. Find out the exact history of your family!
Learn More
Kenton Origin:
England, Ireland
Origins of Kenton:
This locational name is especially interesting as it is another advancement of the Olde English 'cyne-tun' meaning 'the King's Farm' and appeared in the locational names of Kenton, Kington and Kingston. These hamlet names are found all over the England and illustrate the original hold of the Ruler in old times. The new name means 'the resident of the King's farm' or was given to the original name holder when he or she shifted to another area. As 'Kynetone' it was first noted in the Domesday Book (1066) for Devon. The Kenstons of Kenton in Suffolk held a Coat of Arms being a black shield loaded with two bars and three cinquefoils in gold.
Variations:
More common variations are: Keynton, Kentono, Keenton, Kentona, Kennton, Keunton, Kenaton, Keniton, Keinton, Keinaton.
England:
The surname Kenton first appeared in Suffolk where they held a family seat from very ancient times. Some say well before the Norman Conquest and the arrival of Duke William at Hastings in 1066 AD.
The very first recording spelling of the family was shown to be that of Stephen de Kyngton, dated about 1273, in the "Pipe Rolls of Norfolk". It was during the time of King Edward I who was known to be the "The Hammer of the Scots", dated 1272 – 1307. The origin of surnames during this period became a necessity with the introduction of personal taxation. It came to be known as Poll Tax in England.
Ireland:
Many of the people with surname Kenton had moved to Ireland during the 17th century.
United States of America:
Individuals with the surname Kenton landed in the United States in two different centuries respectively in the 17th and 18th. Some of the people with the name Kenton who arrived in the United States in the 17th century included Richard Kenton settled in Maryland in 1634. Anne Kenton settled in Virginia in 1654. Thomas Kenton, who landed in Pennsylvania in 1682.
The following century saw more Kenton surnames arrive. Some of the people with the surname Kenton who arrived in the United States in the 18th century included Kath Kenton, who came to Virginia in 1705.
Here is the population distribution of the last name Kenton: United States 2,059; England 893; South Africa 365; Suriname 133; Jamaica 89; Canada 82; Israel 71; Australia 58; New Zealand 52; Costa Rica 36.
Notable People:
Darren Edward Kenton (born September 1978) is an old English professional football player who last played for Rochester Rhinos in the USL First Division.
Erle C. Kenton (August 1896 – January 1980) was an American film director. He directed 131 films between 1916 and 1957. He was born in Norborne, Missouri and died in Glendale, California from Parkinson's disease. He and Edward Ludwig were the principal supervisors of the 1958-1960 CBS television series, The Texan, starring Rory Calhoun as Bill Longley, a "Robin Hood of the West", who drifts through the region helping persons in need.
Lou Kenton (September 1908–September 2012) was an English proofreader who gave services as a medical courier and ambulance driver with the International Brigade and was its oldest remaining member at the time of his death. He was born in Stepney, east London to a Ukrainian Jewish family who had escaped from Tsarist pogroms. His father died from tuberculosis when he was young. He left school at the age of 14 and started work in a paper factory.
Rodrigo Kenton Johnson (born March 1955) is a Costa Rican football referee and player. He is known as La Bomba Kenton ("The Kenton Bomb").
Simon Kenton (April 1755 –April 1836) was a famous United States frontiersman and soldier in West Virginia, Kentucky and Ohio. He was a friend of Daniel Boone, Simon Girty, Spencer Records, Thomas S. Hinde, Dr Thomas Hinde, and Isaac Shelby. He gave services to the United States in the Revolution, the Northwest Indian War and the War of 1812. Surviving the gauntlet and routine torture, in 1778, he was chosen by the Shawnee people. He married twice and had a total of ten children.
Stanley Newcomb "Stan" Kenton (December 1911[1] – August 1979) was an American jazz musician, writer, and arranger who led an innovative, important, and often controversial progressive jazz orchestra. In later years, he was active as an administrator.
Blazons & Genealogy Notes
1) (Kenton Hall, co. Suffolk). Sa. two bars, in chief three cinquefoils or.
2) Ar. a fret az. over all on a fesse gu. three mullets or. Crest—A dexter hand couped fesseways gu. holding a fleur-de-lis of.
3) Same Arms. Crest—On a chapeau gu. turned up or, a lion pass. guard. ar. ducally crowned or.
4) Sa. a chev. betw. three cinquefoils or.