Keppel Family Crest, Coat of Arms and Name History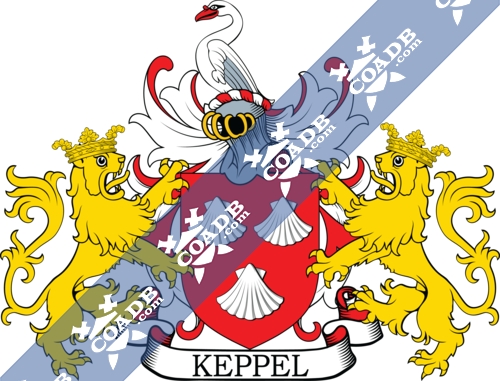 Keppel Coat of Arms Gallery
Don't know which Coat of Arms is yours?
We can do a genealogical research. Find out the exact history of your family!
Learn More
Keppel Origin:
Latin
Origins of Keppel:
According to the early recordings of the spelling of this surname, this interesting and unique name is listed in many spelling forms such as Chape, Chappe, Cape (Norman and Picardian), Chapier, Caper, Capers (French), Cappa, Cappini and Capello (Italian), Capote and Capellero (Spanish), Keppel and Keppler (Dutch-German and Askenasic). It is a surname of Roman (Latin) origins. It acquires from the word 'cappa' which means a hat, and as such is frequently professional for a manufacturer of hats or hooded coat, specificaly for use by the higher position representative of the parish and religious orders. However, it may also have been a pet name for a continual wearer of short coats. The word as 'chape' brought into the British Islands after the Norman Conquest of 1066, where today it is ultimately appeared as Cape, while the popular Keppel family introduced England with Prince William of Orange in 1688. The name as Chapeler is certainly professional and mentions one who made hats for the nobility with courier designs.
Variations:
More common variations are: Keppell, Keppele, Koeppel, Kaeppel, Keoppel, Keippel, Kheppel, Keppela, Keppely, Kieppel.
England:
The surname Keppel first appeared in Herefordshire where another source shows that the name was acquired from "the offspring of King Albemarle who was Arnord-Joost van Keppel, King of Voerst, an offspring of one of the oldest houses in Guerlderland, [Holland] who followed King WIlliam III to England in 1688, and was by him developed to the name still enjoyed by the family." According to 'Folks of Shields,' the name is similar to De Capella.
The very first recorded spelling of the family was shown to be that of Reginald Chape, dated about 1297, in the "rolls of the Duchy of Cornwall". It was during the time of King Edward I of England who was known to be the "The Hammer of the Scots", dated 1272-1307. The origin of surnames during this period became a necessity with the introduction of personal taxation. It came to be known as Poll Tax in England.
Ireland:
Many of the people with surname Keppel had moved to Ireland during the 17th century.
United States of America:
Some of the people with the surname Keppel who arrived in the United States in the 19th century included John Jacob Keppel, who landed in Philadelphia, Pennsylvania in 1819. Teunis Ian Keppel at the age of 25, arrived in New Orleans, La in 1846. Neeltje Keppel at the age of 12, landed in Baltimore, Maryland in 1847. Adriaantje VanRaalte Keppel at the age of 45, arrived in Baltimore, Maryland in 1847 and Bastiaantje Keppel, who landed in Baltimore, Maryland in the same year 1847.
Here is the population distribution of the last name Keppel: United States 1,606; Germany 941; Netherlands 439; Brazil 238; Australia 206; Austria 157; England 113; Singapore 89; Russia 81; New Zealand 76.
Notable People:
Alice Keppel (1869–1947), was Edward VII's last lady love, and great grandmother to Camilla, rulers of Cornwall.
Arnold van Keppel, 1st Earl of Albemarle (1670–1718), was the right-hand man of William of Orange.
Augustus Keppel, 1st Viscount Keppel (1725–1786), was a British administrator.
Colin Richard Keppel (1862–1947), was Henry Keppel's son and also an administrator.
Edwin Keppel Bennett (1887–1958), was a British professor.
Keppel "Kep" Enderby was an old Australian cabinet administrator.
Francis Keppel is an American professor.
George Keppel, 3rd Earl of Albemarle (1724–1772), was a British general.
Henry Keppel (1809–1904), was a British leader.
Judith Cynthia Aline Keppel was born in August 1942. He was the first one-million-pound winner on the television game show Who Wants to Be a rich man in the United Kingdom.
Robert D. Keppel is an American investigator of crimes and criminal profiler known for his work with Ted Bundy.
William Charles Keppel, 4th Earl of Albemarle GCH, PC (May 1772–October 1849), was a briefly styled commander Bury between May and October 1772, was a British leader.
Valentine S. "V.S." "Val" Keppel (February 1865–September 1940) was an American laborer and leader.
Blazons & Genealogy Notes
1) Comte d'Albemarle – Angleterre – (Baron Ashford, vicomte Bury et comte d'Albemarle, 10 fév. 1695-96) Vicomte – Angleterre – (Vicomte d'Elvedon, 22 avril 1782. M. ét. le 2 oct. 1786) De gueules à trois coquilles d'argent Casque couronné Cimier un cygne issant au naturel Supports deux lions d'or couronnés du même Devise NE CEDE MALIS. English: Gules three escallopes argent Crowned with a helmet Crest: a swan issuant proper Supporters: two lions or crowned of the same.
2) (van) Gueldre – (Rec. du titre de baron, 3 fév. 1875) De gueules à trois coquilles d'argent Casque d'or couronné du même Cimier un cygne d'argent becqué de gueules Supports deux léopards lionnés d'or. English: Gules three escallopes argent Crowned with a helmet and crown or Crest: a swan proper beaked gules Supporters: two leopard-lions [lions passant] or.
3) (von) Westphalie D'or à cinq losanges de gueules accolées en bande Casque couronné Cimier un écusson des armes sommé de trois plumes d'autruche de sable issantes d'un tuyau de gueules. English: Or five lozenges gules conjoined in bend [i.e. bendsinisterwise, but in bend, touching at the midpoints] Crowned with a helmet Crest: an escutcheon of these arms surmounted by three ostrich feathers sable issuant from a [short] pipe [like a collar] gules.
4) (von) P. de Clèves D'or au chef d'azur ch de trois coquilles du champ ou de trois feuilles de peuplier d'or les tiges en haut Cimier un vol coupé d'azur sur or ou (Arm V G) un vol d'azur chaque aile ch de trois coquilles d'or rangées en fasce. English: Or a chief azure charged with three escallops of the field (alternatively three poplar leaves or the stems upwards) Crest: a pair of wings per fess azure over or (alternatively a pair of wings azure each wing charged with three escallops or in fess).
5) (von) Allemagne Coupé au 1 d'argent à un homme issant habillé de gueules coiffé d'un bonnet pointu du même tenant une épée d'argent garnie d'or au 2 de sable au lion léopardé d'or Casque couronné Cimier l'homme issant entre un vol coupé à dextre de gueules sur argent à senestre d'or sur sable Lambrequin à dextre d'or et de sable à senestre d'argent et de gueules. English: Per fess 1st argent a man issuant dressed gules with a pointed hat of the same holding a sword argent hilt and pommell or 2nd sable a lion-leopard [lion rampant guardant] or Crowned with a helmet Crest: the man issuant between a pair of wings per fess to the dexter gules over argent to the sinister or over sable Mantling: to the dexter or and sable to the sinister argent and gules.