Kercher Family Crest, Coat of Arms and Name History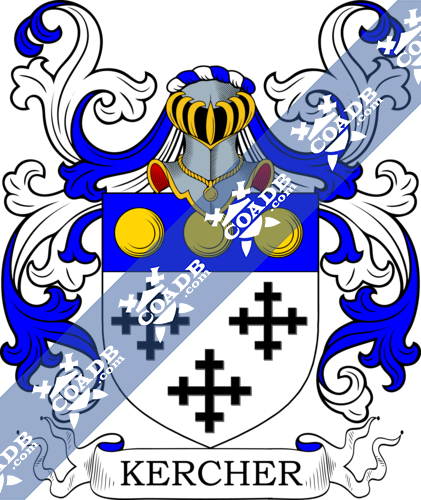 Kercher Coat of Arms Gallery
Don't know which Coat of Arms is yours?
We can do a genealogical research. Find out the exact history of your family!
Learn More
The name Kercher first arose amongst the Anglo-Saxon clans of Britain.  It acquired from their having lived in the area of Kirkshaw at Rochdale in the division of Lancashire.  Kercher is a geographic surname, which given to a person who resided near a physical feature such as a hill, stream, church, or type of tree.  Habitation names form the other broad category of surnames that acquired from place-names.  They derived from pre-existing names for towns, villages, parishes, or farmsteads.  Other local names acquired from the names of houses, manors, estates, regions and entire divisions.  One relatively recent invention that did much to standardise English spelling was the printing press. More common variations are: Keracher, Kaercher, Kearcher, Kerchuer, Kiercher, Keurcher, Keircher, Kerracher, Kaericher.
The surname Kercher first found in Lancashire where it is a local name 'of Kirkshaw,' in the church of Rochdale.  The place name means "church-wood."  Some of the earliest records of the name contain as Matthew de Kyrkshagh, Lancashire in 1281. Some of the people with the name Kercher who arrived in the United States in the 17th century included Johann Philip Kercher, who arrived in Philadelphia in 1742 and  Johann Philip Kercher, who arrived in Pennsylvania in 1742.
Blazons & Genealogy Notes
1) (co. Norfolk; confirmed April, 1606, by Camden, Clarenceux). Or, three crosses crosslet az. on a chief of the last as many bezants. Crest—A cross botonnee az. betw. two wings inverted saltireways or.
2) (co. Norfolk, Kercher of the North). Ar. three crosses crosslet sa. on a chief az. as many bezants.