Kershaw Family Crest, Coat of Arms and Name History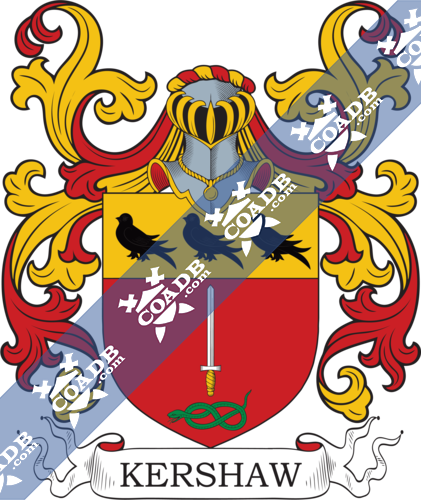 Kershaw Coat of Arms Gallery
Don't know which Coat of Arms is yours?
We can do a genealogical research. Find out the exact history of your family!
Learn More
Surname Name Meaning, Origin, and Etymology
This Anglo-Saxon is a local surname meaning "of Kirkshaw", which is a parish of Rochdale in county Lancashire.  Another source states it derives from a locale called Cirshay in county Dorset. Yet another source says there are minor places in West Yorkshire that may be the origin of the name, or, alternatively, may derive their name from the surname. The name means the wood or shaw by the church. It derives from the Middle English words kirk (church) and shaw (grove). The Old English word for grove was sceaga.
In his book, Homes of Family Names, H.B. Guppy writes, "Kershaw was a Manchester name in the reign of Elizabeth; Richard Kyrshaw was elected town wayte (musician) in 1562. Kirshaw was a Rochdale name in the 16th century and it still survives there. James Kershaw was minister of New Church, Rossendale, in 1598. John Kershaw bequeathed, in 1701, two estates for founding a free school at New Church. The name is still in New Church. Kirkshaw was an old form of the name in the 15th century. The name is also established in the West Riding."
Spelling Variations
Common spelling variations of this last name include: Kercher, Kershow, Kirshaw, Kersaw, Kirkshaw, de Kyrkeschawe, and de Kyrkeshagh. Foreign equivalents include Kersse (Flemish) and Korsawe (German), which were personal names.
Early Bearers of the Surname
Baine's History of Lancashire documents three bearers of this last name: Matthew de Kyrkshagh in 1281 AD, Geoffrey del Kykeshagh of Rochdale in 1390 AD, John de Kyrkshagh, or Kershaw, of Townhouses in Rochdale in 1424. A one Edward Kershaw was recorded in Upper Townhouse in 1572 AD and another person bearing the same name was documented in 1617 in the Wills of Chester. One Agnes Kirkeschagh was recorded in the Poll Tax of Yorkshire in 1379 AD. Adam de Kyrkeschawe was recorded in the Court Rolls of the Manor of Wakefield in 1307 AD.
A Thomas Kirkshawe was baptized in 1630 in Prestbury in Chester. Early marriages involving this surname include Charles Kershaw to Elizabeth Sooby at St. George's Chapel in Mayfair.
History, Genealogy, and Ancestry
Bernard Burke's book "Peerage and Knights" discusses this family name in some detail. It starts with a discussion of Fred Kershaw, The Baron Kershaw, of Prestwich in the County Palatine of Lancaster. He was born in 1881 and held numerous professional positions (ex. Middlesex Standing Joint Committee member, Appeals Committee member, Director of British South American Airways Corporation, member of British Sugar Common, and adviser of Investments to Trade Unions). In 103, he married Frances Edith, the daughter of James Thomas Wigmore, of Hereford and had children with her:  Herbert (born 1904 and served in World War II in R.N.V.R.), Edward Aubrey (born 1906), Donald Arthur (born in 1915 and served in World War II), and Peter John (born in 1924 and also served in World War II). He was the son of John Joseph Kershaw and Sarah Ann. He received the O.B.E in 1931 and was created a Baron in 1947. He resided as Sheen Common Drive in Richmond, Surrey.
John Kershaw, son of Henry, was born in 1681 in Wakefield, in England. He married Elizabeth Cowling and had the following issue with her: Mary, Hannah, Martha, John, John Ann, Abell, Robert, Jonas, and Abraham. His son John was born in the same city in 1714, and he had the following issue before dying in 1734: Jonas, John John, and Jonas.
In Scotland, numerous people with the Kershaw surname live in counties of Lanarkshire, Fife, Renfrewshire, and Ayrshire.
Early American and New World Settlers
Early settlers to America include Ralph Kershaw (Virginia 1699), Jacob Ludwick Kershaw (Phildelphia 1772), Samuel Kershaw (Maryland 1812), and Benjamin Kershaw (New York 1837).
Mottoes
The family mottoes include an finem fidles, meaning "faithful to the end".
Grantees
Later individuals granted arms include: 1) Kershaw, William, of Warley House and Savile, co. York, [1836], 2) Kershaw-Lujib, Richard, of Silcotes Green, Halifax, co. York, [1836], and 3) Kershaw, E. W., of Hanover Square, London, 1892.
Notables
Famous people with this last name include: 1) Leroy Kershaw (1880-1969) who was an American businessman and pioneer from Oklahoma, 2) Joseph Brevard Kershaw (1822-1894) who was a lawyer and general in the Confederacy during the American Civil War, and 3) Sir John Anthony Kershaw (1915-2008) who was a member of Parliament from the British Conservative Party.
Blazons & Genealogy Notes
1) (Savile Green, co. York; granted to William Kershaw, Esq.). Ar. three crosses crosslet sa. on a chief az. three bezants, the centre one charged with a cross gu. Crest: The stump of an oak eradicated and sprouting fesseways ppr. thereon a pheasant, in the beak a sprig of oak also ppr.
2) Gu. a chev. erm. betw. three cinquefoils or, stalked and leaved vert. Crest—A ram pass. ppr.
3) Gu. a sword in pale ar. hilt and pommel or, in base a serpent nowed vert, on a chief of the third three martlets sa.
4) (Heskin Hall, co. Lancaster). Ar. three crosses crosslet sa. on a chief az. as many bezants. Crist—A pheasant ppr.