Kerry Family Crest, Coat of Arms and Name History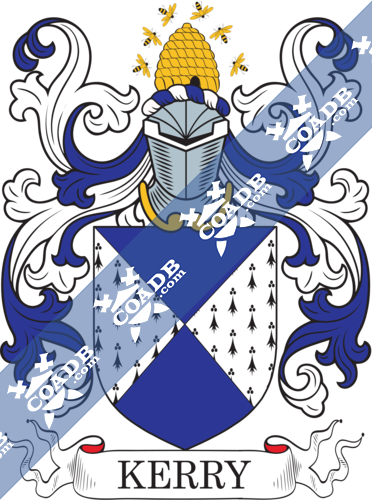 Kerry Coat of Arms Gallery
Don't know which Coat of Arms is yours?
We can do a genealogical research. Find out the exact history of your family!
Learn More
Kerry Origin:
Wales
Origins of Kerry:
This most interesting and unique surname is of ancient Welsh origin and may be either a geographical name from Kerry in South East Montgomeryshire, so called from the Gaelic or Celtic "coire, Kerry," which means a container, Glen, or coming from the Old Welsh particular name "Cynwrig." This given name is considered to be a combination of the Welsh components "cyn," chief, and "(g)wr," which means a man, hero, with the addition of quality "ig." It may be similar to Olde English pre 7th Century "Cyneric," a combination of the components "cyne," which means royal, and "ric," which means power. The following shows as "Kenricus" and "Chenricus" in the Domesday Book of 1086 for Suffolk, and in 1093, Cynwrig Hir Edeirnion freed one Gruffudd ap Cynan from Chester prison. First examples of the surname are John Kendrich in Cambridgeshire in the year 1279, John Kerrych in Suffolk in the year 1297 and Nicholas Kenewrec in Somerset in the year 1327. In November 1559, John Kerrye and Joan Morse married in Stonehouse, Gloucestershire, and in January 1563, Tiche Kerry, a new-born baby, named at St. Botolph's, Bishopsgate, London. In Ireland, Kerry is an Anglicized form of the North Leinster sept name, "O'Ciardha," offsprings of the Dark One."
Variations:
More common variations are: Kerrey, Kearry, Kerray, Kherry, Kerroy, Kerrye, Kuerry, Kerr, Kery, Krry.
Wales:
The surname Kerry first appeared in Montgomeryshire, located in mid-Eastern Wales, one of thirteen old districts, and anciently the old kingdom of Powys Wenwynwyn, where they held a family seat from old times.
England:
The very first recording spelling of the family was shown to be that of William Kerie, dated about 1558, a witness at a christening at Burford, Shropshire. It was during the time of Queen Mary I, who was known to be the "Bloody Mary," dated 1553-1558. The origin of surnames during this period became a necessity with the introduction of personal taxation. It came to be known as Poll Tax in England.
Ireland:
Many of the people with surname Kerry had moved to Ireland during the 17th century.
United States of America:
Individuals with the surname Kerry landed in the United States in two different centuries respectively in the 18th, and 20th. Some of the people with the name Kerry who arrived in the United States in the 18th century included Falentyn Kerry, who arrived in New York in 1709. Edward Kerry settled in New England in 1766.
The following century saw more Kerry surnames arrive. Some of the people with the name Kerry who arrived in the United States in the 20th century included F A Kerry, who landed in Saint John, New Brunswick in 1907.
Here is the population distribution of the last name Kerry: England 3,958; Nigeria 3,515; United States 2593; Kenya 1,412; Australia 1,088; Pakistan 880; Canada 437; Germany 403; South Africa 402; New Zealand 308.
Notable People:
Kerri-Anne Kennerley is an Australian television announcer.
Kerri Hoskins was an old glamor model.
Kerri Kasem is an American radio and television presenter.
Kerri Kendall is an American model and actress.
Kerri Kenney-Silver is an American comedian, artist, musician, and author.
Kerri Sakamoto is a Canadian novel writer.
Kerry Gammill is an American comic book artist.
Kerry G. Johnson is a graphic designer and cartoon artist.
Kerry Joyce was an award-winning Los Angeles lived interior designer and product developer.
Kerry McCluggage is an administrator and president of Craftsman Films.
Kerry Packer was an Australian media magnate
Kerry Properties is a property developer in Hong Kong.
Rosemary Forbes Kerry was one of eleven children of James Grant Forbes of the Protestant Forbes family of China and Boston
Kerri Buchberger is a Canadian volleyball player.
Kerry Collins was an American footballer.
Kerri Gallagher (born 1989), is an American middle-distance racer.
Kerry Kittles is an American basketball player.
Kerry Ligtenberg is an American baseball player.
Blazons & Genealogy Notes
(Binweston and Wortham, co. Salop). Per saltire erm. and az. Crest—A beehive sa. with bees volant or.