Kettner Family Crest, Coat of Arms and Name History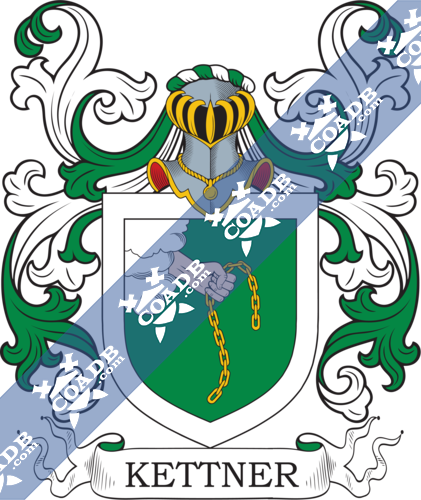 Kettner Coat of Arms Gallery
Don't know which Coat of Arms is yours?
We can do a genealogical research. Find out the exact history of your family!
Learn More
This section has not yet been completed. If you are interested in having your genealogy done, we offer an affordable research servicethat traces your lineage so you can learn more about your ancestors, where they came from, and who you are.
Blazons & Genealogy Notes
1) Bade – (Nob. du St-Empire, 25 oct. 1792) – Coupé d'azur sur or à une sirène d'argent la queue au naturel brochant sur le tout tortillée de gueules et d'argent et décochant une flèche de gueules d'un arc du même Cimier la sirène entre deux proboscides coupées d'azur sur or. English: Per fess azure over or with a mermaid argent the tail proper covering overall [i.e. over both parts of the per fess] wreathed gules and argent and shooting an arrow gules from a bow of the same Crest: the mermaid between two proboscides per fess azure over or.
2) German: Eine dem Grossherzogthum angehorende Adels familie, welche am 25 Oktober 1792 von den Reichsadelstand erhoben wurde. Johann Franz 27 January 1839 zu Karlsruhe als Landoberjagermeister. Grundherrliche Besitzungen (1843): Das Dorf Reicharsthausen Amts Neckarbischofsheim, erworben von Ludwig von Stockmar. Wahlbare and stimmfahige Grundherrn (1869) unterhalb and der Murg. Wappen: s. eingefasstes gr. Schild. Aus dem rechten oberen Schildersrand reicht, das kurzere zur Linken aber, von der geschlossenen Hand frei herunterhangt aber, von der gescholssen Hand frei herunterhangt. Kleinod fehlt, nur gekronter Helm. Decken. Gr. g. (Source: Siebmacher's großes und allgemeines Wappenbuch, Bd. 2 (Blühender Adel deutscher Landschaften), 6. Abt.: Der Adel in Baden, Nürnberg 1878). English Translation: A noble family in the duchy (grossherzogtum) XXX under the rule of Karl Theodor of Pfalz. Johan Franz Kettner died in 1839 as a Park ranger (=landober-jägermeister, not like the park ranger we see in cartoons but responsible for the royal hunting area and woodlands) outside the city Karlsruhe in Baden-Würtenburg XXX (the family?) owned in 1843 a manorial (in) the village (dorf) Reichartshausen in the conty (amt) Neckarbisschofsheim, acquired by Ludwig von Stockmar (the surname indicates that he wasn't of the Ketteler family) "wählbar und stimmfähige" can roughly be understand as "Wohlgeboren" meaning Well-born and electable, meaning he was of lower nobility and in the "first/upper house" of the parlament, representing the district "unterhallb der Murg" – its in the south of Baden- Würtenburg – at least as late as 1869. Wappen/Shield: (This is a tricky shield because you mus understand the christian symbolism behind it.)green, from the shields upper right a double cloud (silver) from which a hand (proper) reaches down (the hand of God/holy spirit) holding a chain of gold, from the two ends of which extends the longer to the right edge of the shield, the shorter to the left, but free from the closed hand ( in short: a hand reaches down from a cloud and holds a chain). Kleinod/Crest. fehlt=Shield and nur gekrönter heml= just a coronet on the helmet Decken/Mantling: Gr. G. = Grüne & Gelbe = green and yellow.