Kibble Family Crest, Coat of Arms and Name History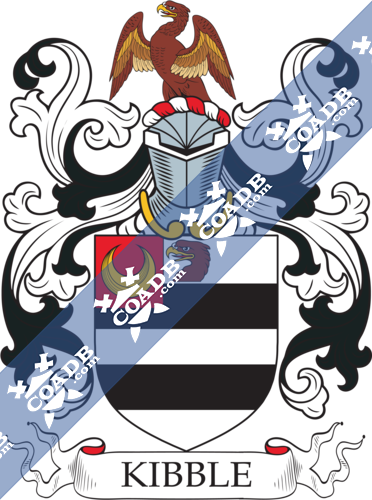 Kibble Coat of Arms Gallery
Don't know which Coat of Arms is yours?
We can do a genealogical research. Find out the exact history of your family!
Learn More
Kibble Origin:
England
Origins of Kibble:
This name acquires from the Olde English pre 7th Century "cybbel" which means a stick and was originally given as a professional name to a producer or seller of sticks, or probably as a nickname to one strong and heavy as a stick. The surname was first noted towards the end of the 11th Century. In 1214 one, Salomon Kebbel shows in the "Pipe Rolls of Kent, " and in 1273 a Reginald Kibel was listed in "The Hundred Rolls of Lincolnshire." In the new era, the name has eight spelling variations like Keeble, Keable, Keb(b)ell, Keble, Kim(b)El and Kibble. In 1686 John, son of John Keeble, named in St. James', Clerkenwell and in 1806 Richard Keeble and Mary Whiting married in St. George's, Hanover Square, London.
Variations:
More common variations are: Kibblee, Kibbley, Kibbile, Kible, Kebble, Kibley, Keible, Kibale, Kibbel, Kibile
England:
The surname Kibble first appeared in Middlesex where they held a family seat from very old times. Some say well before the Norman Invasion and the entrance of Duke William at Hastings in 1066 AD.
The very first recording spelling of the family was shown to be that of Aeluric Chebbel, dated about 1095, in the "Feudal Documents from the Abbey of Bury," St.Edmunds, Suffolk. It was during the time of King William who was known to be the "Rufus," dated 1087 – 1100. The origin of surnames during this period became a necessity with the introduction of personal taxation. It came to be known as Poll Tax in England.
Ireland:
Many of the people with surname Kibble had moved to Ireland during the 17th century.
United States of America:
Individuals with the surname Kibble landed in the United States in two different centuries respectively in the 17th and 18th. Some of the people with the name Kibble who arrived in the United States in the 17th century included Thomas Kibble, who landed in Virginia in 1658.
The following century saw more Kibble surnames arrive. Some of the people with the surname Kibble who arrived in the United States in the 18th century included Robert Kibble, who came to Virginia in 1789.
Australia:
Some of the individuals with the surname Kibble who landed in Australia in the 19th century included Richard Kibble, an English prisoner from Buckinghamshire, who shifted aboard the "Ann" in August 1809, residing in New South Wales, Australia.
Here is the population distribution of the last name Kibble: England 1,210; United States 1,049; Australia 403; Wales 158; South Africa 110; Canada 105; Scotland 72; New Zealand 66; Spain 17; Namibia 3.
Notable People:
Chris Kibble was born in July 1963. He is a British jazz singer. He served at Sedgehill Secondary School in southeast London, England. He began out by playing with jazz fusion band Kafo in 1985, then joined acid jazz band Snowboy in 1987. He has also played with the following bands on the London music scene like Robin Jones Latin Jazz Sextet, Ricardo de Santos, Charlie Palmieri, Pucho & His Latin Soul Brothers, Gordon Smith, Fuzz Against Junk, Terry Callier, Don Rendell, and King Salsa.
Sir Thomas Walter Bannerman Kibble, CBE FRS (December 1932–June 2016), was a British academic scientist, senior research analyst at the Blackett Laboratory and Emeritus Professor of Theoretical Physics at Imperial College London. His research interests were in quantum field theory, particularly the interface between high-energy particle physics and cosmology. He is famous as one of the first to explain the Higgs mechanism.
Nita Kibble (1879–1962) was the first woman to be a caretaker with the State Library of New South Wales. She held the status of Principal Research Librarian from 1919 until her retirement in 1943. Nita Kibble was a founding representative of the Australian Institute of Librarians.
Blazons & Genealogy Notes
(Whiteford, co. Renfrew). Motto—Illæso lumine solem. Ar. two bars sa. in chief an eagle's head and neck couped ppr. on a canton gu. a crescent or. Crest—A demi eagle rising ppr.