Kidd Family Crest, Coat of Arms and Name History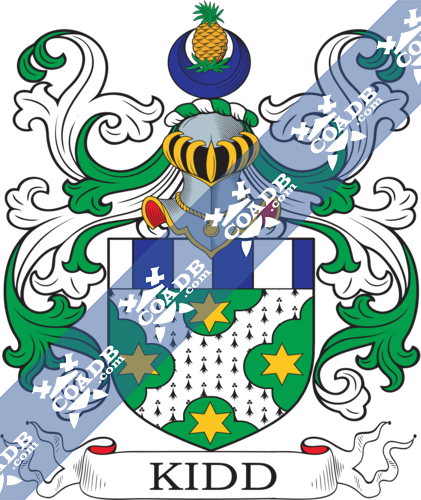 Kidd Coat of Arms Gallery
Don't know which Coat of Arms is yours?
We can do a genealogical research. Find out the exact history of your family!
Learn More
Kidd Origin:
England, Scotland
Origins of Name:
The surname Kidd is of an Anglo-Scottish derivative, with possible origins in three different areas. Two of these possible origins are from Middle English words. The first Middle English derivative is "kid(e)" which refers to a young goat. Secondly, the Middle English word "kidde" which refers to a faggot of wood, but can also be used to describe a firewood and kindling seller. Thirdly, the Anglo-Scotitish "Kit" which is a shortened, nickname version of the name "Christopher," which is a personal name from the Greek derivative, and initiated by the Crusaders coming back home from the Holy Land in the 12th century. Due to the multiple meanings and possible origins, there are many variations of this surname. The surname Kidd is found throughout history with the spelling Kidd, Kidde, Kitte, Kyd, Kydde, Kidman, and so on.
Variations:
More common variations are:
Kidd, Kiddy, Kiddu, Kidde, Kiddo, Kiddi, Kidda, Kid, Kide
History:
England:
The first recorded spelling of the surname Kidd, actually manifests as Kide, and was mentioned in the Pipe Rolls of the County of Suffolk by the name of William Kide, in 1181. This spelling was recorded during the reign of King Henry 11, who was also called "The Builder of Churches" and reigned for thirty-five years, from 1154-1189. In 1273, Reginald Kyd was named in the Hundred Rolls of Oxford, and in 1379, Willelmus Kydde was recorded in the 1379 Poll Tax Rolls of Oxford.
United States:
During The Great Migration, Roger Kidd was said to have settled in "James Cittye, Virginea" which was spelled according to the phonetics of the recorder. Roger Kidd was named as one of the first settlers in the New World, which today is known as the United States of America. In 1696, William Kidd, who lived in Boston, Massachusetts was asked by the King to quell the pirating attempts in the area, but instead became a pirate himself. In 1642, Thomas Kidd arrived in Virginia in 1642, and Henry Kidd landed in the same state in 1668. In the 18th century, two women named Sarah Kidd settled in South Carolina in Charleston, which was then called Charles Town, but fifty years apart in 1722 and 1772 respectively. In the 19th century, people with the surname Kidd settled in both the United States and Canada. In the U.S. Neha and Archibald Kidd settled in New York City in 1803, while William K Kidd settled there in 1822, and Charles Kidd arrived in South Carolina in 1824. In 1815, Alexander and Christian Kidd, or Kidds, landed in Quebec on the ship named "Baltic Merchant."
Australia and New Zealand:
In the 19th century, Thomas Kidd arrived in Adelaide, Australia aboard the Delhi in 1839, while James and Mary Ann Kid, both convicts arrived in Van Diemen's Land in 1844. In 1850, John Kidd rode the ship named the Countess of Yarborough to Adelaide, Australia. In New Zealand, a servant named Ann Kidd arrived in Auckland, New Zealand, and six years later, in 1857, Robert Kidd arrived in Wellington. Thomas Kidd settled in Auckland in 1863, while Hessay Kidd settled in the same city in 1865. Fifteen years later, aboard the ship named the British Empire, J.P. Kidd landed in Auckland, New Zealand.
Kidd Today:
United States 37,093
England 8,647
Australia 4,026
Canada 3,325
Scotland 2,107
New Zealand 1,183
Phillipines 773
Jamaica 660
Ireland 540
Notable People:
Chip Kidd (born in 1964) who is an editor, author, and graphic designer from America
William Alexander Kidd (1879-1928) who was co-founder of the Scottish architectural firm, Gillespie, Kidd & Coia
George Imlay Kidd (1909-1988) who was a Scottish footballer
Jason Kidd (born in 1973) a New York Knicks NBA (National Basketball Association) professional basketball player from America
Roy Kidd (born in 1931) College Football Hall of Fame inductee in 2003, and an American college football player and coach
Virginia Kidd (1921-2003) a literary agent, writer and editor in America, and was named Mildred Virginia Kidd at birth, but later dropped the Mildred from her name
William Winston "Billy" Kidd (born in 1943) is an American alpine ski racer, who won the gold, silver, and two-time bronze medalist
Michael Kidd (1915-2007) 1981 American Theatre Hall of Fame inductee, as well as a five-time Tony Award winning film and stage choreographer from America
Richard A. Kidd (born in 1943) a ninth Sergeant Major of the Army from America
Rear Admiral Isaac Campbell Kidd (1884-1941) Congressional Medal of Honor recipient in 1941 for his courageous actions on the bridge of the USS Arizona during the Japanese attack on Pearl Harbor, and the USS Kidd (DD-661) and the USS Kidd (DDG-993), and Naval officer from America
Blazons & Genealogy Notes
1) Motto: Nil sine magno labore. Vert a saltire engr. erm. betw. four mullets of six points or, a chief paly of six ar. and az. Crest—Out of a crescent az. a pineapple ppr.
2) (co. Norfolk). Az. a fesse betw. three lozenges ar.
3) Az. two goats saliant combatant ar. Crest—A martlet, wings endorsed ppr.
4) (Farnworth, co. Lancaster). Motto—Nil admirari. Same Arms. Crest—A goat's head erased ar. attired or.