Kidder Family Crest, Coat of Arms and Name History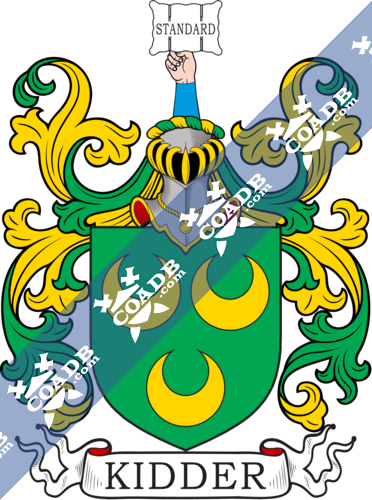 Kidder Coat of Arms Gallery
Don't know which Coat of Arms is yours?
We can do a genealogical research. Find out the exact history of your family!
Learn More
Kidder Origin:
England, Ireland
Origins of Kidder:
Listed as Kidney, Kydney, Kidder, and Kidner, this most interesting surname is Anglo-Irish.  If Irish, it is now chiefly to found in division Cork, as an anglicised form of pseudo-translation of the Old Gaelic name O'Dubhain.  It would seem that the Gaelic word 'dubhan' converts as kidney, and as a result of 16th-century misinterpretation in South West Cork, some of the O'Dubhain's were called Kidney, a form which remains today.  Correctly the surname converts as 'The male descendant of the black haired or (swarthy one)' from "dubh", meaning black.  Irish family names generally derived from the heads of clans, or from some illustrious warrior, and are usually prefixed by O' or 'Mac', meaning 'son of'.  In the process of the new surname advancement, O'Dubain derived a number of forms also to Kidney and including as Dwane, Devane, Duane, and Downes.  If English the origination is perhaps from 'kiddier', an old merchant, and from which we get the new 'kidding'.  Early examples of the surname record include William le Kydere in the year 1307, Ann Kydney at Harrow on the Hill, Middlesex, in May 1593, John Kidner who married Francis Skidwith at St Margaret Pattens in the City of London, in October 1654, and in the Irish church records the christening of James, son of Richard and Catherine Kidney, in December 1821 at Doneraile, division Cork.
Variations:
More common variations are: Kiddier, Kiddery, Kiddoer, Kider, Kedder, Kidera, Khider, Kidderr, Keidder, Kiddere.
England:
The surname Kidder first appeared in Sussex Where another reference claims that name is a professional name for "one who travels with goods for sale.  Most if not all the Kidders of England spring from Maresfield, co. Sussex, where they may be traced back as far as the reign of Edward II."
Ireland:
Many of the people with surname Kidder had moved to Ireland during the 17th century.
United States of America:
Individuals with the surname Kidder landed in the United States in two different centuries respectively in the 17th, and 18th.  Some of the people with the name Kidder who arrived in the United States in the 17th century included John Kidder, who settled in Boston in 1633.  James Kidder settled in Cambridge in 1633.  James Kidder, who landed in Cambridge, Massachusetts in 1649.  Thaddeus Kidder, who arrived in Lynn, Massachusetts in 1672.
The following century saw more Kidder surnames arrive.  Some of the people with the surname Kidder who arrived in the United States in the 18th century included Benjamin Kidder settled in Baltimore in 1775.
Canada:
Some of the people with the surname Kidder who came in the Canada in the 18th century included John Kidder, who landed in Nova Scotia in 1750.
Here is the population distribution of the last name Kidder:
United States 8,221; Canada 215; Germany 134; England 102; India 17; Australia 15; Japan 4; Mexico 3; China 2; Indonesia 2.
Notable People:
Alfred Vincent Kidder (October 1885 – June 1963) was an American scientist considered the foremost of the southwestern United States and Mesoamerica during the first half of the 20th century.
Daniel Parish Kidder (1815–92), American theologian.  He was born in 1815 in Darien, Genesee County, Co., N.Y.  He graduated from Wesleyan University in 1836, entered the ministry, and in 1837 went to Brazil to work as a missionary on the Northeast and the Amazon.  After his return to the United States in 1840, he served as a corresponding secretary of the Methodist Sunday School Union and editor of Sunday-school publications and tracts (1844–56), as professor of homiletics at Garrett Biblical Institute for 15 years and in Drew Theological Seminary for 10 years, and as secretary of the board of education of his church (1880–87).
Edward Kidder (1665/66–1739), was the 18th-century pastry cook.
Frederic Kidder (1804–85), was an American writer.
Hugh Kidder (1897–1918), was an officer in the United States Marine Corps during World War I.
Janet Kidder (born 1972), is a Canadian actress.
Jefferson P. Kidder (1815–1883), was the 19th-century American lawyer, jurist and leader.
Kathryn Kidder (1868–1930), was an American actress.
Margot Kidder (born 1948), is a Canadian (now American) actress.
Ray Kidder was an American physicist and nuclear weapons designer.
Rushworth Kidder (1944–2012), founder of the Institute for Global Ethics.
Sarah Kidder (c.1839-1933), was the first female railroad president in the world.
Tracy Kidder (born 1945), is an American writer.
Blazons & Genealogy Notes
(Maresfield, co. Sussex, temp. Henry VII.). Vert three crescents or. Crest—A hand couped below the elbow, vested azure holding in the hand proper a packet, thereon thereon the word "Standard."