Kingsbury Family Crest, Coat of Arms and Name History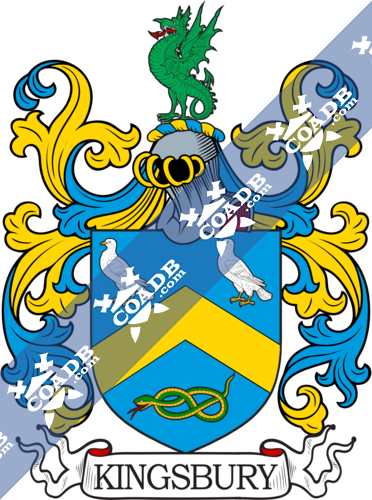 Kingsbury Coat of Arms Gallery
Don't know which Coat of Arms is yours?
We can do a genealogical research. Find out the exact history of your family!
Learn More
Kingsbury Origin:
England
Origins of Kingsbury:
The surname Kingsbury originates from England, a locational surname from a place in Warwickshire, which actually turns out to be a lost medieval village presently close to the town of Aylesbury in Buckinghamshire. It could also originate from Kingsbury in Middlesex that forms a part of greater London in the present day. Lastly, it could originate from a village named Kingerby in the county of Lincolnshire. However, in all the cases, there is the same meaning of the surname in the different locations which is defined as "The kings fortress", derived from pre- 7th century Olde English 'cyne-burg'. This definition is a reminder of the very ancient times even before the Norman Invasion that happened in 1066. This surname is a medieval surname with different spellings that have evolved over the centuries, a mixing of Olde English of Middle Age with different languages results in a wide variety of spellings. Early known recordings of people with this surname include Phillip De Kingsberrie that was recorded in the country of Dorset in 1273, Mary Kingsbury who married John Gibes in St George's Chapel, in Westminster in 1791 and then the surname was recorded again for James Kingaby who performed his marriage to Ann Andrews in the same place in 1794. All notably the same derivation of the Kingsbury surname.
Variations:
More common variations are: Kingsburry, Kingssbury, Kingsbur, Kingsburrey, Kingsbry, Kingsbery, Kingsbary, Kingsberry, Kinigbery, Kingsbauer.
England:
The surname Kingsbury turned out to be first found in Lincolnshire, England. The inception of this surname was first noticed and recorded probably in the year of 1045 A.D, while this refers to the unique Middlesex village known to be as "Kynges byrig". While the surname is believed to have its inception in Lincolnshire, one of the earliest known family recordings in England is believed to be Sir Ralf of Bracebridge who is believed to be born in 975 in Bracebridge in England itself. However, the person who happens to bear the surname Kingsbury was recorded for the first time in 1240, Adam de Kingsbury, born in Kingsbury itself. The person was noticed to have achieve high status and was known to be Lord of the Manor.
Ireland:
There are several groups of the Kingsbury family that happened to migrate to Ireland and settle there permanently in different centuries.
United States:
Some of the people who migrated and settled in the United States in the 17th century include, Joseph Kingsbury who landed in Dedham in the year 1628-1630, Henry Kingsbury arrived in New England in the year 1630, Thomas Kingsbury in 1630, and W B Kingsbury arrived in San Francisco, California in 1851.
Australia:
Some of the Kingsbury family would eventually settle in Australia, they include, Henry Kingsbury who arrived in South Australia in 1853 and Samuel Kingsbury, a 26 years old man who would land in South Australia in 1854 in a ship named "Star Queen".
Here is the population distribution of the last name Kingsbury: United States 1,007; England 1,463; Canada 1,075; Australia 364; New Zealand 237; Germany 202; Wales 158; Brazil 95; South Africa 73; Ireland 27.
Notable people:
James Hanratty, was a very popular crime figure in the town of Kingsbury. He was hung to death for committing murder and one of the last people in England to be punished with the death penalty by hanging.
Charlie Watts, lived in Kingsbury was a renowned drummer of The Rolling Stone.
Julie Rogers, was the famous singer. He was well literate and also lived in Kingsbury.
Shirley Eaton, a popular actress in Kingsbury.
Bobby Kingsbury was a popular American baseball player
William Kingsbury was a delegate for the Minnesota Territory in 1857. Kingsbury Creek in Minnesota was named after him.
Karen Kingsbury is a famous American Christian author, writing over 50 novels with over 12 million copies in print.
Tim Kingsbury is part of the Canadian band Arcade Fire, a popular rock band who has sold millions of records worldwide.
Gina Kingsbury is a famous Canadian hockey player.
The Kingsbury family is a present day family who has descended from royal ancestors as far back as 1000 years ago from medieval England. The family helped colonize America and have been very influential throughout English history.
Blazons & Genealogy Notes
(confirmed by Hawkins, Ulster, 1742, to Doctor Thomas Kingsbury, Fellow of the King and Queens College of Physicians, Ireland, son of Thomas Kingsbury, Esq.; descended from co. Dorset) Azure a chevron or, between two doves in chief proper and a serpent in base nowed of the last. Crest – A wyvern vert. Motto – Prudens et innoccuus.