Kinnear Family Crest, Coat of Arms and Name History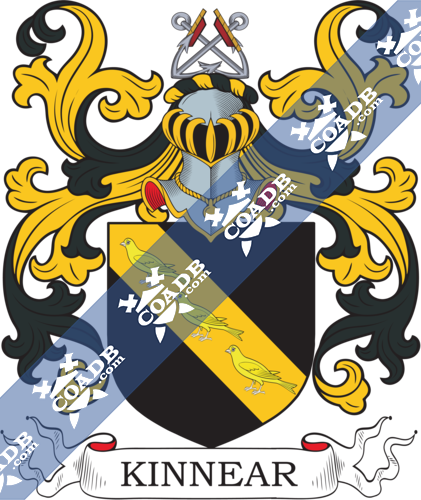 Kinnear Coat of Arms Gallery
Don't know which Coat of Arms is yours?
We can do a genealogical research. Find out the exact history of your family!
Learn More
Kinnear Origin:
Scotland
Origins of Kinnear:
According to the early recordings of the spellings of the name, this interesting and unique name was listed in many forms such as Kinnar, Kinner, and the more common Kinnear, this is a Scottish surname of early old origin. It is geographical from the place called Kinneir in the division of Fife near the hamlet of Wormit. The place name first noted at the starting of the 13th cntury as "Kyner," from the Gaelic word "ceann," which means head(land) and "iar," to the west. The original family who took the name were servants of the ancestors of St. Andrews and held their estates until the starting of the 18th century. One Petrus Kynior selected as common councilor of Aberdeen in 1477, and John de Kynor was admitted citizens of Aberdeen in 1439. Henry Kinneir of Kinneir was selected as "commendator" of Balmerino Abbey in 1574. Thomas Kinnear and Elisabeth Mason married in St. Leonard's, Shoreditch, in September 1780. One James Kinner, together with his wife Margaret, daughter Julia, and son Edward were famine settlers who moved from Liverpool aboard the "Columbia" bound for New York in July 1846.
Variations:
More common variations are: Kinneary, Kinneara, Kinneair, Kinner, Kinear, Kinnar, Kinnar, Kinneir, Kennear, Kinnair.
Scotland:
The origins of the surname Kinnear appeared in Fife, where people held a family seat from early times. Someone say better before the invasion of Normans and the entrance of Duke William at Hastings1066 A.D.
The very first recording spelling of the family was shown to be that of Symon de Kyner, dated about 1216, in the "Records of the Priory of St. Andrews", Fife. It was during the time of King Alexander II of Scotland, dated 1214-1249. The origin of surnames during this period became a necessity with the introduction of personal taxation. It came to be known as Poll Tax in England.
Ireland:
Many of the people with name Kinnear had moved to Ireland during the 17th century.
United States of America:
The following century saw more Kinnear surnames arrive. Some of the people with the name Kinnear who arrived in the United States in the 19th century included David Kinnear who came to Philadelphia in 1844.
Canada:
The following century saw more Kinnear surnames arrive. People with the surname Kinnear who settled in Canada in the 19th century included John Kinnear arrived in Saint John, New Brunswick aboard the ship "Prudence" in 1838. Margaret Kinnear at the age of 23 and John Kinnear, both arrived in Saint John, New Brunswick aboard the ship "Prudence" in the same year 1838.
Australia:
Some of the individuals with the surname Kinnear who landed in Australia in the 19th century included Alexandrina A.V. Kinnear, A.A.V. Kinnear and Jacinda C.D. Kinnear, all arrived in South Australia in the same year 1849 aboard the ship "Emily." Michael Kinnear arrived in South Australia in 1854 aboard the ship "Hyderabad."
Here is the population distribution of the last name Kinnear: South Africa 5,735; United States 2,089; England 1,656; Canada 1,132; Australia 843; Scotland 781; Northern Ireland 203; Ireland 131; Botswana 125; Wales 124.
Notable People:
Charles Kinnear (1830-1894), was a designer.
David Kinnear (1917–2008), was a Scottish football player.
David Kinnear (journalist) (c. 1906–1862), was a Canadian scholar.
Greg Kinnear (born 1963), is an American actor.
Kent Kinnear (born 1966), is an American tennis player.
Helen Kinnear (1894–1970), was a Canadian advocate.
Joe Kinnear (1912–1981), was an Australian rules football player.
Joe Kinnear (born 1946), is an Irish association football player and director.
John Boyd Kinnear (1828–1920), was a Scottish advocate, author, and leader.
Mary Elizabeth Kinnear (1898–1991), was a Canadian leader.
Norman Boyd Kinnear (1882–1957), was a Scottish biologist.
Roy Kinnear (1934–1988), was an English actor.
Rory Kinnear (born 1978), is an English actor and son of Roy Kinnear.
William Kinnear (1880–1974), was a Scottish rower.
Blazons & Genealogy Notes
1) (that Ilk, co. Fife). Motto—I live in hope. Sa. on a bend or, three canary birds ppr. Crest—Two anchors saltireways ppr.
2) (Edinburgh, 1818). Motto—Spem fortuna alit. Quarterly, 1st and 4th, as Kinnear, of that Ilk, within a bordure or; 2nd and 3rd, ar. on a fret of four pieces gu. as many hearts or, in every interstice a rose of the second barbed vert, for Gardiner. Crest—An anchor ppr.