Kirby Family Crest, Coat of Arms and Name History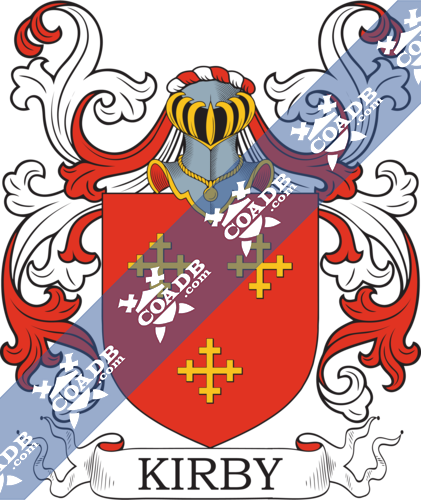 Kirby Coat of Arms Gallery
Don't know which Coat of Arms is yours?
We can do a genealogical research. Find out the exact history of your family!
Learn More
Variations on this surname include Kirkby, Kirby, Kerbey, and Kerby. It is a local name meaning "of Kirkby". There are numerous parishes and hamlets, mostly in Northern England and in the counties along the eastern coast. One family with this name lived for eighteen generation at the Old Hall, in Furness Lancaster. One author notes that the surname derives from the Old Norse word kirkja, meaning church, and byr, meaning a settlement.
Early notables include Adam de Kyrkeby of county York, Alex de Kyrkeby of county Lincoln, and Thomas de Kyrkeby of county Norfolk, all recorded in 1273 AD. Other notables include  John de Kyrkeby of co Westminster during the reign of Edward I, Robger de Kyrkeby of Lincoln, and Johannes Kirkeby recorded in 1379. A John Kerbie married Elizabeth Bendowe in London in 1594. In 1806, George Kerbey married Ann Woodford in St. George's Hanover Square.
George Fraser Black's the Surnames of Scotland, published in 1946, noted the name was recorded in the city of Aberdeen, likely having coming from England.
The family motto is Patientia et magnanimitas, which means "patience and courage".
Blazons & Genealogy Notes
1) (or Kirkby). (Hawthorn, co. Durham, and Kirkby Thore, co. Westmoreland). Ar. on a fesse vert three crescents or. Crest—An anchor gu. entwined with a serpent vert.
2) (or Kirkby). Same Arms. Crest—A flaming heart gu. betw. two branches of palm in orle vert.
3) (co. Keat). Az. six lions ramp. ar. three, two, and one, on a canton or, a mullet gu.
4) (Meopthams-Bank, Tunbridge, co. Kent, Sheriff of London, 1816-17). Ar. two bars gu. on a canton of the second a lion's head erased or. Crest—Out of a ducal coronet per pale or and ar. an elephant's head gu. eared of the second, tusked of the first.
5) (granted to Richard Charles Kirby, Esq., C.B., of Blandford Square, co. Middlesex). Ar. a chief embattled gu. over all a bend sa. charged with three greyhounds' heads erased of the first. Crest—A dexter arm embowed in armour grasping a scymitar, and in front thereof a chaplet of roses all ppr. Motto—Firm.
6) Ar. two bars gu. on a canton of the second a cross moline of the first. Crest—On a chapeau purp. turned up erm. a cross moline ar. within a circular wreath of tha last and gu.
7) (London). Ar. on a fesse vert three crosses formée.
8) (co. Nottingham, temp. Elizabeth). Ar. two bars and a canton gu.
9) Az. a lion ramp. or, on a canton ar. a mullet gu.
10) Gu. three crosses crosslet or.
11) Ar. a cross within a bordure engr. sa.
12) Ar. on a fesse gu. three crosses crosslet or.