Kinsey Family Crest, Coat of Arms and Name History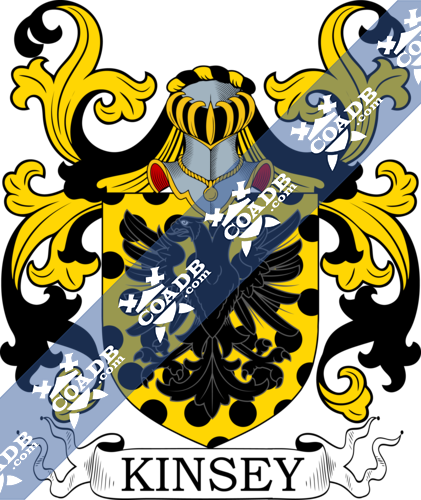 Kinsey Coat of Arms Gallery
Don't know which Coat of Arms is yours?
We can do a genealogical research. Find out the exact history of your family!
Learn More
Surname Name Meaning, Origin, and Etymology
There are five origins theories for this Anglo-Saxon surname. First, this last name derives from the Middle English personal (first) name Kynsey, a surviving form of the Old English given name Cynesige. It is composed of two elements: cyne (royal) and sige (victory). Further, it may also be related to the Scottish surname MacKenzie, less the prefix Mac. Second, it is a locational name meaning "of Kilnsea", which is a parish in East Riding, Yorkshire, England. Third, it is a locational name meaning "of Kilnsay", a parish in Burnsall in West Riding. Fourth, it is a locational name meaning "of Kingsley", and the letter g was eventually dropped, although this possibility is less likely according to some authors (ex. Charles Wareing Bardsley). Fifth, it could also be an Americanized or Anglicized version of the German/Swiss surname Kuni or Kuenzi. The name predates the Norman Invasion: as a personal name, there was one Kynsy, Bishop of Lichfield, living in 960 AD.
Spelling Variations
Common spelling variants or names with similar etymologies include Kynnesay, Kynseye, Kynsey, Chinseie, Kinssee, Kiansey, Kynsei, Kinasey, Kinzie, Kinser, Kincey, and Kinisey. Similar non-British names include Kinzi (Danish).
Popularity & Geographic Distribution
The last name ranks Kinsey ranks 2,169th in terms of popularity in the United Status as of the 2000 Census.  The name ranks particularly high in the following three states: Oklahoma, Georgia, and Montana. The name ranks slightly lower in popularity in England, where it is the 3,042nd most common name there as of 2014.  It ranks highest in the following counties:  Cheshire, Shropshire, Herefordshire, and Staffordshire. The name is common throughout the English speaking world:  Scotland (4,630th), Wales (653rd), Ireland (31,207th), Canada (8,514th), New Zealand (7,953rd), Australia (5,545th), and South Africa (4,879th).
The 1890 book Homes of Family Names by H.B. Guppy, states the following in regard to this surname: "The Kinseys possessed part of the manor of Blackden from the 16th to the present century".
Early Bearers of the Surname
The first documented bearer was William Kynsei, who was listed in the Calendar of Inquisitiones Post Mortem" in 1306 AD. A one William Kynnesay, vicar of Hitcham, was recorded in county Norfolk in 1471 in the History of Norfolk by authors Blomefield and Parkin. A one John Kynsey was recorded in the same county in the Register of the University of Oxford in 1602 AD. A one William Chinseie or Kinssee was recorded in the university's register in 1586 AD. A one George Kynsey was recorded in the Sussex Subsidy Rolls of 1525. Early marriages involving this name were Elizabeth Kynseye to Thomas Joneson in county Cheshire in 1592, John Kinsey to Dorithie Byrtles at Prestbury in 1608, and Charles Kinsey to Kerthrine Rever at St. Antholin in London in 1729 AD.
History, Genealogy, and Ancestry
Robert Kinsey was born in Cheshire, England around 1345 AD. He married Agnes Goostrey and had two sons with her: Thomas and William. His son William was born around 1375 and he married Matilda Littleover, with whom he had a son named Thomas. This Thomas was born in 1400. Thomas married Cicely Green and had a son with her named William. William was born in 1425 in Cheshire and he married a woman named Elizabeth, with whom he had a son named John. John was born in 1450 and he married Matila Cocker. They had three issue together: William, Philip, and Ellen. His son William was born in 1474 and he married Jane Knutsford with whom he had a son named Thomas.
Randall William Kinsey was born in Oldaugh Castle and married Maud Greene. Prior to his 1568 death in France, he had a son named William. William Kinsey was born around 1513 AD in England and was a Lieutenant. He married Isabell Kelsall and had four issue with her: Hughe, Randle, Ottiwell, and Elizabeth. His son Hughe was born in 1566 in Oldhaugh, Cheshire. He married Margaret Smith and had issue with her: Hugh, Elizabeth (Simcocke), Robert, Kathryn, Margery, Jane, Ottiwell, Marie, Isabell, Randle, James, William, and John. His son Hugh Kinsey was born in 1585 in Old Hall. He married Margaret Johns and went to Maryland in the United States. He had the following children: Elizabeth, Margaret, Mary, Sara, Paul, Daniel, and Mary (Humphreys).
John Kinsey was born in 1585 in Blackden, Cheshire. He married an unknown woman in Wales around 1600 and had the following issue with her: Edmund, Margaret, Maud, Morris, Thomas, William, and John. His son Edmund in turn had a son named Samuel. Samuel was born in 1710 in Woodbridge, New Jersey. He married Elizabeth Crew or Chew and had numerous children with her: Abigail, David, John, Jonathan, Sarah, Thomas, Samuel, Samuel II, Elizabeth, John, and Benjamin. His son Benjamin was born in 1756 in Buckinghamshire in Pennsylvania and he married Dorothy Doan. They had the following children together: Hannah, Samuel, Cinthia, David, Patricia, Rebecca, and Zenas. His son David was born in 1783 and he married a woman named Rachel, with whom he had a son named Benjamin. Benjamin was born in 1808 in Upper Canada. He married twice: Nancy Denis and later Caroline Catherine. He had the following children: George, David E., Joseph, John, Israel, Jane, Benjamin, Alma, and Alvin Homer.
A one Joshua Kinsey was born in 1833 in Berrien, MI. He married Mary Ann Evans Standiford and had four issue with her: Wilson Sherman, George Elmer, Elizabeth, and Elizabeth A.
Early American and New World Settlers
Early colonial settlers bearing this surname include Edward Kinsey (Virginia 1637), Welch Kinsey (Maryland 1653), Hugh Kinsey (Maryland 1659), Paul Kinsey (Maryland 1661), and Christian Kinsey (Pennsylvania 1761).  In Australia, three bearers of this name (David, John, and Sarah Kinsey) arrived in 1839 aboard the Delhi and settled in Adelaide, the capital city of South Australia.
Mottoes
I have been unable to identify any Kinsey family motto in historical documents.
Grantees
We have 3 coats of arms for the Kinsey surname depicted here. These 3 blazons are from Bernard Burke's book The General Armory of England, Ireland, and Scotland, which was published in 1848. The bottom of this page contains the blazons, and in many instances contains some historical, geographical, and genealogical about where coat of arms was found and who bore it.
Notables
There are hundreds of notable people with the Kinsey surname. This page will mention a handful. Famous people with this last name include: 1) Alfred Charles Kinsey (1894-1956) who was an American biologist, zoologist/etymologist, and sexologist from New Jersey who known for his controversial research in human sexuality and founded the Institute for Sex Research at Indiana University, 2) Angela Faye Kinsey (1971) who is an American actress from Louisiana best known for her role in the hit sitcom The Office, 3) Noel Kinsey (1925) who was a Welsh footballer (soccer player), and 4) Darius Kinsey (1869=1945) who was a photographer active in Washington State known for images of logging and the lumber industry.
Blazons & Genealogy Notes
1) Ar. a tower gu. Crest—Out of the top of a tower ppr. an arm embowed, vested vert, the hand holding a spear fessways all ppr.
2) (quartered by Welby, of Woodhead, co. Rutland. Visit. Rutland, 1618). Or, pellettée, an eagle displ. with two heads sa.
3) (Blackden Hall, co. Chester; allowed at Visit, co. Chester). (Knutsford, co. Chester). Ar. a chev. betw. three squirrels sejant gu.