Kirkaldie Family Crest, Coat of Arms and Name History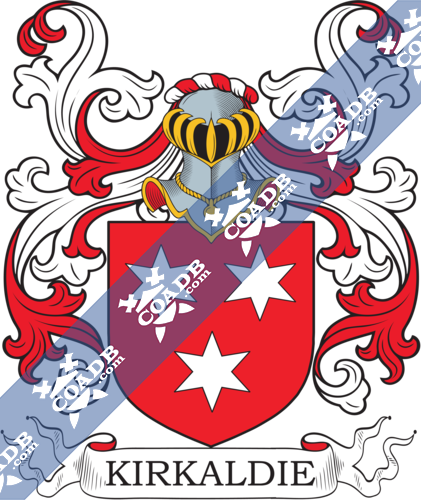 Kirkaldie Coat of Arms Gallery
Don't know which Coat of Arms is yours?
We can do a genealogical research. Find out the exact history of your family!
Learn More
Origins of Kirkaldie:
Local. From Kirkcaldy, a town in Fifeshire, Scotland, from Kirk, a church, and Culdee, the worshipers of God, the first Christians of Britain, who were said to have had a place of worship there in old times.  Spelling variations of this family name include as Kircaldy, Kirkaldy, Kirkaldie, Kirkcaldy, Kirkcaldie, Kircaldie and much more.
Variations:
More common variations are: Kirkldie, Kircaldie, Kirkaldy, Kirkwald, Kirckaldy, Kirkalady, Kirklad, Kirklud, Kirkilaite, Karakalidi.
England:
The surname Kirkaldie first appeared in Fife, where they held a family seat in their areas.  The Pictish impact on Scottish history declined after Kenneth Macalpine became King of all Scotland.  But those east coast families still played an important role in government and were more accessible to Government than their western highland counterparts.
United States of America:
Some of the first settlers of this family name or some of its variants were: the name expressed in many forms and noted from the mid-17th century in the great migration from Europe.  Migrants settled in the eastern seaboard from Newfoundland to Maine, to Virginia, the Carolinas, and to the islands.
Blazons & Genealogy Notes
1) (Inchture, co. Perth). Gu. three stars ar.
2) (Grange, Scotland, bart., 1604). Motto—Fortissima veritas. Gu. a chev. betw. three stars in chief and a crescent in base or. Crest—A man's head, with the face looking upwards ppr.
3) (Scotland, 1672). Gu. a chev. invecked ar. betw. two stars in chief and a crescent in base or.