Kirkby Family Crest, Coat of Arms and Name History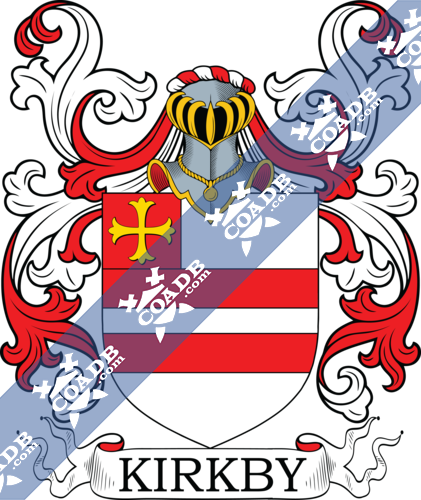 Kirkby Coat of Arms Gallery
Don't know which Coat of Arms is yours?
We can do a genealogical research. Find out the exact history of your family!
Learn More
Surname Name Meaning, Origin, and Etymology
This is a local surname meaning "of Kirkby", which are parishes too numerous to list here throughout Britain, chief in the north of England and along the eastern coast (ex. Kirby Cane in Norfolk, Kirkby on Bain in Lincolnshire, and Kirkby Lonsdale in Westmoreland). The Domesday Book of 1086 AD, which was a survey of England and Wales ordered by William the Conqueror, lists places named Chirchebi, Kirchebi, and Kerkeby. There is currently a town called Kirkby un Mersey, England that has a population of around 40,000 people.
The last name derives from the Middle English word kirk, meaning a church, which in turn derives from the Old Norse word kirkja. It is then combined with the Old Norse word byr, which means a settlement or farm. The German word for church is kirche.
Spelling Variations
Other spelling variants Kirkeby, Kirby, Kerby, Kirkebye, and others.
Popularity & Geographic Distribution
The last name ranks 48,239th in the United States as of the 2000 census. The name is much more popular elsewhere in the world:  England (2,917th), Australia (3,034th), South Africa (6,966th), Canada (6,562th), New Zealand (5,186th), Wales (2,337th), and Scotland (3,611th).
Early Bearers of the Surname
The earliest documented bearer was Godebold de Kirkebi who was recorded in the records of the Sbbey of Bury St. Edmund in 1121 AD in Suffolk, England. The Hundred Rolls of 1273 AD, a census of Wales and England, known in Latin as Rotuli Hundredorum, documents two people bearing this surname:  Adam de Kyrkeby in county Yorkshire, Alex de Kyrkeby and county Lincolnshire, and Thomas de Kirkeby in county Norfolk. The Placita de Quo Warranto documents John de Kyrkeby in county Westmeath, Roger de Kyrkeby in county Hungintdonshire, and Alan de Kirkeby in county Lincolshire, living during the reign of King Edward I of England (1272-1307), who was also known as Edward Longshanks or Hammer of the Scots. The Poll Tax of Yorkshire in 1379 AD lists one Johannes de Kirkeby. An early marriage involving this surname is George Kerbey to Ann Woodford in 1806 at St. George's Hanover Square in London.
History, Genealogy, and Ancestry
Sir Richard de Kirkeby (or Kirkby) was born in 1356 AD in Kirkby Ireleth, England in Lancashire. He left four issue: Alexander, Roger, John, and Rowland. His son John was born in 1392 and married Clemence Urswick in 1422. They had three children together: William, Richard, and Henry. His son William was born in 1423 in St. Michael Onwyre. He married Isabella Pudset in 1453 and they had a son named John. John was born in 1454 and married a woman named Margaret and later Elizabeth Banastre. He left one son named William who was born in 1481. William was born in Rawcliffe and married Elizabeth Thornborow in 1507. He had the following children: John, George, William, Richard, Henry, Anne (Palladay), Elizabeth (Calworth), and Jane.
David Edward Kirkby (Senaor and Esquire) was born in 1794. He married Sarah Wynn Nanney and later Kelen Lucy Clack. He left behind numerous issue before his death in 1850 in Battle End, Powys: Eva Gwladys (Bennett), William Wynn, Harriet Eliza, Henrietta, Sarah Catherine, Charlotte (Cornish), David Edward, Ellen (Barnsdale), Mary Anne, John Thomas Vaughan, Blance, Ellenor Wynn, William Wynn, Sydney Courtenay, and Constance Helen.
Early American and New World Settlers
One early settler in colonial America that bears this surname is John Kirkby who arrived in New York (with a wife named Anne and two children) in 1774.
Mottoes
I have been unable to locate the Kirkby family motto.
Grantees
We have 8 coats of arms for the Oakes surname depicted here. These five blazons are from Bernard Burke's book The General Armory of England, Ireland, and Scotland, which was published in 1848. The bottom of this page contains the blazons, and in many instances contains some historical, geographical, and genealogical about where coat of arms was found and who bore it.
Notables
Famous people with this last name include: 1) Richard Kirkby (1625-1681) who was an English politician who served in the House of Common in the later part of the seventeenth century, 2) Richard Kirkby (1658-1703) who was an officer in the Royal Navy who was executed by firing squad, and 3) John Kirkby (died 1290) who was an English religious figure and statesmen who was the Bishop of Ely.
Blazons & Genealogy Notes
1) (Kirkby, co. York; William Kirkeby, whose dau., Joan, m. Henry Ludyngton, father of Nicholas Ludyngton, citizen of London. Visit. London, 1568). (Kirkby, co. Lancaster, 1664). (Kirkby Hall, co. Lincoln). Ar. two bars gu. on a canton of the last a cross patonce or.
2) (Uprawcliffe, co. Lancaster, 1567). Same Arms, a crescent for diff.
3) (Stainbridge, co. Hants). Per pale ar. and gu. on a chief sa. a lion pass. or.
4) (co. Leicester). Per pale gu. and sa. a lion ramp. ar.
5) (co. Leicester). Ar. a cross betw. two annulets vert.
6) (co. Kent; Sir John Kirkby, Knt., temp. Henry IV.; his dau. and heir, Alice, m. Thomas Stoner, Esq., of Stoner, co. Oxford. Visit. Oxon, 1566). Az. six lions ramp. or, on a canton of the last a mullet gu.
7(Kirkby-in-Ashfield, co. Nottingham). Az. a fesse betw. two chev. erm.
8(quartered by Mitford through Wharton. Visit. Durham, 1613). Ar. two bars gu. on a canton of the second a cross flory of the first.