Kirkland Family Crest, Coat of Arms and Name History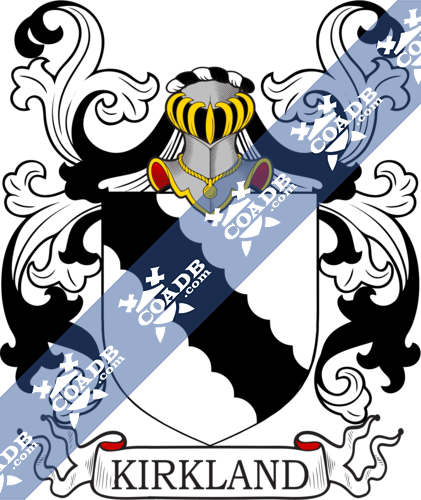 Kirkland Coat of Arms Gallery
Don't know which Coat of Arms is yours?
We can do a genealogical research. Find out the exact history of your family!
Learn More
Surname Name Meaning, Origin, and Etymology
This is last name is a local one meaning "of Kirkland", the name of towns in a variety of places throughout Britain (mainly England and Scotland) including (but not limited to) a parish in county Cumberland, a township in the parish of Torpenhow in county Cumberland, a township in the parish Garstand in county Lancashire, and a township in the parish of Kendal in county Westmoreland. It was a topographical name given to a person who resided on land owned by a church. It derives from the Middle English word kirk or German kirche, meaning church. The Kirkland's were a Scottish Lowland Sept of Clan Maxwell and Dougal.
Spelling Variations
The most common spelling variants include Kirtland, Kertland, Keartland, Kyrkelaund, Churchlond, Kyrtland, Kirkeland, Kerkeland, and Kirtland.
Popularity & Geographic Distribution
The last name Dutton ranks 1,107th in popularity in terms in the United Status as of the 2000 Census. The surname ranks particularly high in the six following states:  Florida, Georgia, Alabama, South Carolina, Tennessee, and Mississippi. In England, the name ranks 2,724th and it ranks particularly high in the following five counties:  Derbyshire, Nottinghamshire, Staffordshire, Leicestershire, and Rutland. The name is common throughout the English speaking world:  Scotland (1,126th), Wales (7,279th), Ireland (9,692nd), Canada (3,058th), New Zealand (1,965th), Australia (2,829th), and South Africa (6,580th).
Early Bearers of the Surname
The earliest recorded bearer of this last name was Michael de Kerkeland who was documented in the Pipe Rolls of Cumberland in 1196 AD. John de Kyrkeland was listed in the Register of the Abbey of Kelso in Scotland in 1280 AD. Homintes de Kyrkelaund in county Cumberland recorded during the reign of King Edward I of England (1272-1307) in the Placita de Quo Warranto. A one Hugh de Churchlond was documented in Kirby's Quest in county Somerset during the reign of King Edward III (1327-1377). Early marriages include 1) Johanna Kirkelande of county Derby to Henry Woode in 1585, 2) Anne Kyrtland (widow of Henry) to David Jones in 1586, 3) Catherine Kirkland to Andrew Milne at St. George's Hanover Square in London in 1790, and 4) James Kirkland to Elizabeth Brown in 1797.
History, Genealogy, and Ancestry
Christian Kirkland was born in 1585 in Aberdeen, Scotland. He had a son named Richard who was born in 1610 in Gartloch. Richard married Elizabeth Gray and they had a son named Richard Sr. who was born in 1640. Richard Sr. married Sarah Mammock and prior to his 1700 death in Fairfax Virginia, he had four issue: Robert, Richard, Edward, and Mary. His son Robert was born in 1668 and married Mary Jones in 1691. They had four children: Edward, Mary, Sarah, and William. His son Richard was born in 1670 in Scotland and married Mary Snowden in Maryland, and they had the following issue: Richard, Robert, Edward, and John. Richard was born in 1705 in Maryland and he married Mary Ann Brown and had issue with her: Esther (Calvert), Nancy Ann, Moses, Ann (Harrison), William, Joseph, and Richard. Richard was born in 1738 in Stafford, Virginia. He married Elizabeth Sibel Groose and had two sons with her: Isaac and Richard. Richard Kirkland was born in 1765 in South Carolina and he had a son named Timothy who was born in 1799 in Georgia. He married Anna Holloway and they had a sonr named Elisha who was born in 1829 and married Charity Sears.
Early American and New World Settlers
The book Genealogical Guide to the Early Settlers, mentions two people bearing this surname: 1) John Kirtland of Saybrook (son of Nathaniel of Lynn), who in 1679 married Lydia, daughter of Lieutenant William Pratt and had issue with her: John (1681), Priscilla (1683), Lydia (1685), Elizabeth (1688), Nathaniel (1690), Philip (1693), Martha (1695), Samuel (1699), Daniel (1701), and Parnell (1704). He was a Lieutenant in the army or militia and he passed away in 1716, 2) Nathaniel Kirtland of Lynn who came in the Hopewell from London in 1635 at the age of 19. He was one of the first settlers of Long Island. He married a woman named Parnell and had issue with her: Ann (1658), John (1659), Hannah (1662), Elizabeth (1664), and Martha and Mary (1667), and 3) Philip Kirtland who also came in the Hopewell in 1635 at the age of 21, and was brother of Nathaniel. He was a shoemaker that settled in Long Island. He married a woman named Alice and had children with her: Mary (1640), Sarah (1646), Susanna (1652), Hannah and Ebenezer (1654). He had an older brother named John of whom little is known.
A one John Kirkland came to New Jersey in 1685. The town of Pinckney, MI in Livingston County was founded by the Kirkland family in 1837 on land that William Kirkland.
Mottoes
The Kirkland family motto is Facia non verba, meaning "Deeds not words" and Pro artis et focis, meaning "For our altars and our homes".
Grantees
We have seven coats of arms for the Dutton surname depicted here. These seven blazons are from Bernard Burke's book The General Armory of England, Ireland, and Scotland, which was published in 1848. The bottom of this page contains the blazons, and in many instances contains some historical, geographical, and genealogical about where coat of arms was found and who bore it.
Notables
Famous people with this last name include: 1) Boyd Douglas Kirkland (1950-2011) who was an American television cartoon director best known for Batman The Animated Series, 2) Caroline Mathilda Stansbury Kirkland (1801-1864) who was an American writer who wrote "A  New Home, Who'll Follow, 3) James Hampton Kirkland (1859-1939) who was an American Latinist and the second chancellor of Vanderbilt University at the turn of the century, and 4) John Thornton Kirkland (1770-1840) who was the president of Harvard University from 1810-1828.
Blazons & Genealogy Notes
1) (Kirkland, co. Cumberland, Kirkland, co. Lancaster, Brampton, co. Derby; founded by Gamel, Lord of Kirkeland, co. Cumberland, temp. William I.; now represented in the senior line by Walter Kirkland, Esq., of Wirksworth, co. Derby, and Eastbourne, co. Sussex). Sa. three mullets ar. within a bordure engr. or, quartering Kirkland (ancient), sa. three mullets or. Crest—On a ducal coronet a falcon jessed and belled all ppr., Kirkland.
2) (Ashby-de-la-Zouch, co. Leicester; settled there at Ashby early in the last century; the last male representative, Thomas Smith Kirkland, Esq., M.D., d. 1869). Sa. three mullets ar. within a bordure engr. or. Crest—Out of a ducal coronet or, a falcon close belled ppr. Motto—Facia non verba.
3) (co. Lancaster). Ar. a bend engr. sa. (another, ar. a saltire engr. vert).
4) Ar. on a mount in base vert an oak tree ppr. debruised by a fesse gu. charged with three owls ar. Crest—An owl, as in the arms.
5) (or Kirkeley, Kirklay, Kirklayne, or Kirkaton). Ar. three bars gemels sa. (another, the tinctures reversed). Crest—A church environed with trees ppr.