Kirkley Family Crest, Coat of Arms and Name History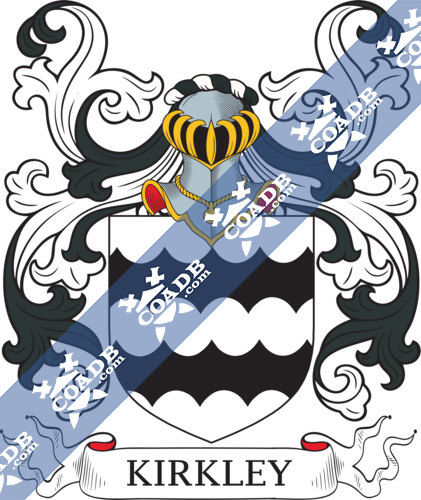 Kirkley Coat of Arms Gallery
Don't know which Coat of Arms is yours?
We can do a genealogical research. Find out the exact history of your family!
Learn More
Origins of Kirkley:
The Anglo-Saxon name Kirkley acquires from the family having resided in the church of Kirkley in the division of Suffolk as well as in Kirkley a township in the church of Ponteland in the division of Northumberland.  Kirkley has been spelled many different ways, including Before English spelling, became regulated over the last few hundred years, spelling variations in names were a common occurrence.  As the English language changed in the Middle Ages, absorbing pieces of Latin and French, as well as other languages, the spelling of people's names also changed considerably, even over a single lifetime.  Kirkley, Kirkly, Kirklee, Kirkele, Kirkelee and much more.
Variations:
More common variations are: Kirklley, Kirckley, Kirkoley, Kirkly, Kirkle, Kerkley, Kirklee, Kirkale, Kirkely, Kirkole.
England:
The surname Kirkley first appeared in Suffolk where they held a family seat from old times.
New-Zealand:
Some of the individuals with the surname Kirkley who landed in New-Zealand in the 19th century included James Kirkley at the age of 20, a farm laborer, arrived in Auckland, New Zealand aboard the ship "Salisbury" in the year 1876.  Henry J. Kirkley at the age of 18, arrived in Auckland, New Zealand aboard the ship "Salisbury" in the same year 1876.
Blazons & Genealogy Notes
1) (co. York). Ar. two bars engr. sa.
2) Gu. two bars or, in chief three keys ar.