Klotz Family Crest, Coat of Arms and Name History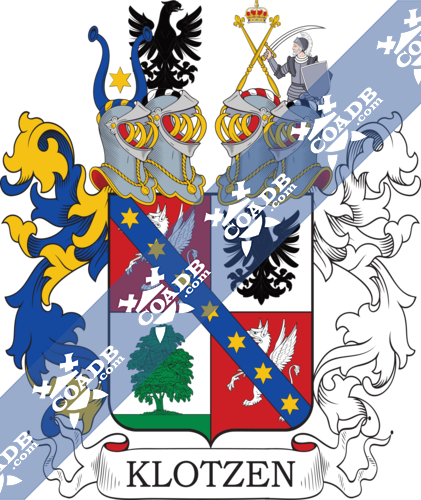 Klotz Coat of Arms Gallery
Don't know which Coat of Arms is yours?
We can do a genealogical research. Find out the exact history of your family!
Learn More
This section has not yet been completed. If you are interested in having your genealogy done, we offer an affordable research servicethat traces your lineage so you can learn more about your ancestors, where they came from, and who you are.
Blazons & Genealogy Notes
1) Francfort-s/Main – Coupé au 1 d'azur à quatre losanges d'argent 2 et 1 au 2 d'argent à un homme habillé de sable coiffé d'un chapeau du même posé sur un tertre de sinople et tenant une branche d'arbre du même Casque couronné Cimier l'homme issant entre deux proboscides coupées alternativement d'argent sur azur Lambrequin d'argent et d'azur.
2) Klotz zu Rosenburg und Spreheim – (Comtes), barons von Mariastein und Niederbreitenbach – Tyrol – (Nob. et chevalerie du St-Empire, sous le nom de Kloz Edle von Rosenburg, 2 oct. 1764; barons de M. etc., 25 juillet 1775; comtes du St-Empire, 19 août 1790. M. ét. le 14 juillet 1856) – Coupé d'or sur sable à un chamois rampant de l'un en l'autre Cimier un buste de femme habillé d'or chevelé du même coiffé d'une toque d'azur entre un vol de sable.
3) Livonie – (Nob. du St-Empire, 6 juillet 1527) – De gueules à deux bâtons fleurdelisés arrachés d'argent passés en sautoir Cimier un tourteau de gueules orné à l'entour de plumes d'argent.
4) Klot-Trautvetter – Prusse – (Conf. de la nob. du St-Empire, 16 juillet 1557; rec. du titre de baron, 15 avril 1871; comtes, même date) – De gueules à un tronc d'arbre arraché d'argent Casque couronné Cimier un vol de gueules.
5) Allemagne – Écartelé aux 1 et 4 de gueules à un griffon d'argent au 2 d'argent à l'aigle de sable au 3 d'argent à un tilleul de sinople posé sur un tertre du même A la cotice d'azur brochant sur les écartelures et ch de sept étoiles d'or Quatre casques couronnés Cimiers 1° une aigle de sable la tête contournée 2° deux sceptres d'or passés en sautoir surmontés d'une couronne royale 3° une étoile d'or entre deux proboscides d'azur 4° un chevalier issant tenant dans sa main dextre une épée et dans sa senestre un bouclier Lambrequin à dextre d'or et d'azur à senestre d'argent et d'argent.