Knapp Family Crest, Coat of Arms and Name History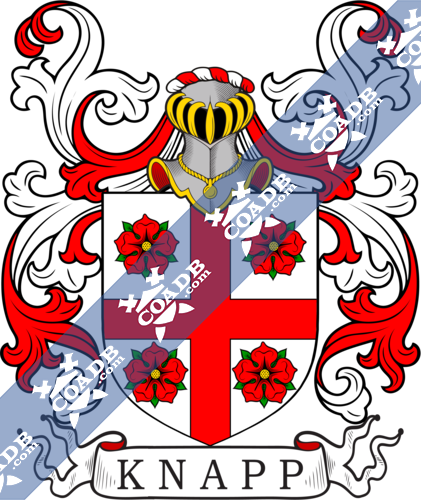 Knapp Coat of Arms Gallery
Don't know which Coat of Arms is yours?
We can do a genealogical research. Find out the exact history of your family!
Learn More
Surname Name Meaning, Origin, and Etymology
This is a local surname meaning "at the knap", which was a hilltop or summit, given to a person who resided nearby. There are several locales throughout England bearing this name (ex. Knapp in Hampshire and Knepp in Sussex). It may be an earlier form on the word knob, a round protuberance. It derives from the Anglo-Saxon word cnæp. Another source states it comes from the german word knappe, meaning a boy, lad, servant, workman, or a squire, and they the words Knave and Knapsack derive from.The German word knappe or knabe mean a young unmarried man. In France, it became a nickname for a skillful or dexterous person.
In his 1890 book "Homes of Family Names", H.B. Guppy writes the following regarding this last name: "Knapp is an old south of England name. In the 14th century an influential family of Bristol citizens bore this name. Knapp was the name of an ancient gentle family of Berks, a branch of which two centuries ago came into the possession of the manor of Little Linford, Bucks. However, we learn from the Hundred Rolls that the name of Knappe occurred in Bucks six centuries ago".
There is a medieval castle known as Knepp Castle located in West Grinstead in West Sussex, which was built on an elevated area in the 1100s AD by William de Braose.
Spelling Variations
Common spelling variants include Knappe, Knap, Cnape, and others. Foreign equivalents include Knappi (Norse), Knappe (German), Knaap or Knappick (Dutch), and Knapp (Flemish).Knaby is a locale in Sweden.
Early Bearers of the Surname
The Hundred Rolls of 1273 AD, a census of Wales and England, known in Latin as Rotuli Hundredorum, documents two people bearing this surname:  John Cnappe in county Cambridgeshire and John Knapp in county Bucks.  A one William ate Kneppe was documented in the Pipe Rolls of Surrey in 1294 AD. The Documents Illustrative of English History lists one Capella de la Cnappe. Margaret ate Cnappe was recorded in county Somerset during the reign of King Edward III of England (1327-1377 AD) in Kirby's Quest. Henry de Cnappe was listed in the Pipe Rolls of Devonshire in 1301 AD. The Poll Tax of Yorkshire from 1379 AD records Johannes Knape and Joannes Knaype. Early marriages involving this surname include Christopher Nappe to Elizabeth Kemyes in 1553. An early baptism involving this name was Robert, son of Robert Knapp, at St. James Clerkenwell in 1681 in London.
History, Genealogy, and Ancestry
The famous genealogist Bernard Burke's book "The Landed Gentry" discusses one branch one noble branch of this family: Knapp of Little Linford Hall and Shenley. It begins with a mention of Mathew Grenville Samwell Knapp, Esq. of Little Lindford Hall and Shenley in county Buckinghamshire. He was born in 1832 and was a Justice of the Peace and married Catherine Elizabeth Spottiswoode, daughter of Robertson Brace (Esq. of the Bengal Artillery) in 186 and have four children with her: John Mathew (1868), Robert Bruce (1871), Arthur Douglas (1876), Catharine Anna (1873). Burke traces the lineage back to John Knapp, of London in 1661, who procured the Little Linford Estate in 1684, and Shenley in 1698. He was the son of John Knapp (baptized 1610), who in turn was the third son of Harry Knapp. He first married Mary and had a son named Thomas who died in 1678, and a daughter named Elizabeth (who married John Cootes), as well as two more daughters, who married George Pochin and Jeremiah Gough. He later married Catherine, daughter of Mathew Skynner of Welton, and had five daughters and four sons with her. He died in 1710 and was succeeded by his second son, Reverend Mathew Knapp, who was born in 1684. He married Catherine, daughter of Humprey Primatt, and had issue with her: John (1721), Matthew (1728), Primatt, Humphrey (1783), Catharine (married David James), Elizabeth (married Lacey Primmatt) Mary, Annie (married Reverend Jonathan Stubbs), and Charlotte (married William Primatt). He died in1752 and was succeeded by his third son, Rev. Primatt Knapp, M.A., who was baptized in 1730. In 1756, he married Keturah, daughter and co-heir of Nathaniel French of Antigua, and had with her three daughters (Leonora, Catharine, and Mary) as well as three sons: Nathaniel Mathew (1760), Primatt, and John Leonard (1767, who married Lydia Frances). He died in 1793 and was succeeded his second son, Reverend Primatt Knapp, a B.A. of Worcester College. He was baptized in 1764 and in 1796, he married Rebecca Anne Goodwin. He had three sons and one daughter with her. His eldest son was Mathew Knapp, Esq. of Little Linford was born in 1798. In 1829, he married Anna Edwyn, daughter of Andrew Edwyn Burnaby, Esq. of Baggrave Hall, and left issue with her: Matthew Grenville Samwell (discussed above), Beamount Orlando Primatt (1833), Anne Frances, Anna Mary Ann (married Septimus Rolleston), and Selina Brown. He later married Mary Leigh, daughter of Richard Leigh Spencer of Gray's Inn, and had children with her: Henry Leigh, John Charles (1848), Mary Ellen, Margaret Emma, Maria Eleonora, and Isabella Maud. He died in October of 1867. This family bore the following coat of arms and blazon: Or, in chief three close helmets proper in base a lion passant sable, with Crest: A hand grasping a dagger. The family held seats at Little Linford Hall, near Newport Pagnell, as well as Shenley, near Stoney Stratford.
Nicholas Knapp (or Knap) was born in 1606 in England. He married a woman named Elinor in 1631 in the Massachusetts Bay Colony, and later a woman named Unica in 1660 in Stamford, Connecticut. He left the following issue: Jonathan, Timoth, Joshua, Caleb Sr., Sarah, Ruth, Hannah, Moses, and Lydia. His son Cabel was born in 1636 in Watertown, MA. He married Hannah Smith in 1660 and left the following children with her: Caleb, John, Moses, Samuel, Sarah, and Hannah. His son, Lieutenant Samuel Knapp, was born in 1668 and in 1696 he married Hannah Bushnell. Prior to his 1739 death in Danbury, CT, he left the following issue: Samuel Jr., John, Francis Bushnell, Abigail, Caleb, Mercy, Joshua, Aarom, and Hannah. His son John was born in 1700 in Danbury, CT. He married Mary Margaret Taylor in 1724 and had numerous children with her: John, Samuel, Charles, Elijah, Zephaniah, Amos, Luke, Zadock, Ruth, Elizabeth, and Joseph. His son Luke was born in 1742 and in 1764 he married Anna Kethum. They left the following children: Daniel, Elihu, Rachel, Cyrus, Jacob, Joshua, Zabock, Elijah, Sabra, Matthias, Abiah, Gimri, Issac, Benjamin, Joseph, Lucinda, Lucius, Annie, Calvin, Rhoda, Eliza, and Nabby. His son Jacob Calvin was born in 1772. He married Lucinda Mayhew in 1794 and later Mary Polly Calhoun. He left numerous children including Luke Knapp. Luke was born in 1796 in Otsego, New York. He married Mary Ann Lewis in 1822. He was the father of William Wellington Knapp, born in 1849 in Marietta Washington, Ohio. He married Ida Grace Tyler in 1870 and left issue with her: Earnest F., Cora V., Frederick William, Ernest Luke, Ella, Alice L., Leryo Lewis, George L, Walter, and Robert Ellery. Cora was born in 1874 in Michigan.
Early American and New World Settlers
The book "Genealogical Guide to the Early Settlers of America" mentions six bearers of this last name: 1) Aaron Knapp, of Taunton, recorded in 1643, who married Elizabeth, the daughter of Nicholas Stoughton in 1675, and left issue with her including Mary (1659), 2) John Knapp of Taunton, who married Sarah Austin in 1685, 3) Nicholas Knapp, of Watertown, MA, who likely came with Governor Winthrop and Saltonstall in 1630. He married a woman named Eleanor and has children with her: Jonathan, Timothy (1632), Joshua (1635), Caleb (1637), Sarah (1639), Ruth (1641), and Hannah (1643). He then moved to Stamford, CT and had two more children: Moses and Lydia. His wife passed away in 1658, and he then married Unity, the widow of Peter Brown, 4) Roger Knapp, of New Haven, Connecticut who lived there in 1643. He married a woman named Elizabeth and had the following issue with her: Jonathan, Josiah, Josia, Lydia, Roger, John, Nathaniel, Elizabeth, and Mary, 5) Thomas Knapp, of Sudbury, who married Mary, daughter of John Grout, and died at Sea, leaving Sarah and Mary, 6) William Knapp, of Waterdown, recorded in 1637 who died at age 80 in 1658. His will of 1655 did not name a wife, but it did mention several children (John, William, Mary, Elizabeth, James , Ann, and Judith) that arrived with him from England.
Other early settlers include Jacob Knapp (Philadelphia 1753), Federick Knapp (Phildelphia 1763), Philip Henrich Knapp (Philadelphia 1771), and Samuel Knapp (Mobile, Alabama, 1822).
Mottoes
There is not a documented family motto for this surname.
Grantees
Later people bearing this surname that bore the arms: 1) John Matthew Knapp (successor of Matthew Grenvile Samwell) of Little Linford Hall, Newport Pagnell, Bucks, 1897.
Notables
Famous people with this last name include: 1) Georg Christian Knapp (1753-1825) who was a German Protestant theologian from Glauncha, 2) Harry Shepard Knapp (1856-1923) who was a Vice Admiral of the United States Navy and Military Governor of Santo Domingo (Dominican Republic), 3) Martin Wells Knapp (1853-1901) who was an American Methodist minister who found numerous institutions and was born in Albion, Michigan, and 4) John Leonard Knapp (1767-1845) who was an English botanist well-known for his study of British grasses.
Blazons & Genealogy Notes
1) (Tuddenham, co. Norfolk, Needham and Washbroke, co. Suffolk). (Little Linford Hall and Shenley, co. Bucks). Or, in chief three close helmets sa. in base a lion pass. of the last. Crest—An arm embowed in armour ppr. garnished or, the hand also ppr. grasping by the blade a broken sword ar. hilt and pommel gold, with a branch of laurel vert.
2) (Hambly-Knapp). Or, a lion pass. in base and in chief three esquires' helmets sa., quartering gu. a lion ramp. ar. crowned or, for Hambly. Crest—Same as Tuddenham.
3) Ar. a cross gu. betw. four roses ppr.
4) (Woodcot. co. Oxford; granted 2 Sept. 1669). Sa. a lion pass. in chief three helmets or.