Knightley Family Crest, Coat of Arms and Name History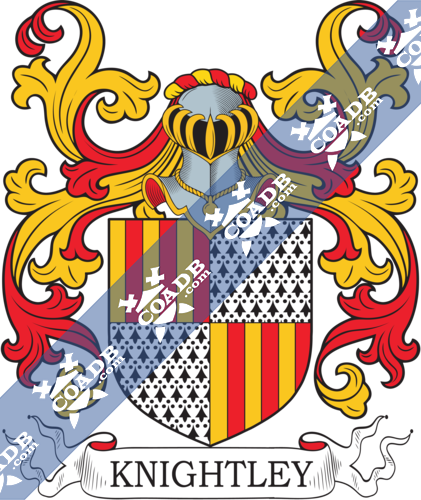 Knightley Coat of Arms Gallery
Don't know which Coat of Arms is yours?
We can do a genealogical research. Find out the exact history of your family!
Learn More
Surname Name Meaning, Origin, and Etymology
This is an Anglo-Saxon name that is more common in the UK than in the other English-speaking countries. The surname is a topographic name, which are names that represent the place of birth of the bearer, that originated in the village of Knightly where the first Knightley family lived. The earliest record of the name dates back to Staffordshire
The name is an old English surname that comes from the words "cnith" and "leah" which was used to designate the servant who did the wood clearing. Only in the late Middle Ages that the word Knight which derives from the term "cnith" gained its modern meaning of noble services to the king.
Spelling Variations
Due to a lack of standardization of the English language spelling variation was quite common, even among the noble literate men. The following are not necessarily the only variations but are certainly the most common of the Knightley surname: Knightly, Knitteleg, Knyghteleye Knightlea, Knightlie, and Knightlee.
Popularity & Geographic Distribution
The Knightley surname is more popular in English-speaking countries, but even within those territories, it's not ranked among the most popular ones. In England, it ranked in 9.252 (most common in Middlesex and Surrey) and the US in 193.085 (most common in California and Kansas).
Early Bearers of the Surname
The earliest recorded bearer of the name is Rainald, mesne lord of Knightley, in the times of king William the Conqueror. Robert de Knyghstelee, Staffordshire, times of Edward I-III. The name, as mentioned above, was originated in the Knightly village of Staffordshire and the early bearers of the name later settled in the regions of Essex, Middlesex, Cambridgeshire, and the city of London.
History, Genealogy, and Ancestry
The Knightley family originated in Staffordshire, England. Then it spread across the country until some moved to Ireland. Then the most notable migrations occurred from England to America and Australia (after colonial era).
Robert Knightley, the father of John de Knightley, was summoned by his king to follow him against the Scots in 1301. In 1308 he married Alice Doyley, who became Alice Knightley.
John de Knightley, son of Robert and Alice Knightley, married Nichole Knightley. He died in 1391 and left a son called Richard Knightley born in 1335.
Richard Knightley married Ellen Chaunceaux and had a son named William Knightley. The date of the death of Richard Knightley is unknown.
William Knightley, Born about 1378 in Fawsley, Daventry, Northamptonshire, married Anna Charlton. They had a son named Thomas (Knightley) Charlton. William Knightley died in 1403.
After him, all his descendants began using the name Charlton instead of Knightley. Thomas Charlton, Robert Charlton, Richard Charlton, and etc.
Other Knightleys are found through England, but they don't seem to have a direct bloodline with the Knightleys of Staffordshire, but they might have since they all originated from Staffordshire.
Edmund Knightley is said to have built the Fawsley Hall, although it's positive that the Knightley family was the one who had it built, sources diverge on whether or not it was Edmund who had it built. But the entire Knightley family left their remarks at Fawsley. Beginning with Richard Knightley a lawyer from Staffordshire (who bought the land), passing to his grandson Sir Richard Knightley, knighted by Henry VII. Then to Sir Richard's son Edmund Knightley.
The Knightley family has almost no records in other countries but England. With just a few births (around 10) in Ireland in the 1800s.
Early American and New World Settlers
There aren't records of early settlers in colonial America only Australia and New Zealand, but there are records of immigrants in the 1900s: Margaret Theresa Knightley who boarded a ship to Honolulu, as well as Keith Knightley. Also, Thomas Knightley whose destination is unknown.
Mottoes
Although dignity, magnanimity, and bravery are all words associated with the family coat of arms, there aren't any known family motto.
Grantees
We have 9 coat of arms variations, but the one coat of arm that is the most widespread recognized as being of the house of Knightley has four main symbols. The family coat of arm uses the paly, the falcon, the spear, and the stag's head.
This representation of the coat of arms doesn't change, but the patterns (colors) do. There are two patterns, the gules and the ermine. They represent "Dignity" and "Military Fortitude and Magnanimity".
Notables
Famous people with this Last name are: 1) Phillip George Knightley (1929-2016) an Australian journalist, critic, and non-fiction author. He was a visiting Professor of Journalism at the University of Lincoln, England. And was also a media commentator for intelligence services and propaganda. 2) Steve Knightley (1954 -) is an English singer, songwriter and acoustic musician whose most known as UK's most successful folk duo, Show of Hands. 3) Will Knightley (1946 -) is an English actor who's famous for his work on stage, television, and voice-over. Keira Knightley (1985 -), daughter of Will Knightley, is an English actress and the most famous name bearer of recent history. She is an Academy Award-nominated actress and has won more than 20 awards and has been nominated for more than 40.
Blazons & Genealogy Notes
1) (Fawsley Park, co. Northampton, bart.). (Offchurch, co. Warwick, bart., extinct 1608; descended from Edward Knightley, younger brother of Sir Richard Knightley, Knt., of Pawsley, temp. Henry VIII.). Motto—Invita fortuna. Quarterly, 1st and 4th, erm.; 2nd and 3rd, paly of six or and gu. Crest—A buck's head couped ar. attired or. Supporters— Two falcons ppr.
2) (Shuston, 15 Ric. II.). Same Arms, a bordure engr. az.
3) (Knightley and Gnowsall). Same Arms as Knightley, of Shuston, a bend engr. az. in place of the border.
4) (co. Stafford). Quarterly, 1st and 4th, paly of six or and gu.; 2nd and 3rd, erm.
5) (Kingston-upon-Thames, co. Surrey: granted by Camden, 1623, to William Knightley, Esq.). Quarterly, 1st and 4th, erm.; 2nd and 3rd, paly of six or and gu. on a bend az. a tilting-spear of the second. Crest—A stag's head ar. attired or, charged upon the neck with a trefoil vert.
6) (Chorley, co. Lancaster). Vert a cross engr. erm. in the 1st quarter a mullet pierced. Crest—A goat's head ar. charged with a mullet for diff.
7) (co. Stafford). Paly of six or and gu.
8) (co. Worcester). Ar. on a fesse sa. a mullet of the field. Crest—A dragon's head sa. with three tongues gu.
9) Az. a hart's head cabossed or (another, ar.).