Knighton Family Crest, Coat of Arms and Name History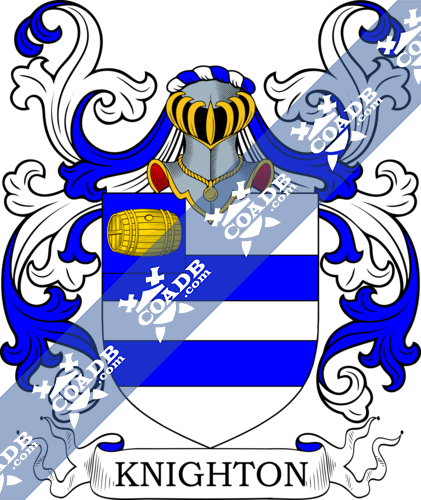 Knighton Coat of Arms Gallery
Don't know which Coat of Arms is yours?
We can do a genealogical research. Find out the exact history of your family!
Learn More
Knighton Origin:
England
Origin of Knighton:
This is an English locational surname, which derived from any one of the three villages so named, or probably from a now "vanished" primitive hamlet in Yorkshire. The remaining villages were in the division of Dorset, near Dorchester, in the church of Lindridge, Worcestershire, and the church of St Margarets, Leicester. The first documentation is found in Yorkshire, where even in the 20th century the name is well listed in that division. Occasionally surnames were generally provided to be descriptive for where the family lived, here for example, to describe someone who was granted land by a King or a Duke. Accents vary widely as one would travel and this would regularly lead to some unexpected progress of the surnames. First documentation contains such examples as Margaret Knyghton, who married John Alen at St Brides parish, Fleet Street, London, in the year 1544, and after George Knighton and Susan White who applied for wedding licence, also in London in 1583 – 84.
Variations:
Some common variations are: Knightton, Knnighton, Knightn, Nighton, Neighton, Knighten, Knightin, Knightne, Knightten, Knighteen.
England:
The surname first found in Worcestershire where they held a family seat from very early times, some say before the Norman Invasion and the approaching of Duke William at Hastings in 1066 A.D.
The very first recorded spelling of the family was shown to be that of Thomas de Kynghton, dated 1379 Poll Tax Rolls of the division of Yorkshire. It was during the time of King Richard II, dated 1377 – 1399. The origin of surnames during this period became a necessity with the introduction of personal taxation. It came to be known as Poll Tax in England. Surnames all over the country began to develop, with unique and shocking spelling varieties of the original one.
Unites States of America:
Individuals with the surname Knighton settled in the United States in two different centuries respectively in 17th and 19th. Some of the people with the name Knighton who settled in the United States in the 17th century included John Knighton and John Knighton landed in Virginia in the same year 1643. Geo Knighton, who arrived in Virginia in 1650, Thomas Knighton, who arrived in Maryland in 1669. Joseph Knighton, who arrived in America in 1804 and Jospeh Knighton arrived in Philadelphia in 1813.
Some of the people with the name Knighton who settled in the United States in the 19th century included Mary A Knighton at the age of 30, landed in New York in the year 1864.
Australia:
Some of the people with the name Knighton who settled in Australia in the 19th century included Richard Knighton who was an English prisoner from Huntingdon, transported aboard the ship "Asia" on October 1824, settling in New South Wales, Australia and Mary Knighton arrived in Adelaide, Australia aboard the ship "Recovery" in 1839.
Here is the population distribution of the last name Knighton: United States 5,617; England 1,398; New Zealand 123; Australia 199; Scotland 72; Canada 172; South Africa 310; Wales 45; Isle of Man 27; Sweden 22.
Notable People:
Terrance O'Neil Knighton (born July 4, 1986) is an American football defensive player who is presently a free agent. He was drafted by the Jacksonville Jaguars in the third round of the 2009 NFL Draft after playing college football. Knighton is nicknamed "Pot Roast" and "Mutton Chop" by his team fellows. He has also played for the Denver Broncos, Washington Redskins and spent time with the New England Patriots before the 2016 NFL season.
Brad Knighton (born February 6, 1985) is an American soccer player who now plays for New England in Major League Soccer.
Zachary Andrew Knighton (born October 25, 1978) is an American actor, most famous for performing as Dave Rose on the ABC comedy series Happy Endings. Before that, he co-performed as Dr. Bryce Varley on ABC's science drama serials Flash Forward. He also performed in the FOX sitcom Weird Loners.
Blazons & Genealogy Notes
1) (Carlston, co. Dorset, and of Blendworth Lodge, co. Hants, bart.). Barry of eight per pale az. and or, counterchanged a bend erminois, on a chief gu. a dragon's head erased betw. two annulets of the second. Crest—Out of a ducal coronet or, two dragons' heads in saltire couped at the shoulders, the dexter gu. sinister or, wreathed about the neck with a chain of the last.
2) (co. Hertford). Ar. two bars az. on a canton of the second a tun or.
3) (Bayford, co. Herts). Barry of eight ar. and az. Crest—Out of a ducal coronet or, two dragons' heads and necks in saltire ppr.
4) (co. Suffolk). Barry of eight ar. and az. on a canton or, a tun paleways gu. Crest, as the last.
5) (John Knighton, Visit. London, 1568, whose dau. Dionise, mi. Edmond Burton, citizen of London, son and heir of John Burton, Esq., of Stapleforth, co. Notts, descended from Burton, of co. York). Same Arms, quartering ar. six annulets gu. three, two, and one. Crest—Two dragons' heads and necks twisted in each other az. in a ducal coronet gu.
6) Ar. a bend nebulee gu. betw. two bendlets of the last.
7) Vert two lions ramp. in fesse or.