Knox Family Crest, Coat of Arms and Name History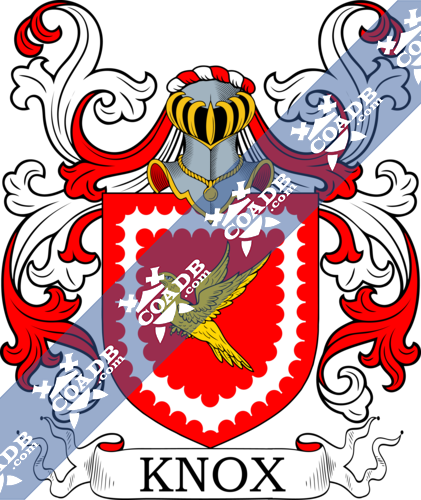 Knox Coat of Arms Gallery
Don't know which Coat of Arms is yours?
We can do a genealogical research. Find out the exact history of your family!
Learn More
Knox Origin:
England, Scotland
Origins of Name:
The surname of Knox has origins in both England and Scotland. This surname is either a topographical surname that describes someone who lives on or near a natural or man-made structure, our may be locational, which means that the original name bearer comes from a town that is called either the surname itself, or something near the surname. In this case, the topographical surname approach is the English version, and the locational surname approach is where the Scottish influences come in, though the locational origin also has English influences as well. Topographically, the surname of Knox could be used to describe someone who lives on or near a hilltop. This origin derives from the Old English Pre 7th Century word "cnocc" or the Old Gaelic "cnoc" both of which can be translated to mean a "rounded topped hill." As for the surname of Knox being locational, there are places all throughout Northern England and Scotland that are named Knock. This surname could be used to describe individuals who lived near or in Knock, and was most likely used to identify them when they migrated out of their town, seeking work, and were identified by the name of their birthplace.
Variations:
More common variations are:
Knoox, Knoxe, Knoex, Knowx, Nox, Knoxie, Knoux, Kiox, Knock, Knockes, Knocker, Knoxx, Knoax
History:
Scotland:
The first recorded spelling of the surname of Knox was found in Scotland in the year 1260. One John de Cnoc (also recorded as Knoc) was a charter witness who was recorded and mentioned in the Charter Lists of Renfrewshire, Scotland. In Scotland, those who bore the surname of Knox is commonly spelled as Knock. The Knock families reside in high concentrations in County Renfrewshire.
England:
Other recordings of the surname of Knox can be found in The Hundred Rolls of Bedfordshire as one Nicholas Knok in the year 1279, and Thomas ate Knocke in the Subsidy Rolls of Sussex in the year 1296. In church documents, there were further recordings of this surname. Katheryne Nockes who married Arthur Lloide in 1576 was recorded in the Church Rolls of St. James in Clerkenwell, while Joseph Knock, the son of Thomas and Angel Knock was christened on December 15 1691 at St. Giles, in Crippplegate, London. In England, those who bear the surname of Knox are often found in the Northern part of England. The counties with higher concentrations of those who carry the surname of Knox are Northumberland, Durham, and Lancashire.
Ireland
Thomas Knox was the first of the Knox family line to immigrate to Ireland. He moved to Belfast in the 1660s and his grandson earned the title of Earl of Ranfurly. Many Scotts Irish Knox families exist in Tyrone and Fermanagh to this day.
United States of America:
During the European Migration, many settlers fled from their home country in search of a new life. The United States, which at that time in history was referred to as the New World or the Colonies, was often the destination most sought after during this time of disgruntled leadership. The United States of America promised freedoms that were never afforded to these European citizens every before. The first person to bear the surname of Knox that lived in the New World was one Timothy Knox, who arrived in New England in 1730. Those who bear this surname are most commonly found in high concentrations in the states of Pennsylvania, Ohio, Georgia, Massachusetts, New York, Tennessee, Illinois, Mississippi, Texas, Oregon, and the state of California.
Knox Today:
United States 49,915
England 7,550
Canada 4,644
Australia 4,237
South Africa 4,128
Scotland 2,500
Papua New Guinea 1,993
Northern Ireland 1,216
New Zealand 1,129
Germany 1,042
Notable People:
Mr. Samuel Mclhenny Knox, who was an American 1st class passenger from Philadelphia, Pennsylvania, USA, who survived the sinking of the RMS Lusitania by escaping in a collapsible boat.
Simmie Knox (born in 1935) who was an American portrait painter who painted former United States President Bill Clinton and former First Lady Hillary Rodham Clinton
Seymour Horace Knox (1861-1915) who was a businessman from American and the co-founder of the F. W. Woolworth Company
Philander Chase Knox (1853-1921) who was an American lawyer, bank director, and politician, who was the United States Army General from the year 1901 to the year 1904
Harley Eugene Knox (1899-1956) who was an American politician, and served as the 25th Mayor of San Diego, California from the year 1943 to the year 1951
Elyse Knox (1917-2012) who was born with the name Elsie Lillian Kornbrath, and was an American actress, model, and also a fashion designer
Commodore Dudley Wright Knox (1877-1960) who was an American singer and songwriter, best known for his 1957 hit "Party Doll"
Blazons & Genealogy Notes
1) (Ranfurly, co. Renfrew). Gu. a falcon volant or, within an orle engr. ar.
2) Quarterly, gu. and ar. an orle counterchanged, in the centre an eagle volant sa. Crest—A griffin's head betw. two wings or, each charged with a torteau.
3) Ar. two keys in saltire gu. Crest—A demi lion ar. holding in the dexter paw a key gu.
4) (Reg. Ulster's Office; descended of Ranfurly, 1693). Motto—Movce et proficio. Gu. a falcon volant or, within an orle waved in the outer and engr. in the inner side ar. Crest—A falcon close on a perch all ppr.
5) (Earl of Ranfurly). Motto—Moveo et propitior. Gu. a falcon volant or, within an orle wavy ar. Crest—A falcon perchcd ppr. Supporters— Two falcons, wings expanded ppr. ducally gorged, chained, beaked, and taloned or.
6) (Moyne and Rappa Castle, co. Mayo). Gu. a falcon, wings expanded, within a bordure engr. or, on a canton of the same a fesse chequy ar. and az. Crest—A falcon close on a perch all ppr.
7) (Netley Park, co.Mayo; descended from Henry Knox, third son of Francis Knox, Esq. of Rappa). Gu. a falcon, wings expanded, within an orle wavy engr. or, on a canton of the same a fesse chequy ar. and az. Crest—A falcon close on a perch ppr.