Kroll Family Crest, Coat of Arms and Name History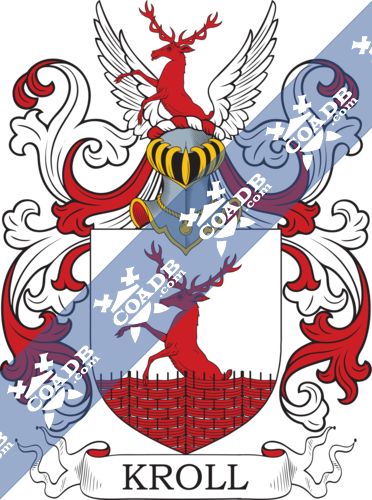 Kroll Coat of Arms Gallery
Don't know which Coat of Arms is yours?
We can do a genealogical research. Find out the exact history of your family!
Learn More
This section has not yet been completed. If you are interested in having your genealogy done, we offer an affordable research servicethat traces your lineage so you can learn more about your ancestors, where they came from, and who you are.
Blazons & Genealogy Notes
Source for 1-3: Rietstap's Armorial General
Source for 4-12: J. Siebermacher's Wappenbuch.
1) Prusse – D'argent à un cerf naissant de gueules issant d'une haie d'osiers du même mouvant de la pointe Casque couronné Cimier le cerf issant entre un vol d'argent
2) Kröll de Grimmenstein – (Barons) – Wurtemberg – (M. ét.) – D'argent à un tertre d'or surmonté de deux pattes d'aigle de sable passées en sautoir les serres en haut Casque couronné Cimier une femme issante chevelée et couronnée d'or habillée d'argent tenant deux poissons du même les têtes en bas soutenus de la couronne Lambrequin d'argent et de sable
3) Krol, Krell, Jost Krol, Burger zu Luxburg, ca. 1590. Wappen: Schild: Rumpf eines wilden Mannes, der zwei uber seinem Kopf sich schragende Feuerhaken halt, in W. Helm: Buffelhorner w.r. getheilt, dazswichen der wachsende wilde Mann, mit den Handen die Horner egreifend. (Hanzeichung von Lindmayer)
4)
5)
6)
7)
8)
9)
10)
11)
12) Tirol – Georgius Kroll, Magister Ruraldechant und Pfarrer zu Klausen und seiner Schwester Maria Sohn, Jakob Hinterhuber und dessen Leiberserbed, erhielten von dem Bischof Wilhelm von Brixen einen Wappenbrief d. d. Brixen 8. Januar 1636. Wappen: geteilt und halbgespalten r. g. #; 1. g. Stern; 2. r. Kreuz; 3. auf gr. Dreiberg eine s. Taube mit gr. Oelzweig, in die obere Schildeshalfte ragend. Heidnisch gekronter Helm: due Taube wie im Schild, auf den ausgebreiteten Flugeln rechts das r. Kreuz, links der g. Stern. Decken: r.s. _ # g.