Kyan Family Crest, Coat of Arms and Name History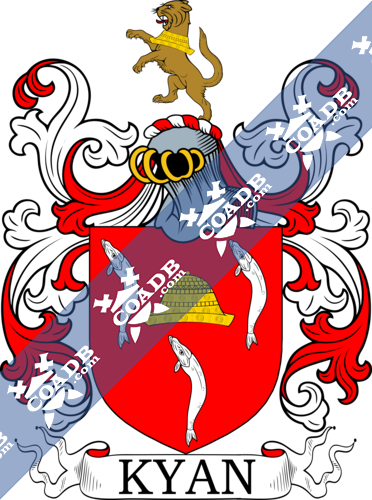 Kyan Coat of Arms Gallery
Don't know which Coat of Arms is yours?
We can do a genealogical research. Find out the exact history of your family!
Learn More
Kyan Origin:
Ireland
Origins of Kyan:
The surname Kyan originally found in Gaelic as "O Cathain" or "Mac Cathain. "The Middle Ages saw a great number of spelling variations for surnames common to the Irish landscape. One cause for these variations is the reality that surnames were not rigidly fixed by this time. The following variations for the name Kyan found in the archives like Keane, Kane, Kayne, Keaney, Keny, Keyne, O'Kane, O'Keane, O'Cahan, Cahan, Kean, O'Cain, McCloskey, McCluskey, McClaskey and much more.
Variations:
More common variations are: Keyan, Kayan, Kiyan, Kyani, Kuyan, Koyan, Khyan, Kyain, Kyana, Kyano.
England:
The surname Ryan first appeared in division Londonderry (Irish: Doire), a Northern Irish division also known as Derry, in the county of Ulster. At one time, the area was named O'Cahan Country. The origins of the surname Kyan were found in Yorkshire where people held a family seat from old times. Some say before the invasion of Normans and the entrance of Duke William at Hastings 1066 A.D.
Ireland:
Many of the people with surname Kyan had moved to Ireland during the 17th century.
United States of America:
Individuals with the surname Kyan landed in the United States in many centuries like Charles, David, Francis, Henry, James, John, Michael, Patrick, Thomas and William Kane all arrived in Philadelphia between 1840 and 1870.
Here is the population distribution of the last name Kyan: United States 151; Australia 37; Russia 21; England 16; India 14; Japan 11; Canada 9; Georgia 7; Armenia 6; Uzbekistan 3.
Motto:
The motto was originally a war cry or catchword. Mottoes first started to be shown with arms in the 14th and 15th centuries but were not in general use until the 17th century. So, the oldest coats of arms do not include a motto. Mottoes sometimes form part of the grant of arms as Under most heraldic authorities, a motto is an optional element of the coat of arms and can be added to or changed at will like many families have chosen not to display a slogan.
Motto: Felis demulcta mitis
Motto Translation: A stroked cat is gentle.
Notable People:
Kyan Douglas (born May 1970) is a television celebrity and author. He was the grooming expert on the American television program Queer Eye.
Kyan Laslett O'Brien is a music writer, who has worked on adverts and produced music for TV shows and films. He started in London's Drum and Bass Jungle scene while working as a Junior Sound Artist for The Tape Gallery, then London's leading advertising post production house.
Terry Kyan is a British television author best known for writing (almost always in collaboration with Paul Smith) comedy lines. These include sketches/episodes for such design shows as Not the Nine O'clock News, Spitting Image and Alas Smith and Jones, as well as the Dawn French black comedy Murder Most Horrid and the sitcoms The Brittish Empire and 2point4 children.
John Howard Kyan (November 1774 – January 1850) was the author of the 'kyanising' process for preserving wood. He was the son of John Howard Kyan of Mount Howard and Ballymurtagh, District Wicklow, and was born in Dublin in November 1774.
Chotoku Kyan (born December 1870 in Shuri, Okinawa – died September 1945 in, Ishikawa, Okinawa) (also spelled Chotoku Kiyan) was an Okinawan karate master who was famous for both his fight skills and his colorful personal life. He had a large impact on the styles of karate that would become Shorin-Ryu and its related styles.
Anselan O Kyan, who was a son of one of the kings of Ulster, arrived on the northern shore of Argyll, near Lennox, about the year 1016. He served Malcolm II of Scotland in opposing his old enemies the Danes at two different times. For his service to Malcolm, he got a grant of land in the north of Scotland, east of Loch Lomond. According to Buchanan of Auchmar, he is the originator of the Buchanan tribe. The earliest source for the story of Anselan's life is an 18th-century book by William Buchanan.
Blazons & Genealogy Notes
(Ballymurtagh, co. Wicklow, and formerly of Mount Howard, co. Wexford; confirmed to Rev. William Edward Kyan, of the former place, eldest son of John Howard Kyan, Esq., of same, grandson of John Howard Kyan, Esq., of same and Mount Howard, and great-grandson of Howard Kyan, Esq., of same places, who d. 1766, who claimed descent from the O'Cahans, Princes of Derry). Gu. an antique Irish crown or, betw. three fishes haurient ar. Crest—A wild cat ramp. ppr. gorged with an antique Irish crown or.